We are often asked where the best place to start is when engaging with lean for the first time. The answer to this question really depends upon who we are talking to, and what industry they are in.
Of course, Lean principles can be applied to any industry, which is part of what makes it so great. We say that it depends because of the inclusion on the word "best". What's best for one may not be best for another. As partners in our clients' Lean journeys, that's our job to guide them in the right direction.
For manufacturing clients, often times we'll start with 5S and Setup Reduction. I was lucky enough to have made a presentation at this year's SME Eastec show on Setup Reduction, and was humbled by how many folks showed up to hear me speak. Although my ego twinges a little when I admit it, I'm quite certain that the large crowd size had nothing to do with me – it was the subject matter that drew them in, and rightfully so. Setup Reduction is a veritable "Master Key" for Lean – it unlocks so much potential, that we will employ it as early as we can with our manufacturing clients. Properly done, Setup Reduction efforts eases the flow of product by:
Shifting direct labor time from "Setup" mode to "Running" mode, thus increasing the number of available machining hours,

Decreasing inventory levels due to parts flowing through the shop, and not being tied up waiting for their turn on a machining center,

Allowing time for Preventive Maintenance (PM) on machines to occur that was otherwise allocated to Setup or Run; averting risk of Unplanned Downtime,

Reducing (or eliminating) part batch sizes,

Increasing your ability to run a greater variety of parts due to setups being less cumbersome,

Increasing associates' job satisfaction, since their jobs get easier.
As you can see – there's a lot to love about Setup Reduction. Truthfully – it's one of my favorite Lean tools. Setup, by definition, is a Non-Value Added task. Your customer isn't paying you to setup your machines (even if you are charging them for it!) – they are really paying you to produce a part; to alter something in some way that brings them value (i.e. Value Added). Drilling holes, milling profiles and turning chips – these are value-added tasks. They alter the fit, form and function of a piece of hardware, and is really what customers are after. Your challenge is to do so in the most efficient manner possible, and employing Setup Reduction techniques is a great place to start.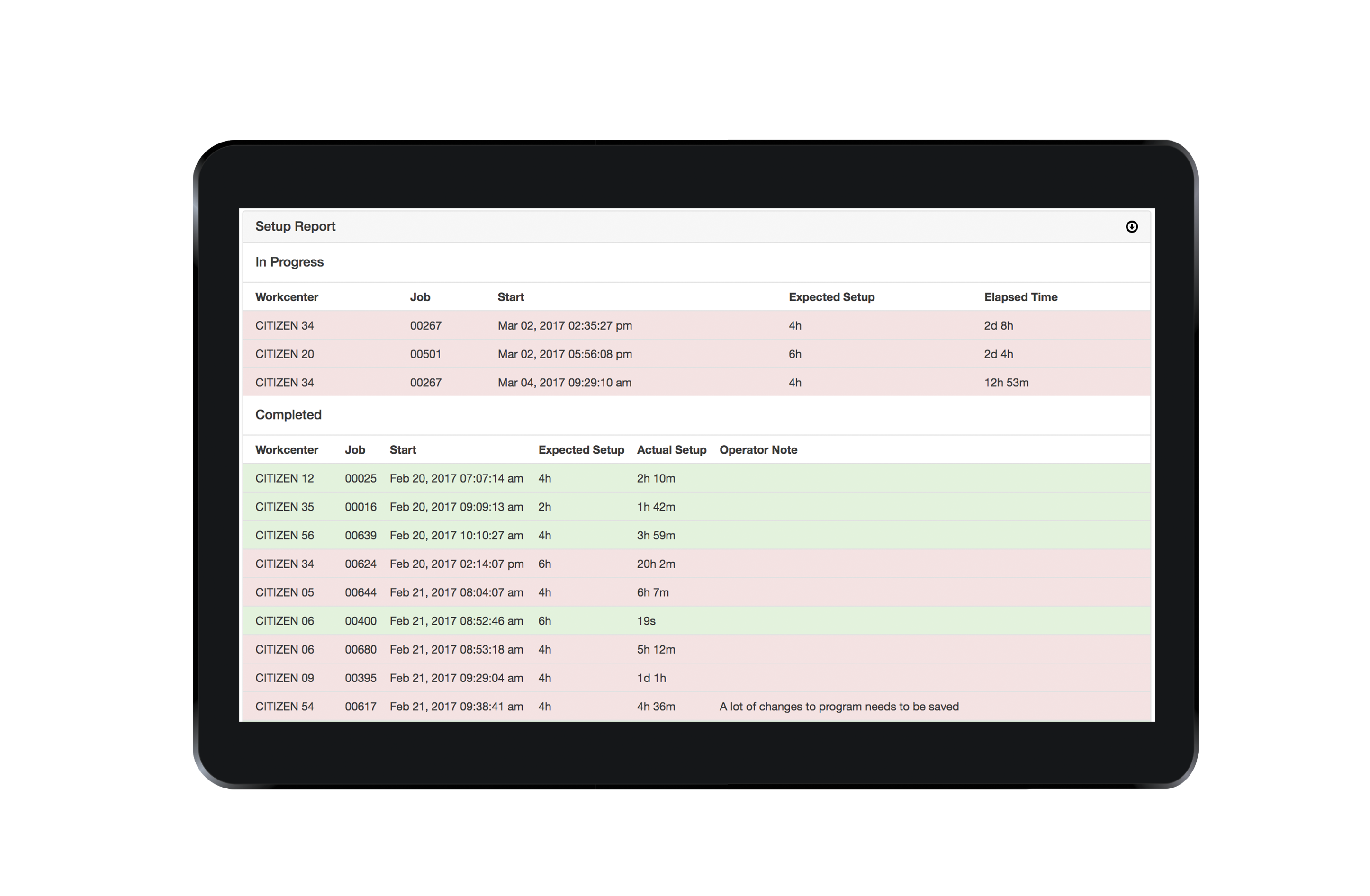 When it comes to beginning this initiative, you have to know where you are. What's your baseline? Are your machines spending 1 hour a week in Setup Mode, or 10? 20? More? The answer may surprise you. In one client's case, the management team had no idea that their machines were running a mere 5% of the time until they began to measure them. Prior to engaging with us, operators simply thought that that state was "just the way it was", or "normal". Thankfully, with a lot of coaching, teaching and guidance, they are well along their Lean journey, and have drastically increased this percentage with more to come. Perhaps the best part is that everyone is happier. The operators are happier because they aren't struggling every day with cumbersome setups and missing tools/tooling. The supervisors are happier because they have more time to schedule and plan versus fire fight. The owners are happier because, while their costs didn't really change, their output has jumped. Finally, and most importantly, the customers are happier, because now they are receiving their orders on time and in full. So I guess in a way… Setup Reduction is the key to happiness!
Paul W. Critchley is the President of New England Lean Consulting and a guest blogger for MachineMetrics. He is a Board member of the Northeast Region of AME, and he is co-author of "The Whole Professional, A Collection of Essays to Help You Achieve a Full and Satisfying Life". He can be reached at http://www.newenglandlean.com.