Fastenal Manufacturing is a diverse and constantly expanding business. Now with 8 manufacturing facilities across multiple continents, the company has experienced dramatic growth in their machining capabilities, transitioning from a simple job shop environment with low production quantities to a large-scale global operation with thousands of different jobs and high-volumes of production.

This growth has made it increasingly necessary to embrace data-driven strategy and digital technology to enhance understanding of machine utilization, primary downtime reasons, quality issues, to optimize manufacturing efficiency and implement process improvements.
THE CHALLENGE
Fastenal needed real-time visibility into how well a high variety of jobs were coming along to ensure efficiency, quality, and on-time delivery. Managers required the ability to collect and understand increasingly impactful downtime/setup procedures and make proactive vs. reactive improvements.
It was also difficult to aggregate, structure, and analyze data from numerous machine types, shop-floor systems, and multiple manufacturing locations. The data was siloed and lacked visibility and actionability.
THE SOLUTION
Fastenal partnered with MachineMetrics to gain greater understanding of its own production and embark on their digital manufacturing transformation.
Empowered by the AWS virtual private multi-tenant cloud, MachineMetrics was installed at Fastenal Manufacturing facilities to collect data from all shop floor assets. Real-time dashboards mounted on the shop floor displayed how jobs were coming along, including automatically recommending ways to optimize performance.
Tablets mounted at the machine tool allowed for operators to track jobs, setups, and add human context to machine downtime. Automated text and email notifications alerted shop floor workers of pending problems including maintenance events that were able to reduce the number of unplanned and costly outages.

MachineMetrics allowed for data aggregation across all of Fastenal's shop-wide systems, the ability to build custom applications, dashboards, and analytics that provided the right data to the right person at the right time.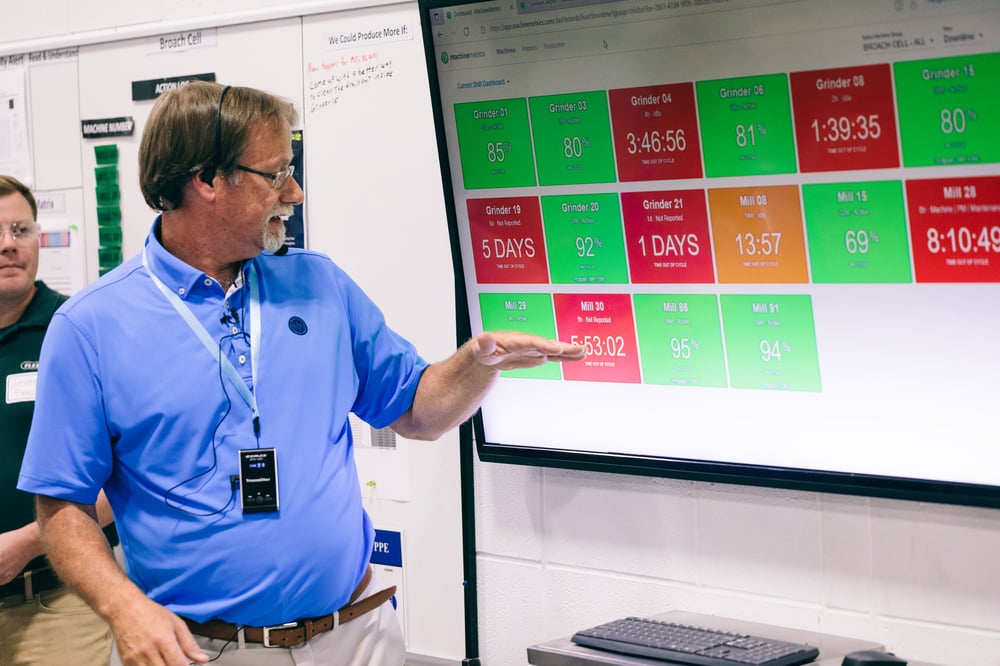 THE RESULT
MachineMetrics has enabled Fastenal to make better, faster decisions across the shop floor. Instead of waiting hours to compile and analyze data to find out when and what issues happened, managers can work to solve them in a more proactive way.
The accurate production data available at all levels of production has also created a new sense of accountability, enabling both operators and managers to work through challenges and implement solutions together.
Also, since operators have greater visibility into their processes and measures of performance, they have become more success-driven with a focus on "keeping the monitors green."
One of the largest impacts for Fastenal has been the ability to drill into cycle times and accurately measure utilization. This has lead to more accurate job quoting, reduced cycle times, and justification for greater headcount.