MachineMetrics is

set to exhibit at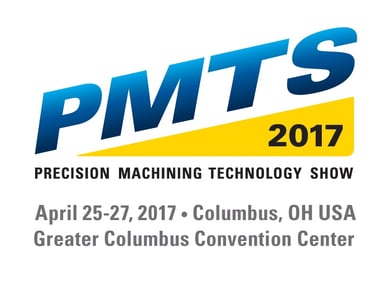 Northampton, MA, March 22, 2017 - With over 77% of surveyed machine shops having plans to install a machine monitoring system in 2017, it's clear that integrating a web-enabled shop-wide machine monitoring system is the first and most important step toward data-driven manufacturing (Top Shop 2016 Survey). MachineMetrics is here to help you take that next step.
MachineMetrics is pleased to present their machine monitoring and manufacturing analytics software to the attendees at PMTS 2017 at the Greater Columbus Convention Center in Columbus, Ohio.
PMTS is the only tradeshow in North America dedicated to the people, technology, and suppliers of the turning and precision manufacturing industry. The MachineMetrics team will be exhibiting their innovative software in booth 1037 for the duration of the event (April 25th-27th).
MachineMetrics automatically collects data from machines and uses this data to provide real-time visualizations and notifications, as well as historical analytics to help manufacturers make faster and more informed decisions. It is a modern, secure cloud application, accessible from anywhere requiring no servers, automatic updates, and little IT expense. MachineMetrics is the first lean manufacturing solution that is easy-to-use-- as easy as an app on your phone-- and is proven to increase production by over 20%
Features include real-time dashboards with simple color coding that provide immediate data to shop floor employees. Detailed information can be displayed on tablets next to each machine and allow operators to scrap parts or categorize downtime. Downtime can then be displayed on Pareto charts, so significant problems can be easily addressed.
MachineMetrics' customers have seen strong production improvements - as much as 20% - within the first few months of implementation. The software pays for itself quickly and is a critical tool for lean shops.
"There was VSS pre-MachineMetrics and VSS post-MachineMetrics. We can't imagine what life would be like if you took it away - it's that engrained in our day to day operations."
- Steve Capshaw, President, VSS
"MachineMetrics enabled CPM to increase capacity by $1.5 million in 2016 with no additional machines for a yearly subscription fee of only $44,400"
- Gary Bruner, CEO, Carolina Precision Manufacturing