This week's blog post is written by Paul Critchley, President of New England Lean Consulting:
One of the questions we get asked most often is "How do we know if we're doing Lean right?" This is a pretty loaded question, as there are a lot of moving parts to a true Lean transformation. From the progressive learning and implementation of Lean tools to the engagement of the workforce and employee empowerment – there's a lot to keep track of. Considering the length of time Lean journeys can take (i.e. years), it's understandable that folks want to make sure they aren't straying too far from the path along the way.
So, whenever this question comes up, we give the same, simple answer: Keep score.
When we talk about metrics, in most organizations (and especially in manufacturing), we tend to focus on the Big Three: Quality, Cost and On-Time Delivery. These are the popular Key Performance Indicators (KPI's) for good reason, but they are also somewhat higher-level operational indicators of how the business is doing. There are many things that happen each day that can affect one or all of these metrics, so tracking only these won't give you the detail you need to develop plans for process improvement should the need be present.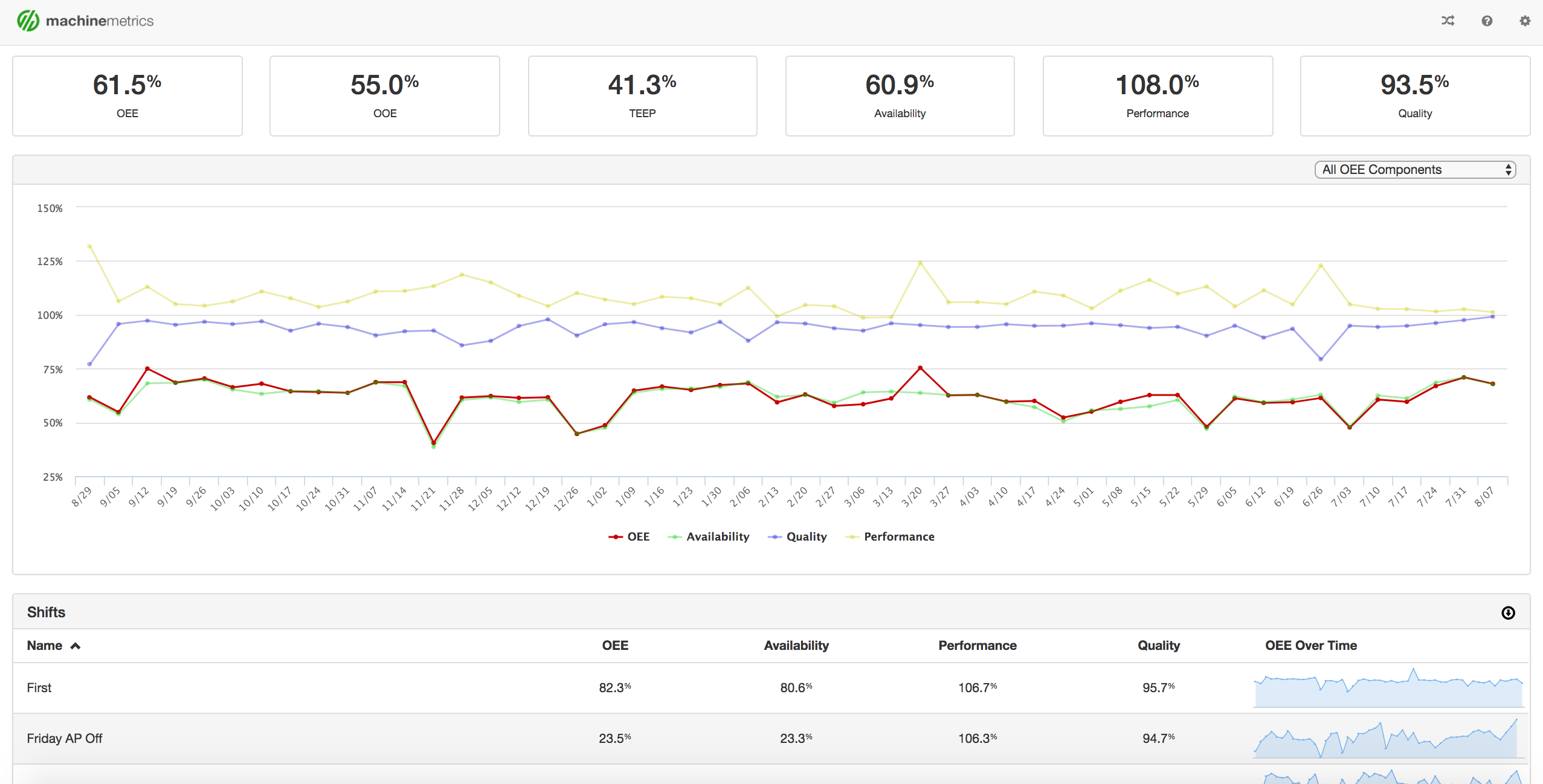 (Image of MachineMetrics OEE reporting chart)
So what else should you measure? That's a great question, and the good news is you've already got a whole bunch of experts on the payroll who can help you answer it. The key is giving them the leeway and the tools that allow them to do so. When organizations engage Lean, it's imperative that they get everyone involved in the process. Lean isn't something that's done "to" people; it's done "with" people. For example, no one knows your CNC department better than the folks who work there every day, so why not engage them in your quest for continuous improvement? They know best how the machines are running, if it's possible to hold the tolerance Design Engineering is asking for, and if the schedule Production Control has published is attainable – so ask them!
In the Lean world, we refer to this as Respect for People, and what it means is engaging people's minds, not just their hands. People do what they do because they have a passion for it, and when companies fail to tap into that passion it not only disrespects the person, it misses out on a wealth of information. Sometimes during a Kaizen or a Value Stream Mapping event, we'll have client employees tell us that they have never been asked for input, despite years (or even decades!) of service. This is management failure. The folks who do the work every day are not only the best sources of information about that work; they're the ones who can most directly influence the score. Imagine how much more effective folks could be if they were allowed that level of business involvement, and supported by management with real-time data by which they could make changes to improve results.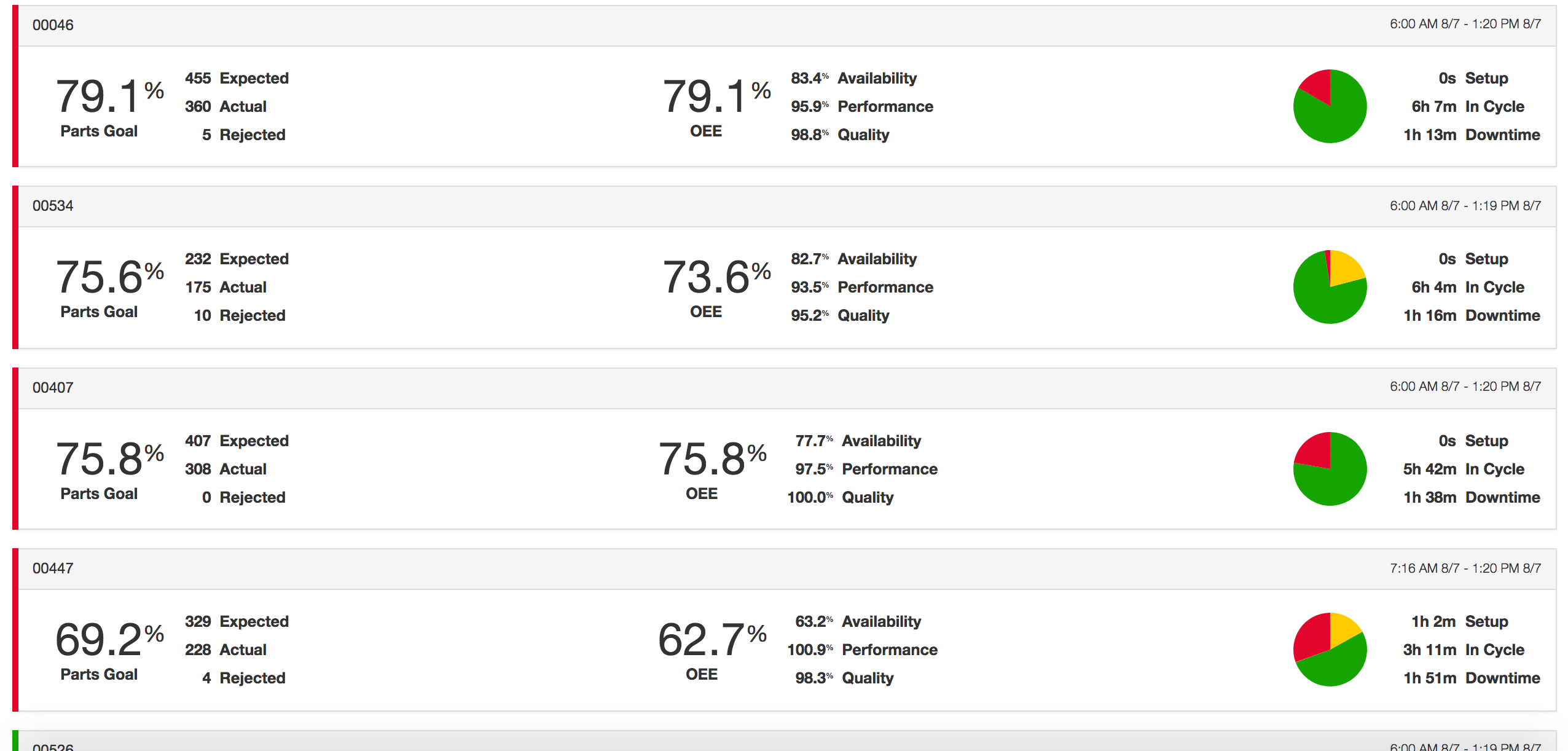 (Image of MachineMetrics Parts Goal Reporting feature)
Part of keeping score means sharing progress with those folks who affect it, and immediate feedback is best. Baseball parks and football stadiums all have huge scoreboards for a reason – so everyone, including players, coaches and managers - can see the score anytime they want to. It provides real-time access to data, so problems can be detected and reacted upon immediately.
The same premise holds true for the manufacturing world. Although they tend to know anecdotally, employees want to know quantifiably how the business is doing. Are machine operators hitting their targets for how long a machine setup should take? Does Maintenance meet their goals for getting a machine PM'ed, or back up and running following an unplanned downtime event? Is Manufacturing Engineering quoting new parts correctly, based upon actual machine cycle time abilities, or are they using old router data that may not even be correct. By having real-time visible data, everyone can know at a glance how things are going. Similarly, in those cases where someone knows they need help but aren't exactly sure what to ask for, this information can help guide them to who can best assist. Often, though, we don't take this approach. We rely on support staff to crunch numbers and generate reports, charts and graphs, which we may present at monthly all-hands meetings. By this time, though, it's too late. The opportunity to engage employees is gone.
So what are we to do? Data has value only if it is available, so give your folks easy access to real-time information that will help them make better decisions about how to do their jobs. Make it visual. Tap into people's passions by allowing them to review data and make decisions. Do this, and you'll see the score improve!
Today's blog is written by Paul W. Critchley. Paul is the President of New England Lean Consulting. He is a Board member of the Northeast Region of AME, and he is co-author of
"
The Whole Professional, A Collection of Essays to Help You Achieve a Full and Satisfying Life
". He can be reached at
http://www.newenglandlean.com
.