We are always listening to customer's feedback and this latest release reflects changes that customers have been requesting. Not all users are the same, and these improvements are allowing our customers to better customize the user experience of MachineMetrics with additional configuration options for categorizing downtime, the downtime pareto reports, and for automatically associating jobs.
WorkcenterView Improvements
When a machine goes down or idle, the WorkcenterView immediately displays a message that the machine is down and allows the operator to categorize that downtime. Feedback from some of our customers is that this message displayed too frequently. For example, if the machine is idle every cycle for 30s during a part changeover, it isn't necessary to show this message. The duration before the initial downtime message appears is now configuratable in system settings and called "Downtime Underlay Delay".

The amount of time before the downtime overlay appears (blocking the entire view) can be set with the "Microstop Duration" setting, which defaults to 5 minutes. This also affects the downtime pareto as Micro downtime and Long downtime are displayed in different buckets. Additionally, the close button can now be hidden after selecting "Hide Close Button", which requires operators categorize downtime before the window can be closed. This is only truly effective with the tablet application, otherwise, the back button is an easy way to ignore this message.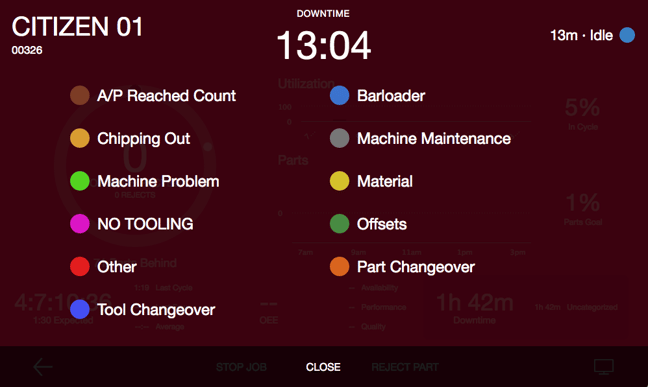 When categorizing previous downtime (clicking the buttom right area), any downtime less than 1 minutes had been filtered from the list. This filter is now configurarable as "Downtime List Filter". The current downtime now appears in this list, and all filtered downtime is summarized at the top of the list.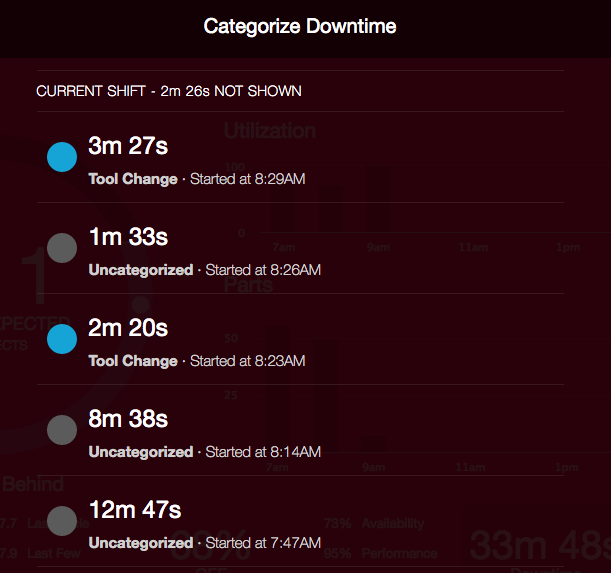 When categorizing downtime from the WorkcenterView, you can now set the downtime as Planned by selecting the "Planned" Checkbox.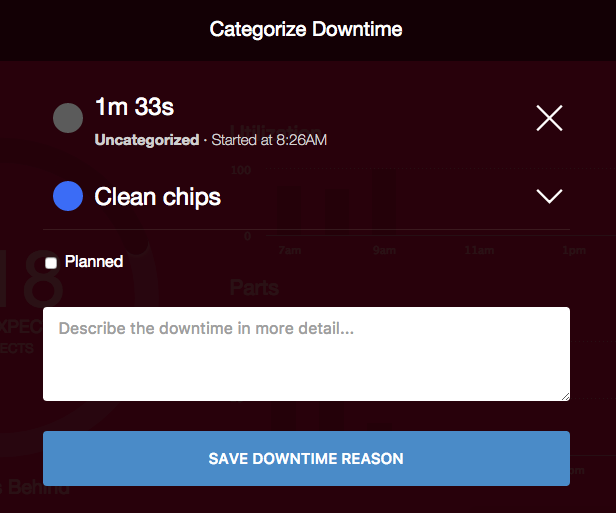 To configure these settings and admin user can go into settings -> System Settings and update the values in Workcenter View and Downtime.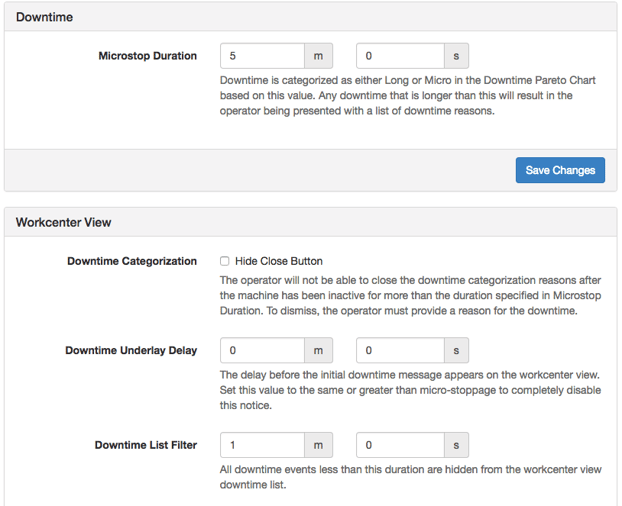 Downtime Pareto Improvements
The downtime pareto report will now by default not display uncategorized downtime. To show uncategorized downtime you must select "Uncategorized" from the filter. However now each uncategorized downtime event appears in the list and can be exported to a spreadsheet. Previously that data was only presented in the machine downtime pareto. Now it also exists in the shop-wide downtime pareto.
The downtime pareto includes the ability to show planned or unplanned downtimes. Previously it only would display unplanned.
Auto Start Ignored Programs
MachineMetrics can automatically associate a job with the program that's running on a machine. It now supports the ability to ignore certain programs (such as a tool change program) from dispatch. This semi-colan separated list is in the Workcenter settings form and visible when setting "Auto Start" to a value other than Disabled.