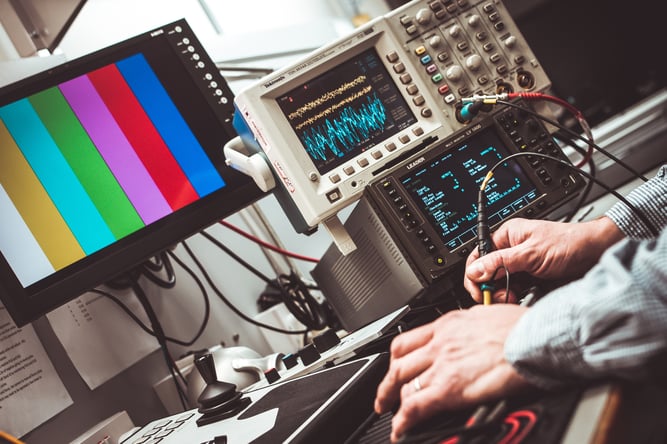 By now, if you're in manufacturing, you've likely heard the phrase, The "Internet of Things." You might know it better as: IoT.
The phrase is typically used in the industry to refer to how the internet links smart devices - like smartphones and tablets - to a wide range of machines and sensors in order to generate and share data.
The Internet of Things (IoT)* has become a powerful force for business transformation, and its disruptive impact will be felt across all industries and all areas of society.
Today, the web has cemented itself as the hub that connects a diverse range of industrial equipment - from the shop floor production equipment to machine monitoring systems to medical devices to smart devices.
Gartner, Inc. forecasts that 4.9 billion connected things will be in use in 2015, up 30 percent from 2014, and will reach 25 billion by 2020.
The opportunity for companies involved in intelligent device manufacturing is ripe for those that figure out how to transform their fixed function and disconnected systems into devices that offer flexibility and seamless connectivity.
The evolution of this product category brings with it a long list of benefits for all concerned.
First, manufactured devices will have a much longer shelf life. Instead of manufacturers having to continue hard coding functionality into the product, much of its utility can now be managed and controlled by on-board software.
That means upgrades and enhancements can be delivered to the device via the internet using software commands.
This benefits multiple stakeholders. Customers get more value over a longer period of time with minimal disruption. It gives manufacturers the ability to upsell by providing additional functionality to customers at minimal expense. And the environment wins because less devices need to be created and disposed of at some point.
The quality and timeliness of customer support is significantly enhanced by The Internet of Things.
Machine monitoring can be used to spot trouble often before it has a serious impact. Potential problems can be identified and then resolved in a timely fashion - eliminating the need for time-consuming, onsite visits to rectify the issue. Device manufacturers can also offer fixes and upgrades via software commands, drastically reducing the cost of customer support.
Another upside IoT offers companies that manufacture connected devices is the chance to reduce manufacturing and distribution costs.
The fact that so many of the features and functions can be controlled by software enhancements means manufacturing costs can be significantly reduced.
Because manufacturers only have to build the device once and can package in all kinds of functionality in any number of formats given the flexibility IoT gives them, they require less inventory and can streamline their supply chain.
Finally, the Internet of Things opens up new revenue streams and opportunities for intelligent device manufacturers.
Now, manufacturers can introduce product enhancements through software updates, and charge for the enhanced functionality based on a software maintenance and update model.
Reacting to new market opportunities under the old "one product for one solution" approach would likely have been impractical or cost-prohibitive.
Not so anymore.
Manufacturers can quickly, easily and inexpensively package and price their devices to meet the changing and growing needs of customers.
For intelligent device manufacturers that can blend the flexibility offered by The Internet of Things with the ability to think and act like software companies, the opportunities for growth are abundant.