Manufacturing Execution System: MES evolution in the shop floor management: "Given the widespread advantages and CEO-level acceptance and sponsorship for MES, such systems will see significant growth in the following years. The question is, does the shop floor management see value in bridging the gap between manufacturing plants and enterprise level decision making?"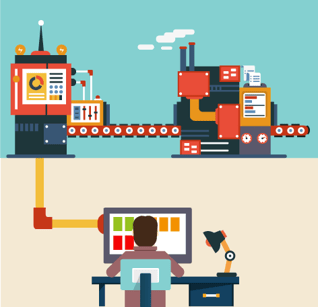 An executive's guide to the Internet of Things: "Nearly $5 trillion would be generated almost exclusively in B2B settings: factories in the extended sense, such as those in manufacturing, agriculture, and even healthcare environments; work sites across mining, oil and gas, and construction; and, finally, offices."
This startup can grow metal like a tree, and it's about to hit the big time: "Basically, the company grows metal on a surface in a way that makes it easier to shape and tinker with the material's characteristics. Lomasney says it's similar to how nature controls the environment related to a tree's growth— sunlight, soil, location, temperature—and then creates a tree that is a product those conditions."
Industrial Internet of Things (IIoT) Market Growth at 26.56% CAGR Forecast to 2019 in New Global Research Reports: "Over the next decade, Industrial IoT is expected to revolutionize the industrial sector and lead to a new era of economic growth and competitiveness."