The month of October was packed with quite a few updates to MachineMetrics.
1) There is a new shop-wide report called "timelines". This allows you to look at machine utilization (in-cycle, idle, unavailable) for all machines on the same page. Similar to the existing timeline view, but for many machines and without faults and parts.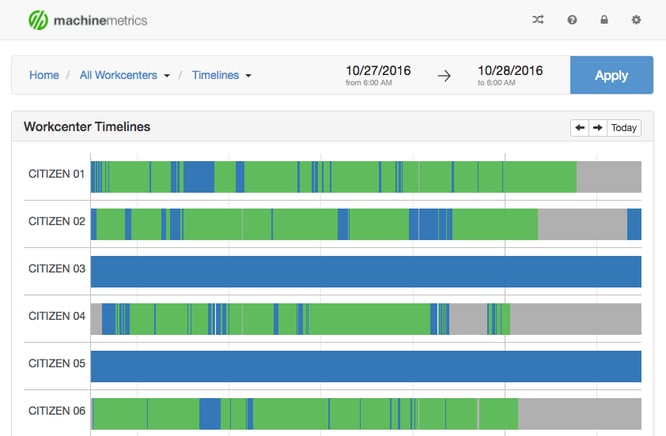 This view can be helpful in morning meetings to view detailed utilization for each machine.
2) When a machine is in setup, an operator might forget to start production and the setup reports will be incorrect. We now give you the ability to edit the end time of setup. You can access this in settings -> schedules. Click on the job run and edit the setup end time.

3) To help enforce downtime categorization, you can now turn off the "close" button after the downtime overlay appears on the tablet view. This requires the operator categorize long downtime before going back to the main screen. To turn this feature on, go to Settings -> System Settings and turn on "Hide Close Button" in the WorkcenterView settings

When using our native tablet application, there is no way to exit out of the application to avoid this message.
4) MachineMetrics has the ability to automatically associate jobs to a machine based on a change in the program name on the machine's control. We call this "Automatic Start". We added support to dispatch a job based on either program, subprogram, or both. This can be found in Settings -> Workcenters. Open the Workcenter that you wish to configure and set the Automatic Start dropdown.

This feature is very useful when a machine has multiple pallets that change jobs automatically, or to automate the process of dispatching machines if tablets are not deployed.