How Many Experts are Needed to Embark on the Lean Journey?: "The first step should be for the senior leaders to get themselves educated about the commitment that's required before launching what is supposed to be a career-long commitment to achieve and sustain excellence."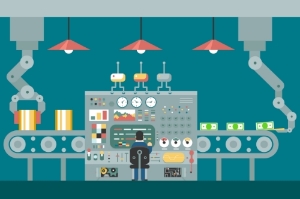 Starting Small Growing IIoT: "For example, if there's a problem with shutdowns due to emergency stops, maintenance, or line changes, connected devices can offer solutions. Find the information that will allow the user to correct problems, or make changes before the occurrence of a shutdown or full stop."
Get Lean or Die: "In any industry sector that isn't running a lean approach, something interesting happens after one or two players start implementing Lean (continuous improvement and removal of waste). They will likely force all other players to either adopt Lean or die; it is pure Darwinism, a natural selection and survival of the fittest."
How the Internet of Things is Transforming Manufacturing Today: "Among 600 manufacturing companies surveyed, 97% of respondents believe the Internet of Things (IoT) is the most significant technology initiative of the decade."