MachineMetrics's Eric Fogg was recently asked to speak at the Top Shops Conference. This talk focused on a range of different elements and perspectives of machine monitoring. Modern Machine Shop wrote an article (link below) summarizing the opinions and thoughts of the speakers. "It's all about making better decisions-decisions that help improve shop-floor operations." The primary goal of this discussion was to give clarity, and grant attendees a distilled look at how data-driven manufacturing could work in their own manufacturing operations.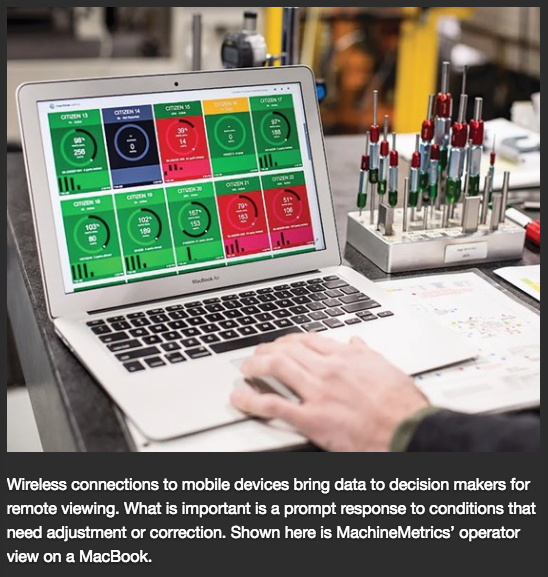 The three panelists who spoke on this subject were asked to take examine different components of machine monitoring, in order to demonstrate how multifaceted the subject could be. The networking, financial, and human elements of machine monitoring were the topics. Some of the benefits offered by machine monitoring are obvious, such as real-time information and more accurate metrics. However, there are other benefits that aren't always realized upon a cursory examination. Collecting data can help your business make better financial decisions through more accurate quoting and improve job performance but understanding which machines are best suited for each task. New ways to utilize data are constantly being discovered, but in order to gain any benefit at all, a company must first begin gathering that data. Not only that, but each because each business is in a different situation and has different goals, only your own data can really help you make the best decisions possible.
No matter how great the rewards, we know that even small-scale change can be difficult, let alone the kind of change that might steer the future of your company. Eric Fogg spoke on the topic of creating a network to connect machine tools as well as how to protect the network from cyber threats. Creating the network, connecting the machines, and analyzing the data can all be manageable and affordable for manufacturers. These tips can be relevant to both those who are experienced and inexperienced with machine monitoring.
Here are a few of Eric's recommendations.
Be sure network routers and managed switches are protected with strong passwords.
Use the best available encryption on any wireless portion of the monitoring system. For users accessing the network remotely via the internet, the secure web protocol HTTPS protects shop data sufficiently.
Keep PCs and servers on the network up to date with the latest security updates and system upgrades.
These aren't complicated, technically mysterious, or frustratingly expensive steps to take. Cybersecurity and machine monitoring don't need to be difficult. The best systems are designed to work for you, not demand your attention.
"The physical aspects of installing a network for monitoring are generally straightforward, but every shop has different requirements and may face different challenges." - Eric Fogg
Implementing a machine monitoring system like MachineMetrics can be a challenge, but one we are exceptionally familiar with and well prepared to help you face. Armed with the right information, any business can overcome the hurdles and gain the incredible advantages that data-driven decision making can provide.