Do you have questions about MachineMetrics, our Industrial IoT machine monitoring platform, manufacturing analytics, or just like saying hi in person? If yes, the good news is you'll have plenty of opportunities to meet us in person on our MachineMetrics Manufacturing Transformation Tour 2018. The objective of this Tour is not just to exhibit our revolutionary software platform but also to educate manufacturers on the opportunities created by digital manufacturing, IIoT, and data-driven business while answering the following key questions:
How to identify if a company is ready and capable for digital manufacturing
How to identify the digital tools necessary for measuring success
How to identify the assets and people necessary for implementing a digital manufacturing strategy
Defining actionable steps to build a roadmap to digital manufacturing and IIoT implementation
In 2018, we have scheduled some fantastic events all around the country (and will be adding more) so check out the first leg of our Tour's speaking engagements/exhibitions below and feel free to reach out beforehand to book a time to meet with our team while at the event!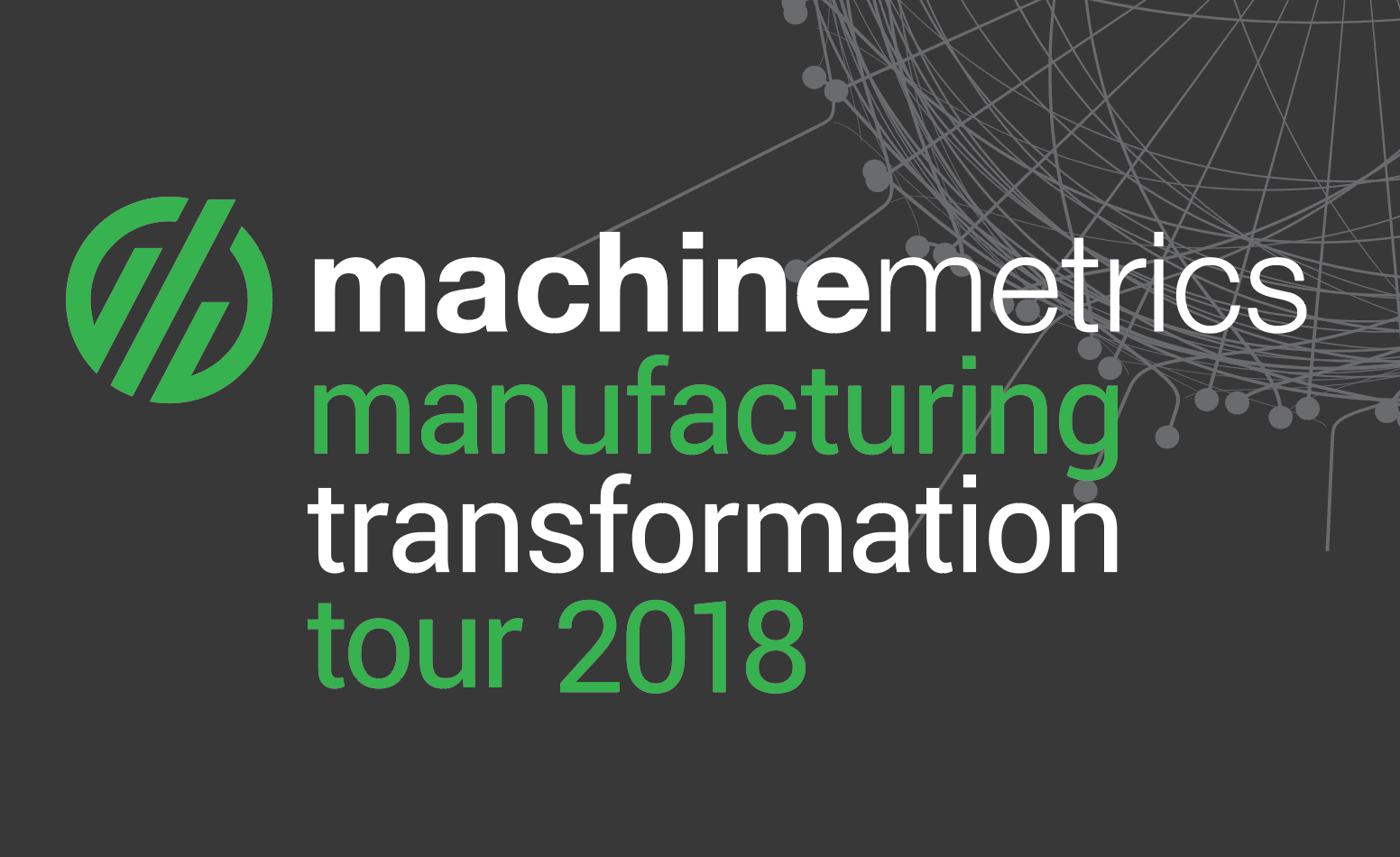 MachineMetrics is joining Autodesk, Boeing, and UI Labs at the DMDII in Chicago for a technology showcase focused on informing product design with data-driven insights from across a product lifecycle. At this event, the manufacturing community will explore and interact with technologies being developed through DMDII projects as well as by cutting-edge startups and solution providers who are revolutionizing the way we think about design and manufacturing. MachineMetrics will be giving presentations to attendees on how real-time data contributes to product development!
When and Where: 8:00 am - 5:00pm, March 21st, 2018 @ UI Labs, Chicago, IL
Exhibiting: Yes
Speaking: Team MM will present during the technology workshops from 9:45am-12:00pm and from 3:00pm-5:00pm
Our Director of Marketing Graham Immerman was asked to join experts at Fastener Fair's keynote panelist to discuss the future of the fastener industry. Here are the details below:
When and Where: April 11th, 2018 @ Huntington Convention Center, Cleveland, Ohio
Exhibiting: No
Speaking: 9:00 am-9:45 am on Keynote Panel, "The Future of the Fastener Industry" Expert

MachineMetrics CEO Bill Bither and Director of Marketing Graham Immerman have been asked to exhibit and present at this year's Impact Manufacturing Summit, where they will demonstrate the capabilities of the MachineMetrics IIoT platform and discuss how companies can build their roadmap to digital manufacturing transformation.
When and Where: April 22nd–April 24, 2018 @ Red Rock Resort and Spa, Las Vegas
Exhibiting: Yes
Speaking: Yes, April 23rd @ 11:00am, Educational Session: Build Your Roadmap to Industrial IoT
Team MachineMetrics will be demonstrating our Industrial IoT machine monitoring and manufacturing analytics software in booth #623 at the first ever Smart Manufacturing Experience. You can also find us in the booths of new official partners REMCO/REM Sales where we'll be monitoring their equipment in real-time! Don't miss our CEO Bill Bither as he shares the stage with Lou Olson, President of SME Founding Partner The Robert E. Morris Company for their presentation entitled: Dynamics of Change: Disruptive Technologies and CNC Machinery.
When and Where: April 30 – May 2, 2018, Boston Convention Center, Boston, Massachusetts
Exhibiting: Booth 623, REMCO Booth, REM Sales Booth
Speaking: Dynamics of Change: Disruptive Technologies and CNC Machinery, May 1st at 2:30pm-3:15pm
Our next tour stop will be the 2nd Annual Internet of Manufacturing Midwest Conference, where we will be sponsoring and exhibiting how our Industrial IoT platform helps manufacturers reduce production downtime, operational costs while optimizing product design and field service.
When and Where: June 5th-7th, 2018 @ Hyatt Chicago Magnificent Mile, Chicago, IL
Exhibiting: Yes, demonstration booth in Expo Area
Speaking: TBD
Our partners at The Robert E. Morris Company have invited us to join them at their annual Open House event to demonstrate the capabilities of our platform by monitoring their machines in real-time.
When and Where: June 12th-13th, 2018 @ Morris HQ, 910 Day Hill Road, Windsor, CT
Exhibiting: Yes, monitoring machinery on Sales room floor.
Speaking: TBD
The list above is just our Tour dates for the Spring! We will be adding more events as we confirm as well as a host of Fall stops so don't forget to keep up with the latest updates on the MachineMetrics Events Calendar!