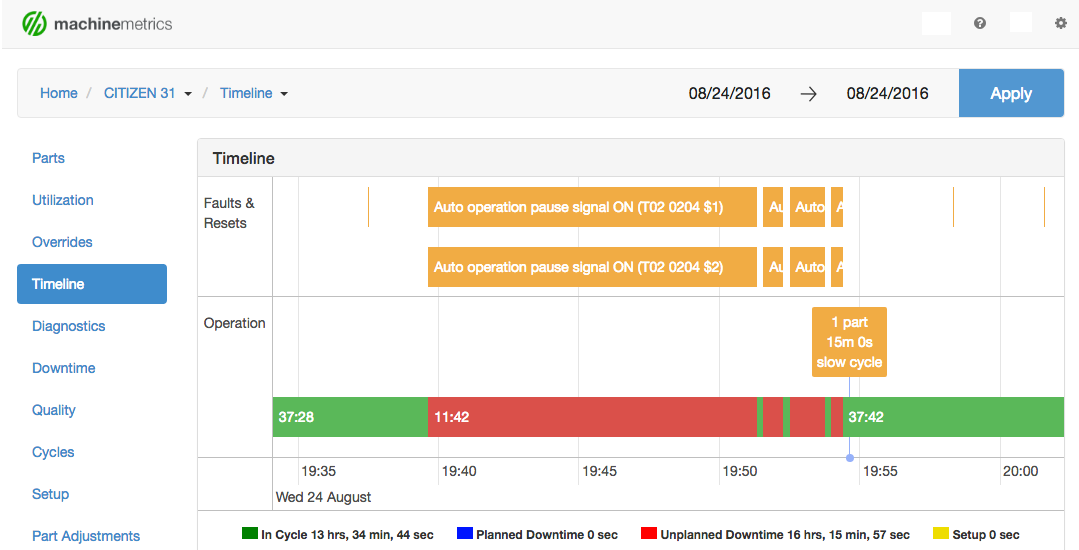 We're excited to announce a new feature: Downtime Category Behavior. Our last blog post focused on MachineMetrics ability to identify and reduce your downtime. In the past, when you added a downtime reason (such as Preventative Maintenance, or Tool Changeover), you would then need to indicate whether or not the downtime was planned or unplanned. Thanks to our latest feature update, you can now categorize with more precision.
Downtime Category Behavior:
Downtime Category Behavior allows you to preset planned or unplanned downtime for any downtime category. For example, a "Machine Problem" is never going to be categorized as "planned downtime". By editing that behavior, you can have any "Machine Problem" automatically set to be categorized as unplanned.
"Mark as Planned with Limit" is a key component of this new feature. It allows you to set a time limit for any planned downtime activity. Downtime periods that exceeds this planned limit will mark the addional time as unplanned.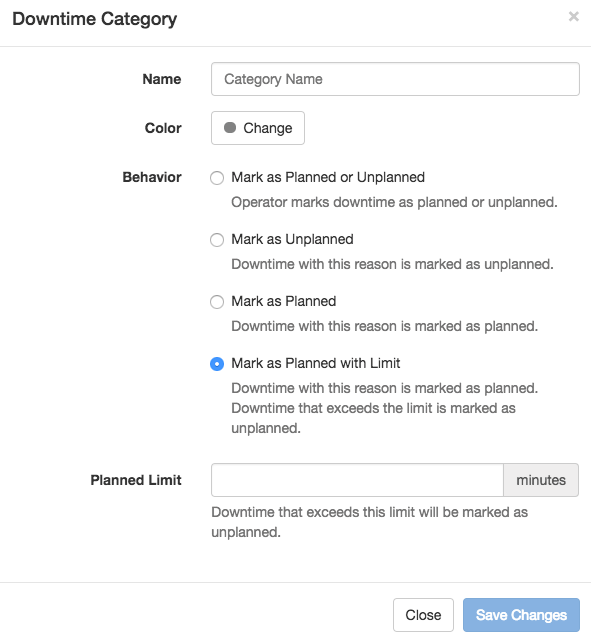 Here's why this is important: say for example, you know the preventative maintenance you perform on your machine's routinely takes 30 minutes. You set the Planned Limit of the Preventative Maintenance downtime category accordingly. However, the next day you discover that your preventative maintenance has actually taken far longer than you thought. Because you set the Planned Limit, you are now able to see exactly which parts of your downtime are planned, and which are unplanned. Without it, you might never have noticed in the first place.
With the Downtime Category Behavior you are able to capture and categorize that unplanned downtime so
you can set more accurate goals and delve deeper into the root causes of your downtime. More visibility empowers you to make the most of your machines.