MachineMetrics is proud to announce its latest feature, Operator Insight! Now you will be able to give your operators unique identities within our system and add a new dimension of visibility to your data. Operator Insight will let you better understand who on your floor is getting the best utilization rate, who has the fastest setup times, and who is dragging your numbers down. We believe that data driven decision making is the key to a successful business, and Operator Insight is just one more step in that direction.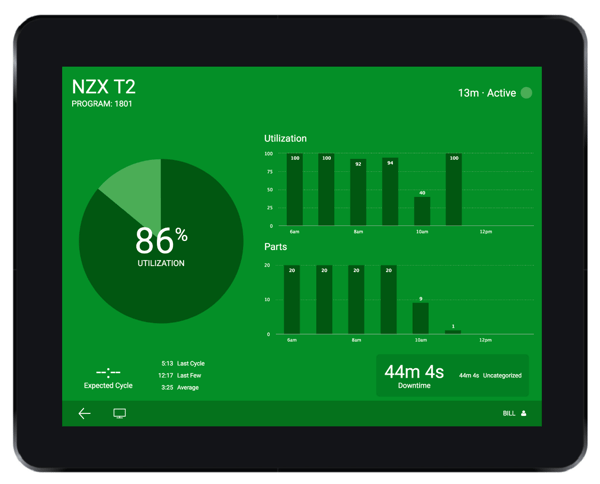 (Operator View Tablet with Operator Insight featured in bottom Righthand corner)
One of the greatest advantages of MachineMetrics is its ability to give users a wide view of their business then allowing them to quickly drill down to the details and find the data that can leads to actions and decisions. Operator Insight gives users another lens with which to examine the details of their operation. Say for example you were looking to improve your efficiency on a shift by shift basis and want to know why some of your shifts consistently perform better than others? There are hundreds of possible explanations, but with Operator Insight you'll now be able to see the details of who worked those shifts and how their machines performed. This data can then be put to use when deciding to increase your workforce, how you organize shifts, or even for continuous improvement efforts. If one of your operators has found ways to be more efficient, you might never know unless the data is there to tell you.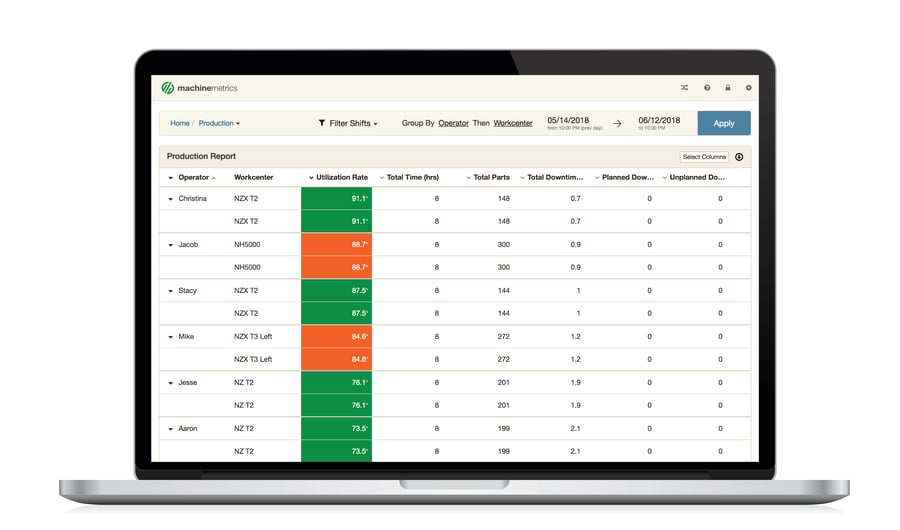 (view of Operator Insight Reporting through the MachineMetrics web application)
Operator Insight is good for more than just getting more data on your operators however. It also has their back when things don't go to plan. Downtimes, jobs, and parts rejected will all be able to be viewed side by side with an operator's data. This means you'll know when an operator did their best to meet their goals but simply ran into one unavoidable downtime after another. The goal isn't to loom over anyone's shoulder, but to improve manufacturing through accurate data. Everyone benefits when a business thrives.
Even though Operator Insight is a new feature, we're already excited about the possibilities in its future development. Barcode scanning so operators will be able to swipe a keycard or id tag to log in to their account. Integrations with more ERP systems that were previously restricted due to requiring an "operator" field. And as always, we're looking for our customer's feedback on how to make this feature as useful and as powerful as possible.
For those of you looking to hit the ground running with Operator Insight, here are a few suggestions we have on how to make use of your new data.

Compare operators by machine, but also by job. The production report offers several different ways to compare your data, make sure you're getting the most out of it by looking at your business from multiple angles.

Total downtime. You can see planned and unplanned downtime, but knowing what percent of all downtime your operator actually categorized can help you identify who is leaning into the system and who isn't.

Look to the positive, not the negative. Instead of focusing on under-performers, pay the most attention to your operators who are going above and beyond. Don't ignore any problems, but you'll get more bang for your buck by rewarding skill and performance.