In today's fast-paced market, manufacturing leaders are increasingly seeking transformational technology to drive operational improvement. They recognize the potential of solutions like MachineMetrics, which provides rich machine data and valuable, data-driven insights. But during conversations with these leaders, there is one topic that frequently makes its way to the forefront: workforce challenges. And for good reason.
According to a recent study by Deloitte and The Manufacturing Institute, 77% of the 800 manufacturers surveyed anticipate having ongoing difficulties attracting and retaining workers.These manufacturers also reported that it is 36% harder to find the right talent today than it was in 2018, despite the supply of available workers doubling in that same time due to COVID-related unemployment.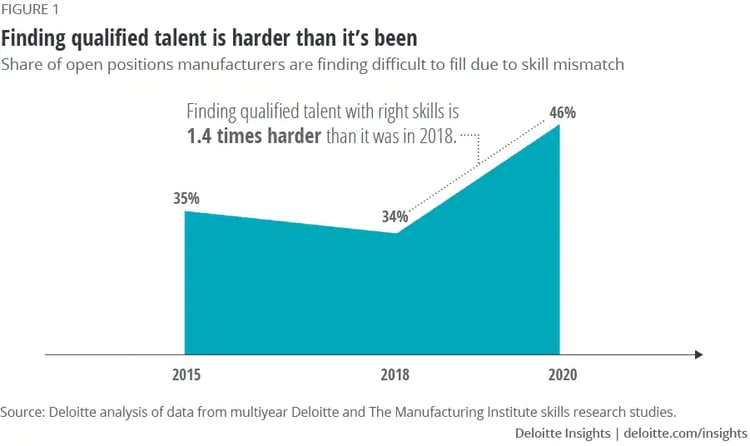 To stem the tide of employee turnover, leaders now evaluate every business decision through the lens of how it will impact and be received by their employees. Therefore, it's no surprise that many leaders who desperately want to pursue transformational shop floor technology are hesitant for fear of overwhelming or alienating their employees.
What factors are behind shop floor workers' resistance to new technology? Common examples include:
Fear of change or disruption
Concerns that "Big Brother" will monitor their every move
Resistant to adding additional tasks to their already overburdened workload
This begs the question: how can organizations balance their employees' happiness with the need to adopt transformational technology? Savvy manufacturers are learning that adopting the right impactful solution can deliver huge results, generate enthusiasm amongst their staff, and build a culture of improvement that carries transformation initiatives into the future.
But don't take it from me. Here are lessons learned from MachineMetrics customers who gracefully navigated their employees' concerns and leveraged data-driven insights that not only deliver value to the organization, but improve the day-to-day lives of their employees:
Mayville Engineering Company
A leading U.S.-based contract manufacturer that provides a broad range of prototyping and tooling, fabrication, coating, assembly and aftermarket services, with a total of 20 facilities across seven states. As part of the high-growth company's continuous improvement journey, Engineering Manager Michael Wisnefsy sought to develop a more accurate understanding of their machine performance in order to drive process improvements and assign dollar values to issues.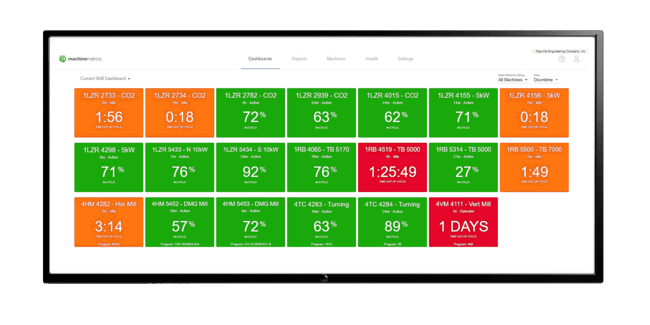 | | |
| --- | --- |
| Clear Communication Places the Focus on the Mission | "It's important to note that the communication plan to the operators is critical. We were very careful and consistent in our message and implementation that this is not meant to drive issues back to any specific operator, it's not meant as a means to micromanage. We preached and practiced that this was meant to help us quantify the problems they have so that we can justify improvements to make them and the company better." |
| Measurement Builds a Culture of Self-Improvement | "Shortly after we rolled out our plan and saw what kind of data we were getting, we saw a productivity and uptime gain. After discussions with operators, we realized that they liked seeing the tablet report that they were "in the green" range for uptime percent and would put in extra effort to reach that. The direct, live feedback was able to turn it into a game of sorts. This visibility alone turned into a 5-10% productivity improvement." |
| Data-Driven Insights Break Down Barriers | "Maintenance can now react to alerts from MachineMetrics where an operator notes a machine is down instead of waiting for the operator to contact a supervisor who would have to write up and submit a work order. Operators can have a voice, noting problems via their tablet and feeling confident that their notes are reviewed." |
| Working Smarter and More Efficiently Leads to Productivity Gains | "In today's market with skilled labor shortages everywhere and demands for shorter lead times from customers, it's vital that we are fully utilizing our people and our equipment. After implementing MachineMetrics, we saw between a 10-15% improvement in overall uptime and, on top of that, a 15-20% efficiency gain. Since we run four shifts, that's the equivalent of almost another shift for free." |
| A Culture of Improvement Serves as a Competitive Advantage | "Upper management has noticed a productivity gain which helps the bottom line, and they can show customers that we are monitoring and improving to drive lower costs and shorter lead times to them. Customers, suppliers, and auditors are all amazed at the level of detail that we can pull out on the fly." |
Read the full Mayville Engineering Company case study to learn more.
Morgan Olson
A leading U.S.-based contract manufacturer that provides a broad range of prototyping and tooling, production fabrication, coating, assembly and aftermarket services embarked on an Industry 4.0 journey that began with a need to better understand their machine asset capacity. Before MachineMetrics, Morgan Olson relied on a paper-based approach for tracking utilization which hindered decision-making and left them blind to various opportunities related to capacity utilization. Now, Continuous Improvement Manager Denis Mursoi and his team are finding benefits that extend from the organization to the individual as well: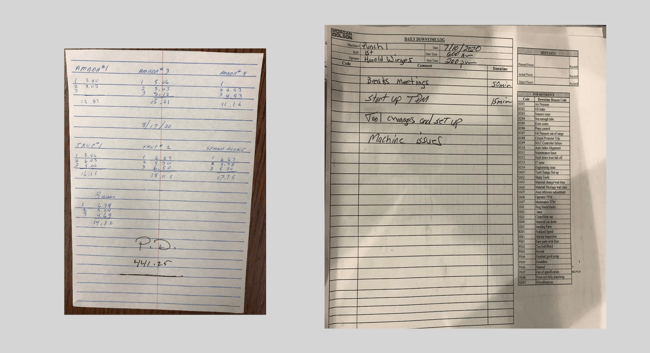 Select Technology With the End User in Mind

"I understood the inherent cultural challenges Morgan Olson could face in successfully incorporating new technology. Whatever choice we went with would have to be intuitive and easy to use, and would need to rapidly produce results. Our operators believe MachineMetrics allows them to control their own destiny and performance."

Prioritize the Elimination of Manual, Time-Consuming Processes

"[Before MachineMetrics], our team would enter downtime and information on downtime causes on a sheet of paper. The paper data would be entered into an Excel spreadsheet later in the day. This was an incredible waste of time, misallocation of resources, and we found the data was woefully inaccurate. The idea of leveraging any insights from the data to drive continuous improvement was simply a fantasy.

[Today, MachineMetrics'] tablets and the real-time data and metrics presented lets operators know where they stand at all times. The operators are also alerted to any problems so they know when they need to ask for help. MachineMetrics also has a notification and workflow engine that enables us to automate many of our processes based on specific conditions. Once we moved away from manual paper entry, no one wanted to go back."


Standardized, Accurate Data Provides a Foundation for Collaboration and Friendly Competition

"Everyone understands the context of the data and there are no longer any debates around the accuracy or completeness of the data. Also, it has created internal positive competition amongst the team members on the shop floor. No one wants to be the last one, no one shows up in the morning and says, "I'm going to do a very bad job today." So it brought out the good side of people. Everyone wants to be in the 'green' during production, do a good job, and see it in the green as they leave for the day."
Read the full Morgan Olson case study to learn more.
General Grind & Machine
A growing company that produces quality precision parts for industries including agriculture, marine, construction, and heavy equipment. The organization launched a continuous improvement program to gain complete control over their machine and operational data in order to reduce downtime, identify production bottlenecks, and improve reaction time to factory floor issues. Chief Operating Officer Blake Bieri shares how his team benefited from access to real-time machine data: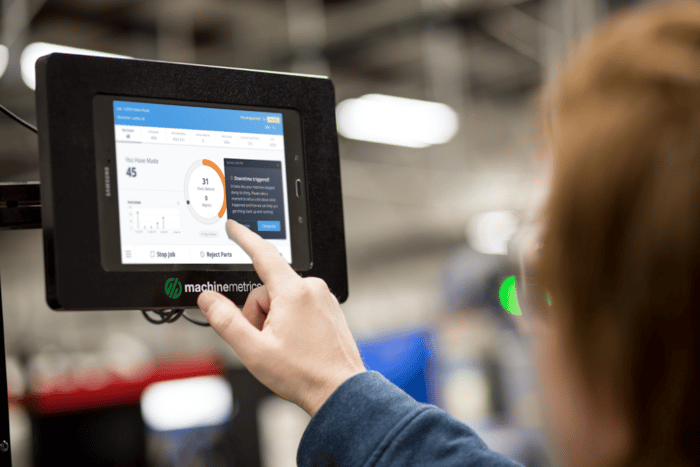 | | |
| --- | --- |
| Put Employees and Company Culture at the Center of Digital Transformation | "Our people are the foundation of the values we live by…we seek to create accountability by establishing a culture inspired by transparency, trust, honesty, ethics, and leadership. We're always asking ourselves: 'What's holding our people back from exploring their full potential? And how can we remove those barriers – permanently?" |
| Clearly Communicate the Value that Machine Data Provides to Employees Themselves | "Some team members expressed reservations about being "watched." But once we explained that the solution would serve as a resource for them and help them to do their jobs better, they quickly got on board. It didn't take them long to recognize its potential to give them a way to communicate better and faster and eliminate many of their common frustrations." |
| Focus on Learning from High Performers to Unlock Process Improvements for All | "Since implementing MachineMetrics' solution, we meet every week to review the reports. They tell you who's achieved the highest utilization among all our team members. We then go and talk to that team member to learn what they did to get there. After that, we share those learnings with the rest of the team." |
| Empower Employees with Data to Give Them a Voice | "With MachineMetrics, live data is always accessible. You always know exactly what's going on in every single work center and the precise status of each product line. Before MachineMetrics, we had the data, but it wasn't live. That meant we were more reactive versus proactive. Now that we have MachineMetrics' solution in place, we can bring that level of insight and foresight to bear to benefit our customers and suppliers. Thanks to MachineMetrics, we have a simple mechanism that allows our team members to speak up about what they're seeing happening with their machines in real-time." |
Read the full General Grind & Machine case study to learn more.
Satisfied and productive workers are the lifeblood of a strong manufacturing organization; prioritizing employee well-being is critically important. Nevertheless, companies that tread too cautiously and delay innovation are actually putting their entire business at risk of falling behind the competition.
While there is no question that the manufacturing industry will be navigating workforce challenges for years to come, successful companies are learning how to foster a culture of collaboration and improvement through technology that provides actionable, data-driven insights.
LEARN MORE ABOUT HOW DATA CAN EMPOWER YOUR FRONTLINE WORKERS.