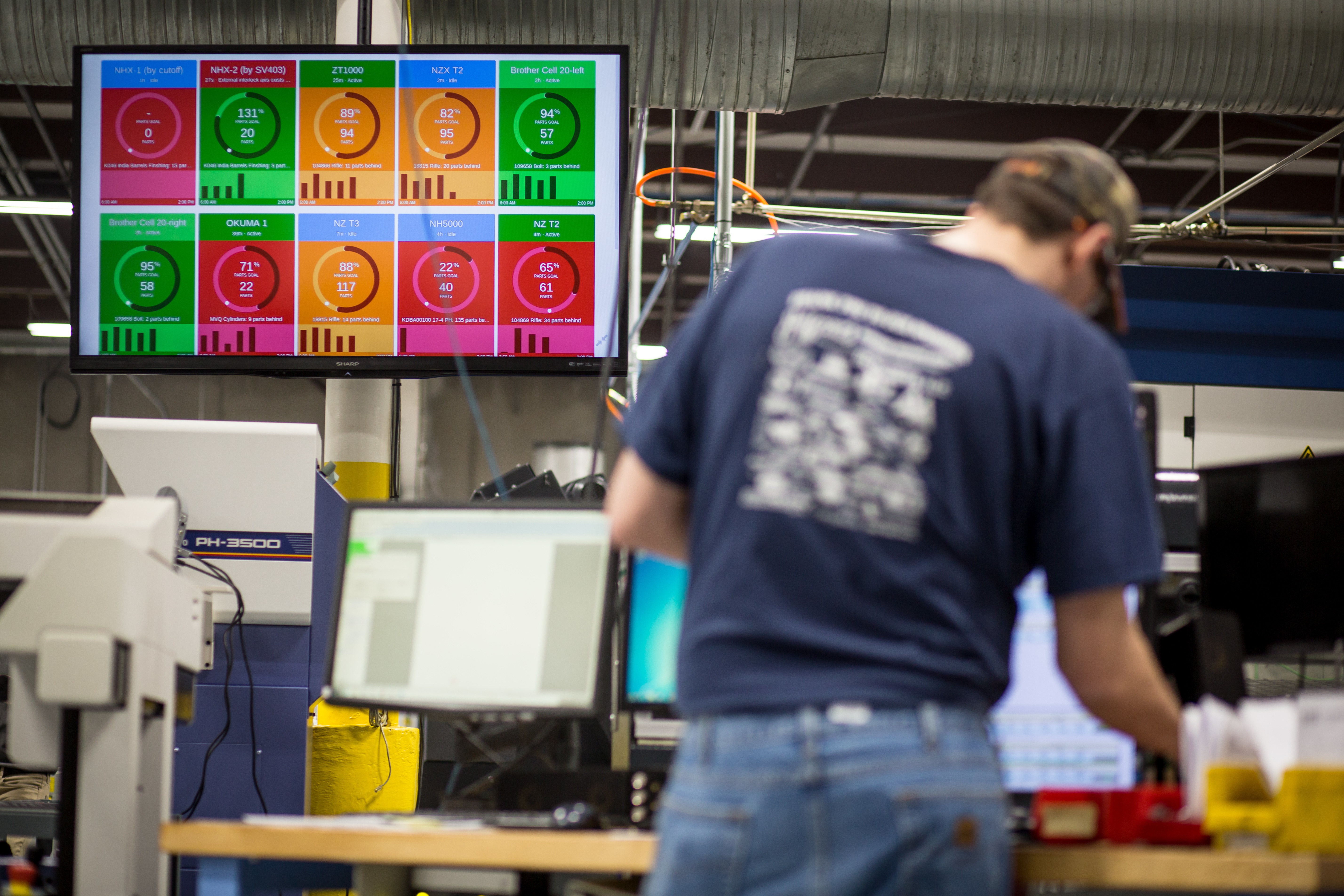 In manufacturing, no one knows better than you that money is made and lost on the shop floor.
Which is why using a machine monitoring system that provides accurate, real-time visibility into your production process is such a critical component of the modern manufacturing environment.
Companies already practicing lean manufacturing techniques are turning to lean monitoring systems to help them reinforce the habit of continually trimming back on activities that don't add value for the customer.
Installing a production machine monitoring system that enables shop floor personnel to track activities and automatically record the performance of its machine tools is the logical 'first step' for tracking continuous improvement.
But for some, just the thought of implementing a machine monitoring system can seem overwhelming.
Many small and medium sized companies have visions of a complicated implementation process that taxes their human resources and disrupts their operations.
Turns out, upon closer examination, opening a window onto the performance of machine
---
The Right Partner Makes Machine Monitoring A Snap
First off, setting up and installing a manufacturing software system is painless when you're working with an experienced software partner whose integration team does all the work.
Designating an in-house project manager? Forget it. You should be able to simply hand off all project management details to your supplier and they do all the work.
Worried about having to shut operations while the install takes place? No need. Monitoring systems can be implemented while your shop is in full production.
Maybe you're concerned about locking into a monitoring system without knowing whether or not it will meet everyone's expectations?
No worries. At Machine Metrics you can often "test drive" our machine monitoring system to confirm it delivers. Learn more about our no-risk, 3-month pilot program here.
In fact, it's not uncommon during the trial period to see some impressive early measurable results.
Increases in machine uptime, cells that run more efficiently, and streamlined setup procedures are among some of the typical benefits you'll likely see. Or - you shouldn't pay.
In reality, the actual implementation of a machine monitoring system is straightforward and simple.
You Just Supply The Communication
The key to maximizing the benefits of a lean manufacturing software is supporting it with an effective internal communication program that engages your entire organization in the process.
Performance-based monitoring systems need acceptance and commitment on the part of the shop floor workforce, managers and, of course, senior management.
Following a simple action plan, like the one outlined below, will pay big dividends.
Have vision and commitment at the top.
Use a pilot program to set the course.
Reinforce shop culture with good communication.
Rally the team around an enthusiastic leader.
Get good data, and act on it appropriately.
The emphasis on communication doesn't stop after your machine monitoring software starts gathering data and rendering manufacturing analytics reports.
By keeping the impact effective machine usage and shop personnel have on overall productivity top of mind, you'll create a lean culture of efficiency that will last.
Ready to get started with Machine Monitoring? Request a demo of MachineMetrics, an Industrial IoT solution that can transform your shop floor data from insights into actions.
---