Last week I published my first post on the Impact of COVID-19 on U.S. manufacturing as seen from our customer's anonymized and aggregated data. I was hoping that this outbreak wouldn't become a pandemic - but here we are just 7 days later, I'm working from home along with the rest of the company. My three high schoolers are home from school for at least 3 weeks, and the market is down again almost 10% causing trading to stop. In just one-weeks time our lives have significantly changed.
Manufacturing is still on a significant upwards trend - seemingly bucking the overall economy. Is this due to domestication of the supply stream, or manufacturers temporarily increasing inventory in a "war time" panic. It's hard to say - however I have had some evidence from our customers that work normally sent to China is coming their way. Forbes published an article last week based on our data that Covid-19 may be delivering a local manufacturing renaissance.
The rolling 7-day average of machine utilization last week was 29.5%, which is the highest since October 2019. Throughout last week machine utilization continued to spike through Thursday when the rate peaked at 30.5% for 2 days, a 1% increase from the beginning of the week. This past weekend we experienced a relatively significant 1% drop in productivity compared with the previous weekend back to 29.5%. Still a high number, but a possible leading indicator of a downtrend trend. Note that with our data at a 30% utilization rate, our margin of error is 0.7%. Anything moving more than 0.7% would be considered measurable and significant which is the case here.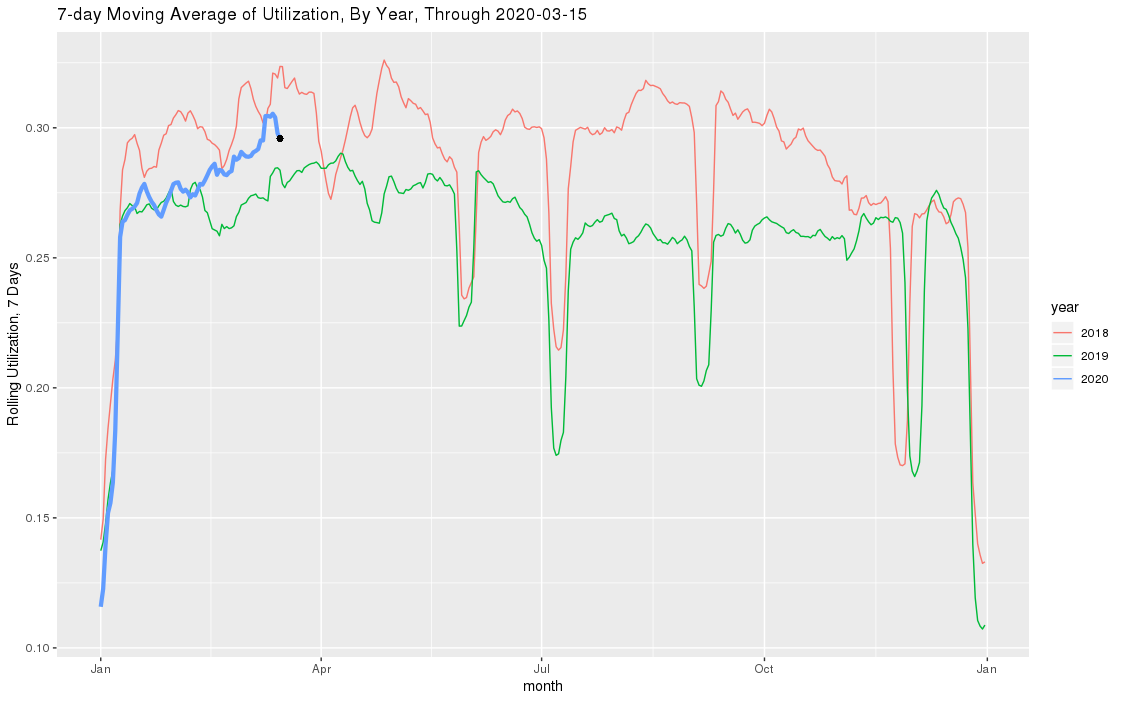 I do believe that we will see a downward trend here as manufacturers send their employees home - offset to some extent with domestication of the supply chain. Executives, and office workers are beginning to work from home now while essential factory workers are continuing to come to work. Having remote access to factory data will be essential during this pandemic.
I do hope that U.S. Manufacturing is able to weather this downturn well, that we all stay healthy, and get back to the office soon.