MachineMetrics Recognized for AI-Driven Manufacturing Technology
Northampton, MA, July 24, 2019 – MachineMetrics, a leading industrial IoT (IIoT) and smart manufacturing startup located in Western Massachusetts, has been selected for the "Best AI Driven Manufacturing Technology Solutions Provider 2019" award by CV Magazine, an international, digital business magazine which is distributed to more than 130 countries, reaching 130,000 top-level professionals across the business landscape.
"Using machine learning, we can predict when certain maintenance issues will arise, when cutting tools are going to reduce quality, or may have a breakage or the tool path may be off," says Graham Immerman, Director of Marketing, "We can then automate notifications to customers through our alerting engine and enable them to take preventative actions that can save them thousands or even millions of dollars a year on quality problems and downtime."
"The Corporate Excellence Awards are handpicked by CV Magazine and are based purely on the comprehensive analysis of both qualitative and quantitative research undertaken by the wider group. This proven approach ensures that we award on merit, not popularity and recognize the very best in business on a global scale; from sole professionals and single office firms to international conglomerates, we award those that are succeeding in their endeavors, innovating, growing and improving."
"(At MachineMetrics) Our unique ability to easily connect to any machine has allowed the MachineMetrics platform to quickly gain tremendous traction and aggregate what we believe is the most powerful global dataset of machine performance in the world." says Bill Bither, CEO of MachineMetrics
Corporate Vision is dedicated to working around the clock to shine a spotlight on the brightest, best performing and most deserving companies and individuals from around the business world.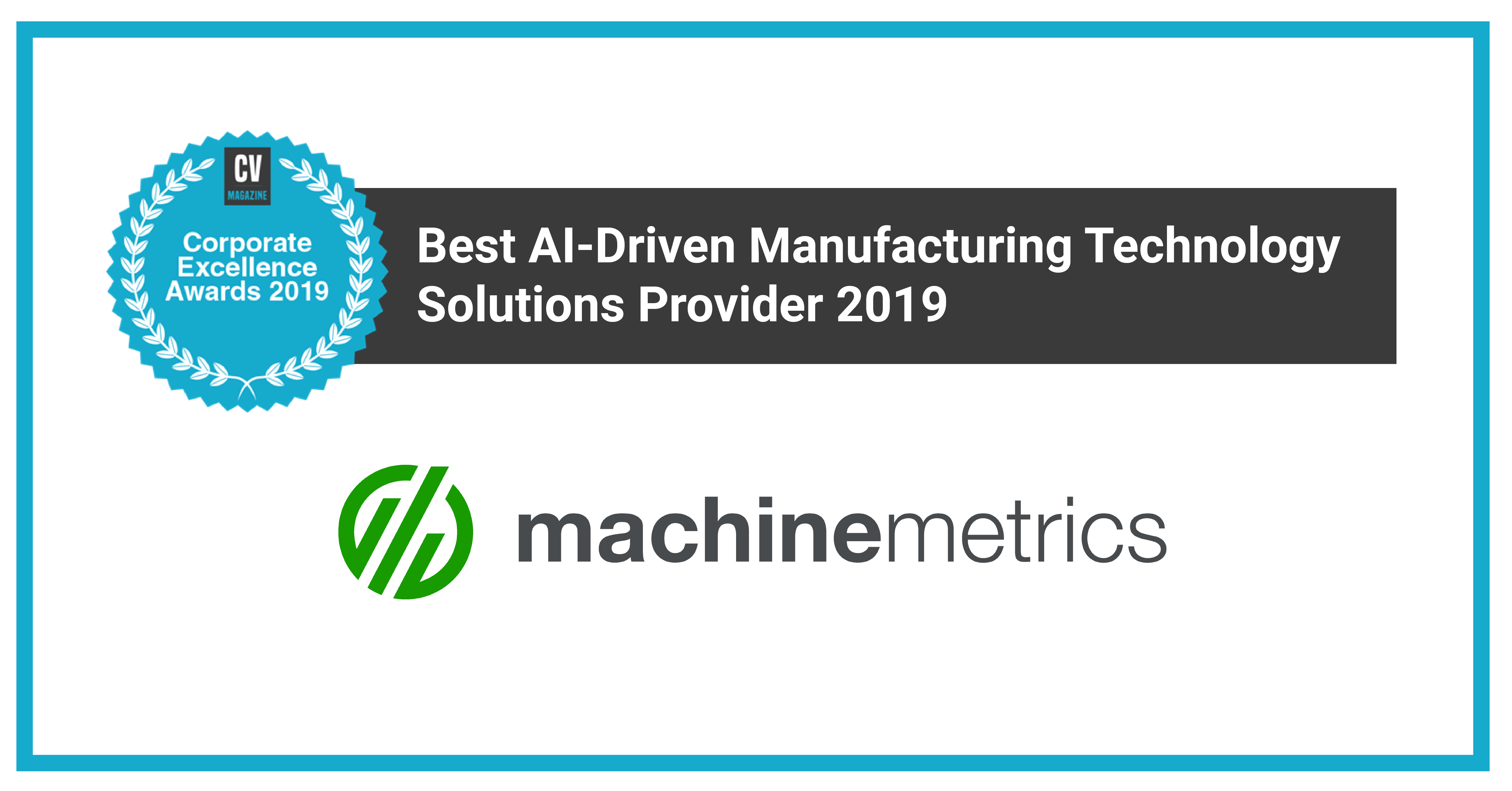 About MachineMetrics
MachineMetrics is the industry's first AI-driven machine monitoring and predictive analytics platform for discrete manufacturers and machine builders. Our award-winning Industry 4.0-ready solutions work out-of-the-box to increase equipment productivity and efficiency through edge connectivity, real-time visibility, deep manufacturing analytics and AI driven predictive and prescriptive alerts. By simplifying Industrial IoT, MachineMetrics is enabling customers to digitize and drive decisions with machine data.
About Corporate Vision
Created by a highly experienced and passionate team of business experts, advisors and insiders, Corporate Vision provides discerning readers worldwide with a wealth of news, features and comment on the corporate issues of the day.
Want to learn more about AI-driven manufacturing technology solutions? Contact us!