MachineMetrics Service Platform for Machine Builders Recognized for Smart Manufacturing Innovation with 2019 IoT Breakthrough Award
Company Awarded Honor in Annual IoT Breakthrough Awards Program, Recognizing Standout Internet-of-Things Companies and Products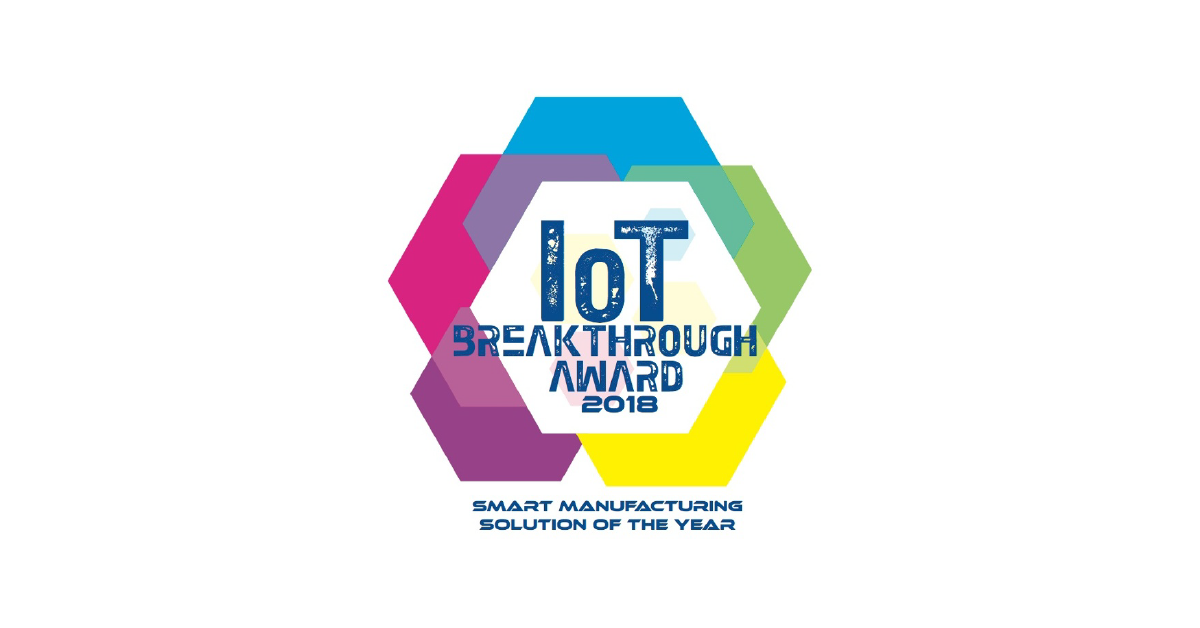 BOSTON, February 4th, 2019 – MachineMetrics, which equips factories and machine builders with the digital tools needed to increase productivity and win more business, today announced that its MachineMetrics Service platform has been selected as the winner of the "Smart Manufacturing Innovation of the Year" award from IoT Breakthrough, an independent organization that recognizes the top companies, technologies and products in the global Internet-of-Things (IoT) market today.
The company's latest solution allows factory workers to share MachineMetrics' data with their remote maintenance teams and makers of their equipment, and vice versa. This enables service teams to identify problems through remote diagnosis, reduce onsite service visits by 10 to 20 percent, receive predictive maintenance alerts, and even gather feedback that could help fuel future machine design innovations.
The mission of the IoT Breakthrough Awards program is to recognize the innovators, leaders and visionaries from around the globe in a range of IoT categories, including Industrial and Enterprise IoT, Smart City technology, Connected Home and Home Automation, Connected Car, and many more. This year's program attracted more than 3,500 nominations from companies all over the world.
"As a two-time IoT Breakthrough Award winner, MachineMetrics has demonstrated an ongoing commitment to driving innovation and adoption of Industrial IoT and smart manufacturing solutions," said James Johnson, managing director at IoT Breakthrough. "By enabling manufacturers and machine builders to digitize and drive decisions with machine data, MachineMetrics' customers are seeing a significant increase in equipment productivity and efficiency. We'd like to congratulate the MachineMetrics team on their continued success and for their second consecutive IoT Breakthrough Award designation."
"We're honored to be listed amongst companies that have demonstrated a unique ability to change the world we live in for the better," said Bill Bither, CEO at MachineMetrics.
"For years now we have been working directly with manufacturers to improve manufacturing equipment uptime, OEE and productivity with real-time machine monitoring and analytics. By allowing machines to be monitored remotely and in real-time, we are enabling OEM's to extend these benefits to their customer base while providing them with faster, better service. Our data science team is working closely with the data to deliver optimized preventative and predictive maintenance specific to their machines to improve machine uptime."
Right now, hundreds of manufacturers are using the MachineMetrics platform to measure and analyze the performance of thousands of machines across their global factories. Their solutions are providing the necessary real-time visibility into production, automatically recommending ways to improve performance, warning shop floor workers of pending problems, even predicting maintenance events to reduce unplanned and costly outages. A unique ability to easily connect to any machine has allowed the MachineMetrics platform to quickly gain tremendous traction and aggregate what we believe is the most powerful global dataset of machine performance. They are now using this data to provide the highest level of insight back to not just manufacturers, but the machine builders themselves.
Manufacturing accounts for 16.6 percent of global GDP and is on the brink of a new digital age, often called the Fourth Industrial Revolution. That revolution combines two advancements — predictive analytics and artificial intelligence — and applies them to physical objects (ie, your Nest thermostat), creating the Internet of Things. Only with this ability to send and receive data can humans, and one day the objects themselves, figure out how to slash waste and increase output.
"Tsugami/Rem Sales is thrilled to be working with MachineMetrics, bringing cutting edge, disruptive technology directly into our end-users' businesses," explained Michael Mugno, Vice President, Tsugami/Rem Sales. "The addition of MachineMetrics Service to our Swiss-turn machine platform packages allows users to collect data on machine health, production status, down-time, and so much more that they may never have known existed - bettering businesses across the industry."
About MachineMetrics
MachineMetrics is the industry's first AI-driven predictive analytics platform for discrete manufacturers and machine builders. The company is also the winner of 2018's Smart Manufacturing Solution of the Year (IoT Breakthrough Awards). Their Industry 4.0-ready solutions work out-of-the-box to increase equipment productivity and efficiency through edge connectivity, real-time visibility, deep manufacturing analytics and AI driven predictive and prescriptive alerts. By simplifying Industrial IoT, MachineMetrics is enabling customers to digitize and drive decisions with machine data. For more information, visit: www.machinemetrics.com
About IoT Breakthrough
IoT Breakthrough, part of the Tech Breakthrough Awards organization, is devoted to honoring excellence in Internet-of-Things technologies, services, companies and products. The IoT Breakthrough Awards program provides a forum for public recognition around the achievements of IoT companies and products in categories including Connected Home and Home Automation, Connected Car, Industrial IoT (IIoT) and Smart City, Consumer IoT and more. For more information visit www.IoTBreakthrough.com.