MachineMetrics is already capable of giving its users a vast array of tools and reports to increase visibility and drive improvement, but we never stop looking for opportunities to improve our own product. Our newest feature, the Production Report, combines depth of information with ease of use by congregating all of your key performance information into a single report.
The Production Report can be viewed either by workcenter or by job. When multiple workcenters performed a single job, that data is aggregated but can be expanded to view the individual machines involved. Users can observe the overall performance of a job, as well as drill down to get a look at what machines are having the greatest impact on the job.
For each job and each workcenter, there are over fifteen different metrics, allowing easy access to your preferred KPI. Each of these categories of data can be used to sort your Production Report, bringing to your attention whatever aspect of your business requires focus.
Because at MachineMetrics, we understand that getting to the root cause of an issue requires as much information as possible, the Production Report also includes the ability to filter by shift. For example, during shift handoffs, this report can be used to show the full performance across all metrics for each shift.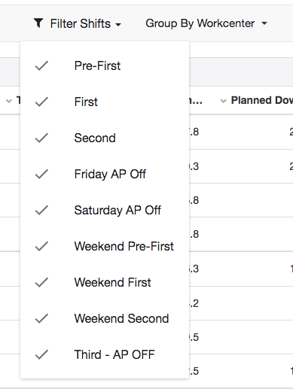 The Production Report delivers users the power to see the big picture, then drill all the way down. Using this report on a regular basis can transform the way you view your operation. Having all the pertinent data in a single report makes it that much easier for you to understand what's happening in your business and drive improvement.