This past week was full of news around the Covid-19 pandemic, and we started seeing closures of factories in North America. I do hope everyone reading this and their families and co-workers remain healthy. My sincerest gratitude to the hospital workers, doctors, and nurses who are caring for the sick, and risking their health on the front lines. As I sit home for the second week, fear and uncertainty continue to grip our nation and our world. Lives have changed globally. I can only contribute our data to help others understand how this is and will be impacting our lives in manufacturing.
MachineMetrics customers represent a statistically significant number of machines across hundreds of small, medium, and large manufacturers in the United States. Machines are primarily used for metalworking such as CNC Mills, Lathes, Grinders, but also fabrication such as Lasers, Presses, and Welders.
Last week continued a drop in our customer's machine utilization as we fall below 2019 levels. I don't anticipate that this week will be much better. We saw automotive take a particular hit as the major OEMs closed their factories last week. As of Yesterday, 3-21-2020, average machine utilization dropped to 26.3% - a drop of 2.2 points from 28.5% one week ago. This is significant but still just above productivity levels last fall. Most factories are still producing.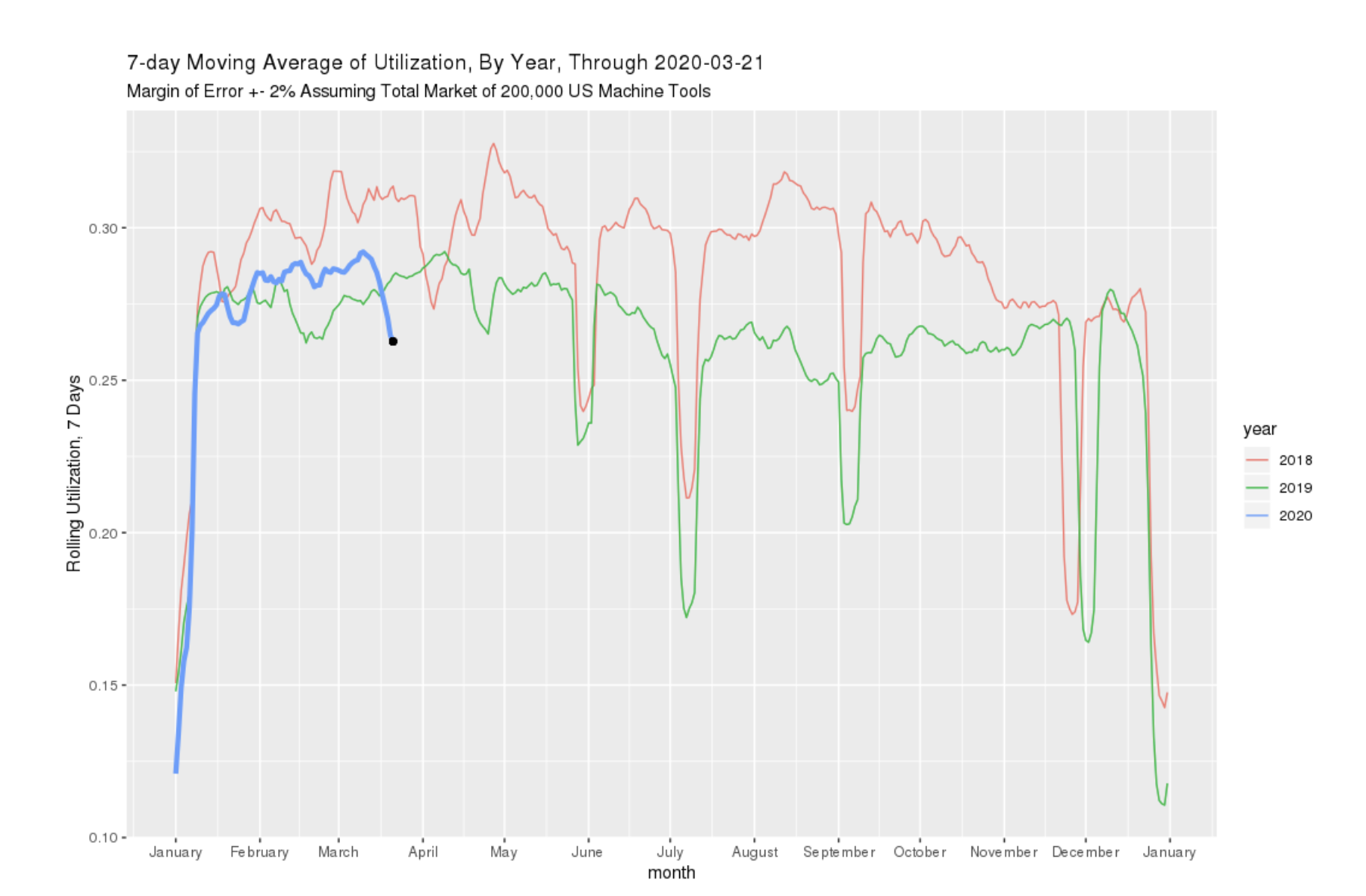 A view of the last 3 days shows this drop in more detail. March 10 had a peak production of 29.2% but every day since has dropped.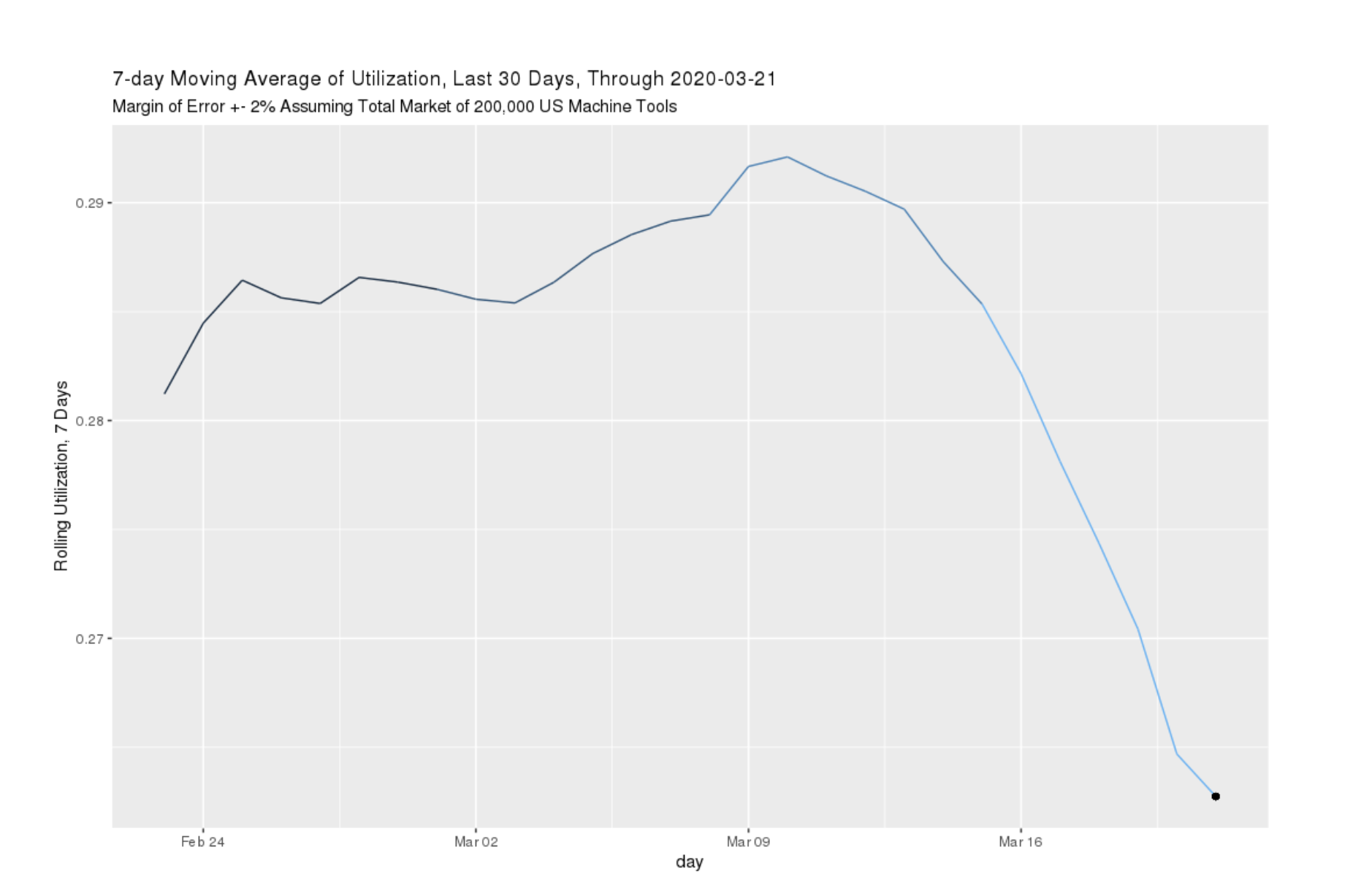 When segmenting data by industry, Automotive - typically the best performer, has dropped to #4 leaving aerospace as the top performer in machine utilization. This correlates to the plant closures that have been publicized. Some industries such as Medical Device and Aerospace & Defense has seen a slight uptick in utilization these last few days. Many of our customers tell me that they continue to have no shortage of work and remain in operation. Given our dataset, we can conclude the automotive is currently the main driver of decreased productivity so far, but if other industries follow suit, we have a long way to drop.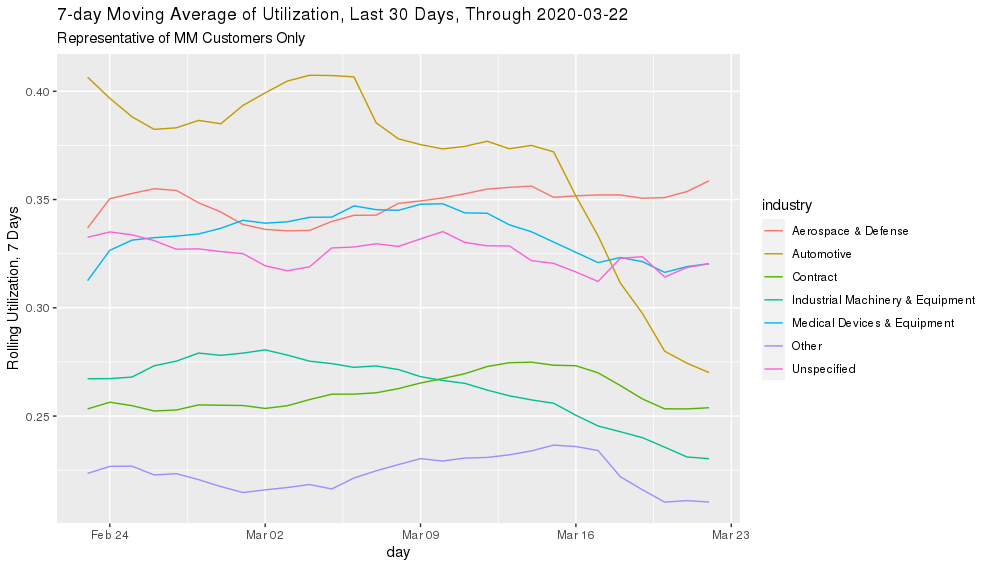 An Improvement of our Methodology
In light of the publicity our analysis has received, we decided to take a closer look at our methodology. Today, we have updated a couple of assumptions and identified an issue that caused our previously reported data to be artificially high for the 7-day rolling day average that accounted for daylight savings. The conclusions and general trends remain unchanged. As stewards of data, we feel it is our responsibility to inform the community of changes in both our calculations and assumptions. The difference between the previous calculation and the corrected calculation can be seen in the chart below. Notice the difference for the 7 day period around daylight savings in the spring and the fall.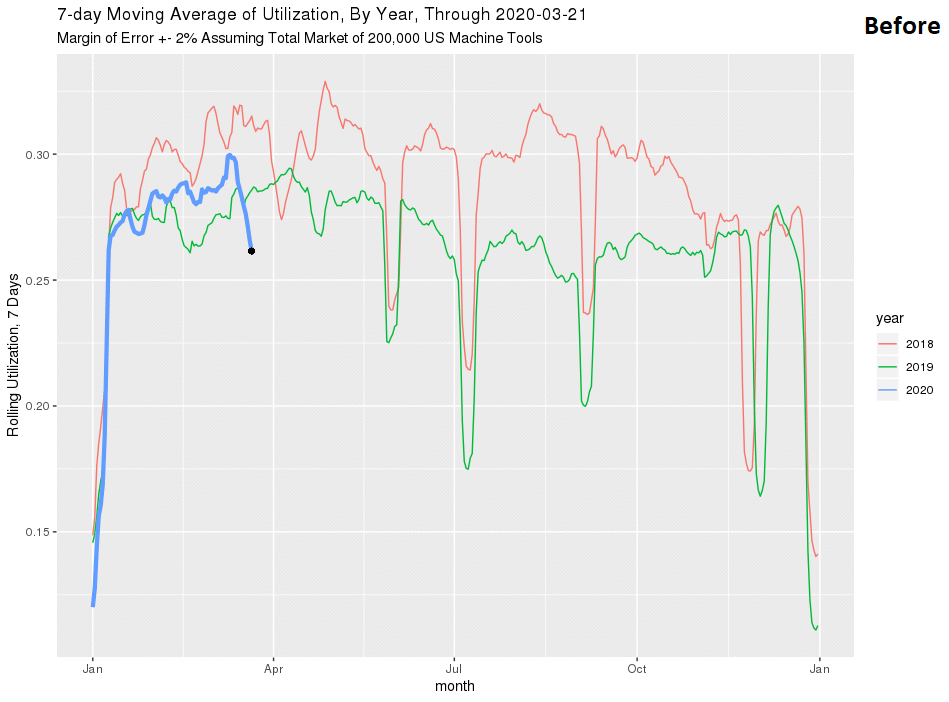 General trends, especially for the beginning of 2020, stay unchanged. American manufacturing remained strong and was on an upward trajectory, peaking at just below 30% utilization on March 12th, well after multiple states had declared states of emergency.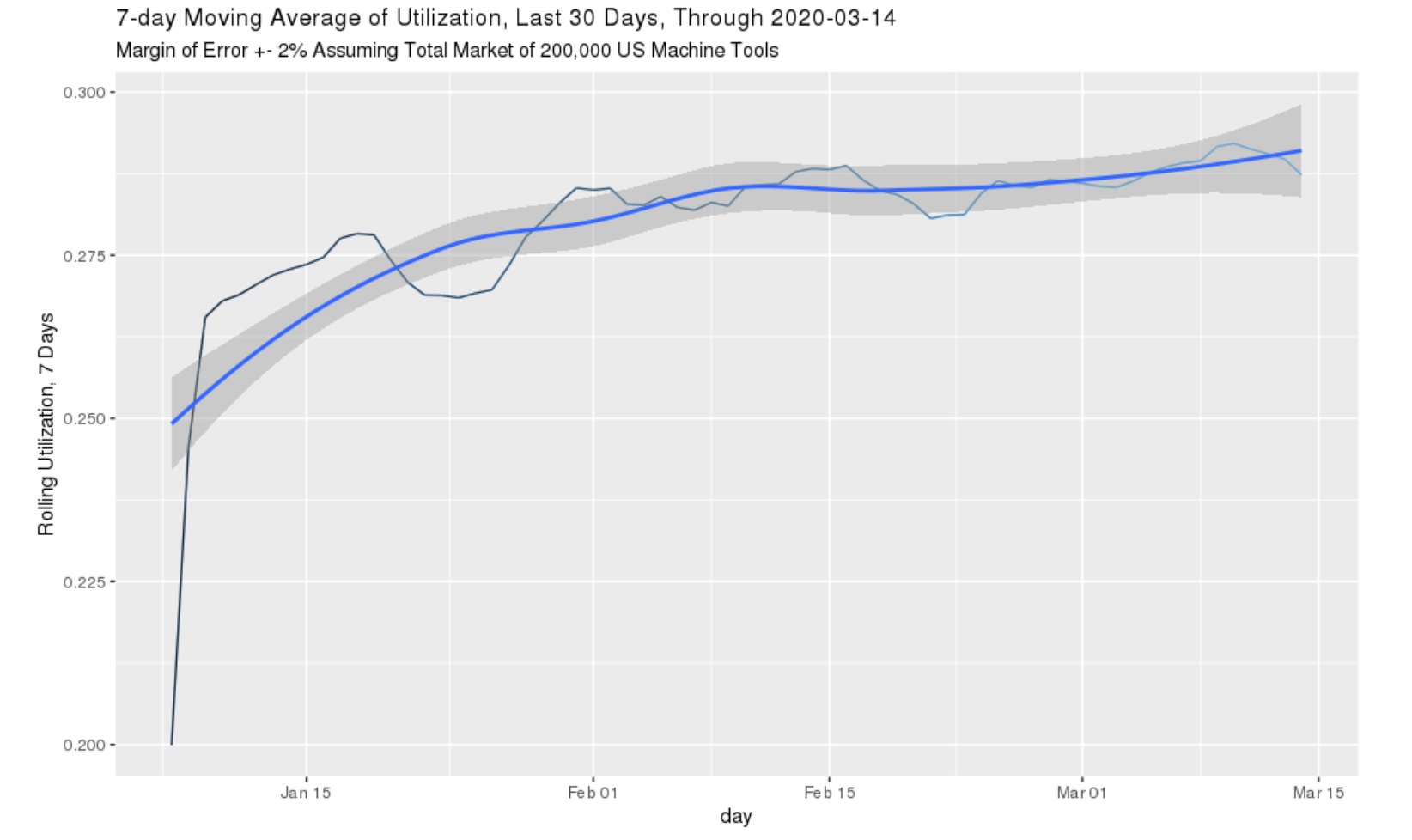 Below we have included the recording of the live panel discussion on this topic with our Co-Founder and CEO, Bill Bither, along with industry leaders from Pindel Global Precision, Rassini, and Gardner Business Media.