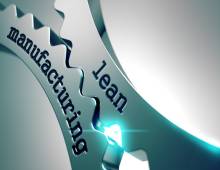 Lean manufacturing. Machine monitoring.
If you're in manufacturing, chances are, you're hearing these terms mentioned more and more in the same article or conversation.
And with good reason. They complement each other.
In order to stay agile and responsive in today's demanding marketplace, savvy manufacturing companies are making sure they know what goes into creating an efficient lean process so that they can keep pace with the competition.
Although there are many elements that make up an effective lean manufacturing process, it basically boils down to these two:
Setting the stage for a lean process and then implementing a system that allows you to maximize your manufacturing productivity results.
Phase 1: Building Your Lean Manufacturing Foundation
Long gone are the days when a company's employees could simply go along for the ride.
Today, everyone in an organization must be a committed problem solver - especially where the lean manufacturing process is concerned.
The lean process requires an entire organization to build a culture that results in every employee having a "can do" mindset that positions all stakeholders for long-lasting success.
A starting place for many is introducing and implementing a 5S program - a basic lean manufacturing strategy designed to improve workplace efficiency through facility-wide organization and cleanliness.
Each of the 5S guidelines - sort, set, shine, standardize and sustain - helps managers and workers achieve greater organization, standardization, and efficiency—all the while reducing costs and boosting productivity.
Phase 2: Getting Your Machines to Talk
Once you have your lean manufacturing foundation built, it's time to bring your shop floor to life.
With your lean culture in place, the next step involves equipping your team with automated tools that allow them to switch from preventative mode to a proactive role that takes your production process to a higher level.
Enter machine monitoring.
Machine Monitoring: Putting Your Lean Program On The Fast Track
A machine monitoring system, also known as an MES (Manufacturing Execution System), arms you with accurate real-time data that allows you to make faster and better-informed decisions that can improve your productivity by as much as 20%.
In short, an MES gives you active control of your lean manufacturing process.
Not only can you quickly identify and eliminate productivity drains in your existing production process, you also gain access to additional data that can help you uncover "hidden" issues that could be negatively impacting your shop.
Going on gut feel and guessing is no longer acceptable if you want to keep pace with your competitors.
Decisions must be based on factual information.
And because machine monitoring is web-based, you have access to real-time information anywhere you have internet access.
You're no longer a prisoner to your shop room floor.
Should any problems arise with your machines, you can be on it immediately.
A lean process that combines a lean culture and mindset with technology tools that allow you to listen to your machines will provide you with a sustainable system - without overwhelming your IT department.
Ready to see how with machine monitoring can help your lean program? Click the button below to learn more about our risk-free 3 month pilot program.