At MachineMetrics we are consummately focused on making data consumable by manufacturers so they can take action on that data to improve productivity.
Today, we're taking the next big step forward with the launch of MachineMetrics Workflows!
Using MachineMetrics, we are now enabling our customers to merge insights into "Workflows". These workflows start with insights derived from machine monitoring data which act as triggers to automatically fire off actions- notifications, incidents, or webhooks.
Workflows are all about communicating the right information to the right person at the right time. After all, the value realized by data is not just in the discovery of machine or process inefficiencies, but also in enabling corrective or preventative action that, in the end, improves the operation of the machine.
Once you are able to harness the machine data digital thread, opportunities for automation are endless. Our launch of MachineMetrics Workflows is a remarkable step forward in enabling flexible actionability on this data.
Workflows offer a powerful way to add automation to your factory floor. By configuring triggers and actions, you can make sure the right people or systems have the right information at the right time to take action and optimize production.
What are Workflows?
MachineMetrics Workflows include a trigger that drives a specific action, with the purpose of automating a particular activity. This article will primarily focus on the different Actions that you can choose from in MachineMetrics, but first, let's quickly discuss triggers.
Triggers come in a variety of forms, based on machine and operator data, including alarms, anomalies, downtime categories, machine inactivity, and more. Based on the trigger selected, a particular workflow you have created can be enabled.
Workflow Actions
There are three (3) different Actions you can choose from when configuring a Workflow: Incident, Notification, or Webhook. Below, we go into more detail about each of these actions and how you can use them to start to automate portions of your factory.
Feel free to skip to a particular action:
1) Incidents
This action will automatically create an Incident in MachineMetrics based on specific conditions met on the specified machine(s). This is essentially a log of any issues a machine may experience.
When you create a workflow within MachineMetrics, you will see a few fields you can tweak for your Incident action:
Delay (Minutes to Delay Action): This field is where you can input a delay that will be observed by our system. Basically, this tells MachineMetrics how long our system should wait before triggering the incident creation. If the conditions or trigger is not met for this long, the Incident will not be created.
Priority: Options available for selection include Low, Medium, and High. This is also used for filtering and sorting Incidents on the incidents page.
Assignee: Who is responsible for this Incident when it occurs? That is who you will enter in as the Assignee.
Common Use of Incidents in Workflows:
With time-based triggers, some manufacturers are using the Incident action to create maintenance events that notify the correct person to service the machine.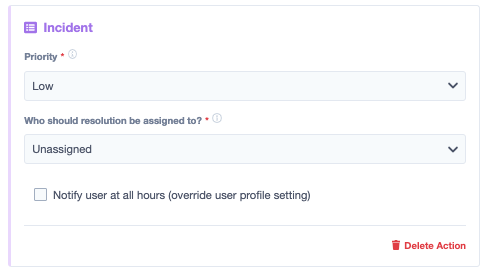 2) Notifications
Notifications and Incidents are created to notify Users of issues or situations they need to be made aware of. Users choose how and when they receive the alerts in their User Profile Settings. So, what do these alerts look like when a User receives one? Below you will find examples of a Text and Email alert.
Email Alert Example: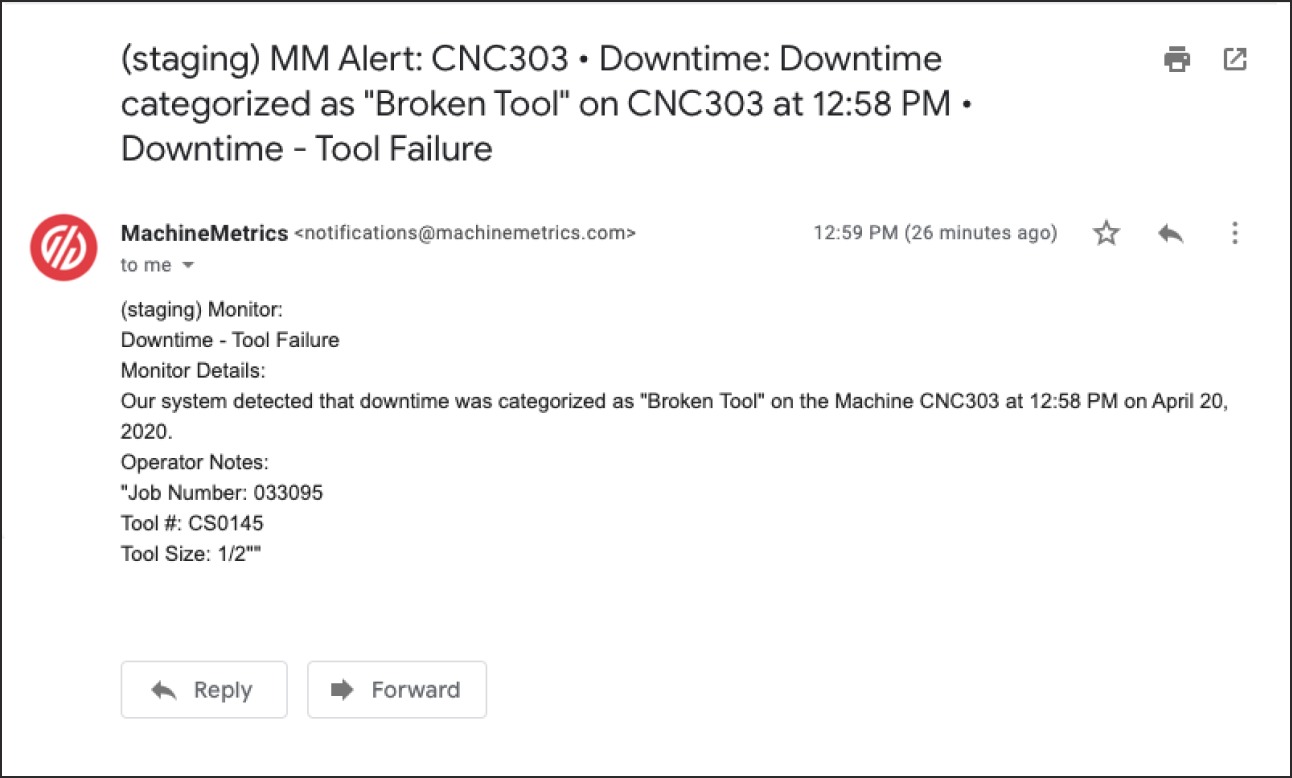 Text Alert Example: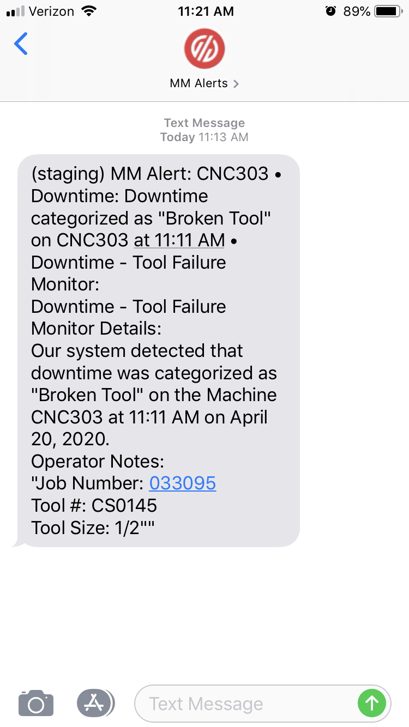 3) Webhooks
The third type of Action you can select when configuring a Workflow is Webhooks. Webhooks send a packet of data to a specified endpoint or location when the Workflow is triggered. The possibilities are really endless with Webhooks. Some examples of how this may be used include sending work order information to a CMMS, or sending information to your ERP.
In the below video, MachineMetrics Engineer Paul Richards walks through how you can set up a workflow that enables a webhook: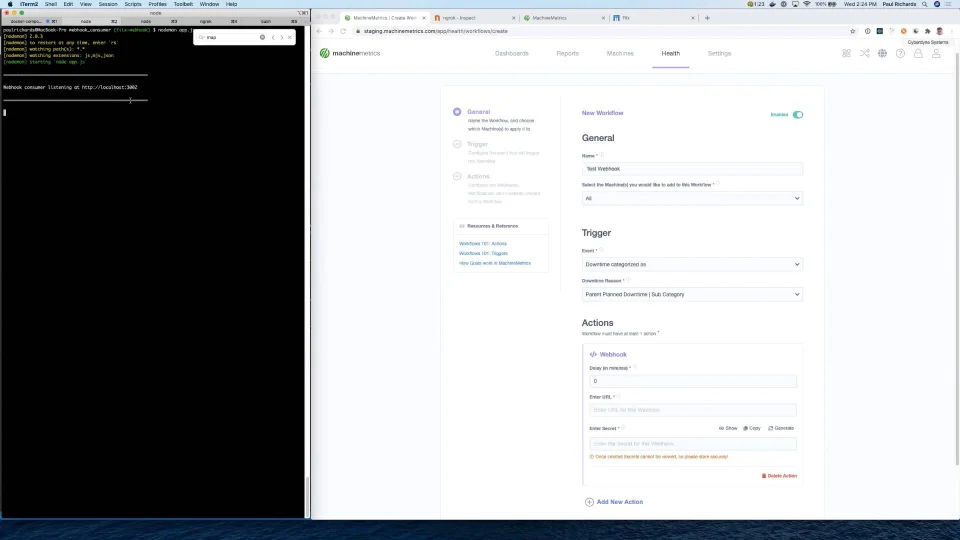 Endless Opportunities With MachineMetrics Workflows
Workflows offer the opportunity to get the right information to the right person (or system) at the right time. By starting at the machine, manufacturers can collect and use their data to drive automation on the shop floor.
If you would like to dive deeper into Workflows visit our Knowledge Base, or get in touch with our team.