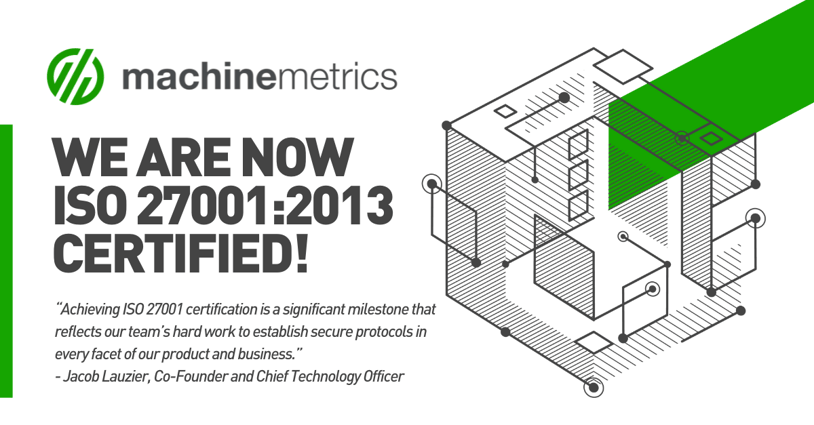 MachineMetrics Achieves Best-in-Class Information Security Standards
with ISO 27001 Certification
Internationally recognized standard validates MachineMetrics's commitment to high-level data
security practices
NORTHAMPTON, Mass., April 19, 2022 —MachineMetrics, a leader in machine data collection and production analytics for manufacturers, today announced that it has achieved the International Organization for Standardization (ISO) / International Electrotechnical Commission (IEC) 27001:2013 certification for its industrial data platform. The audit was completed following a rigorous independent assessment and reflects MachineMetrics's dedication to securing against threats to the availability, integrity, and confidentiality of customer data.
"At MachineMetrics, security is at the forefront of every decision we make. Our product is built on the premise that data is of paramount importance and value, so we view the protection of that data as core to our ability to serve manufacturers," said Jacob Lauzier, Co-Founder and Chief Technology Officer at MachineMetrics. "Achieving ISO 27001 certification is a significant milestone that reflects our team's hard work to establish secure protocols in every facet of our product and business."
Established by the ISO and the IEC, 27001 is a comprehensive security management standard that specifies a set of best practices and controls. Benefits of MachineMetrics's ISO 27001 certification include:
Third-party validation of the company's rigorous data security practices
Alignment with manufacturing customers's requirements
Improved customer and business partner confidence
"For manufacturers seeking new technology in today's market, a software provider's trustworthiness and reliability are just as important as their product's capabilities and business value," said Jon Cowan, Chief Revenue Officer at MachineMetrics. "By undergoing the ISO 27001 certification, we are signaling to the market that the security of our customers' data is at the center of everything we do."
"As a manufacturing leader and MachineMetrics customer, when I see that a software provider is ISO 27001 certified, I know they are just as committed to data security as we are," said Matthew Townsend, Director of Operational Excellence at Paragon Medical. "It gives me confidence to work with an organization that has undergone this rigorous process."
This certification also builds on MachineMetrics's previous security accomplishments, having achieved the Industrial Software Independent Software Vendor (ISV) Competency from Amazon Web Services (AWS), a designation that differentiates MachineMetrics as an AWS Partner Network (APN) member that has delivered specialized solutions aligning with AWS best practices for building an even more secure, high-performing, resilient, and efficient cloud infrastructure for industry applications.
"We celebrate AWS Partners that distinguish themselves by continually performing at the highest standards and providing the relevant expertise and credibility to their customers," said Doug Bellin, General Manager of Smart Manufacturing at AWS. "By building on the credibility of its achievement of the AWS Industrial Software ISV Competency with its additional certifications, MachineMetrics is delivering on its promise to bring the power of the cloud and its expertise to its customer base in a secure environment."
About MachineMetrics
MachineMetrics is the single platform to capture, manage, and analyze manufacturing equipment data. Transform machine data-driven insights into action with easy-to-use apps and automated workflows that empower frontline workers and other factory systems to operate more efficiently. Today, hundreds of manufacturers across global factories are using MachineMetrics as the foundation of their digital factories, leveraging plug-and-play machine data collection, real-time visualizations, predictive insights, and flexible APIs to optimize, adapt, and evolve their manufacturing processes no matter what the circumstances may be.
Media Contact:
Graham Immerman
Vice President of Marketing
+1 413-531-7490