The Massachusetts TechHUB Caucus hosted its 3rd marquee Innovation Day today, an event
which brought 200-plus attendees to the State House to discuss "Megatrends and the Future of Tech in Massachusetts". The Caucus also recognized the contributions of leading tech innovators with an inaugural round of NextGEN Awards, recognizing tech firms and organizations that are leading and innovating in their field and contributing to the Massachusetts tech economy for the next generation. The MachineMetrics team was on-hand not only as an exhibitor of our platform but as one of six companies chosen to receive this honor!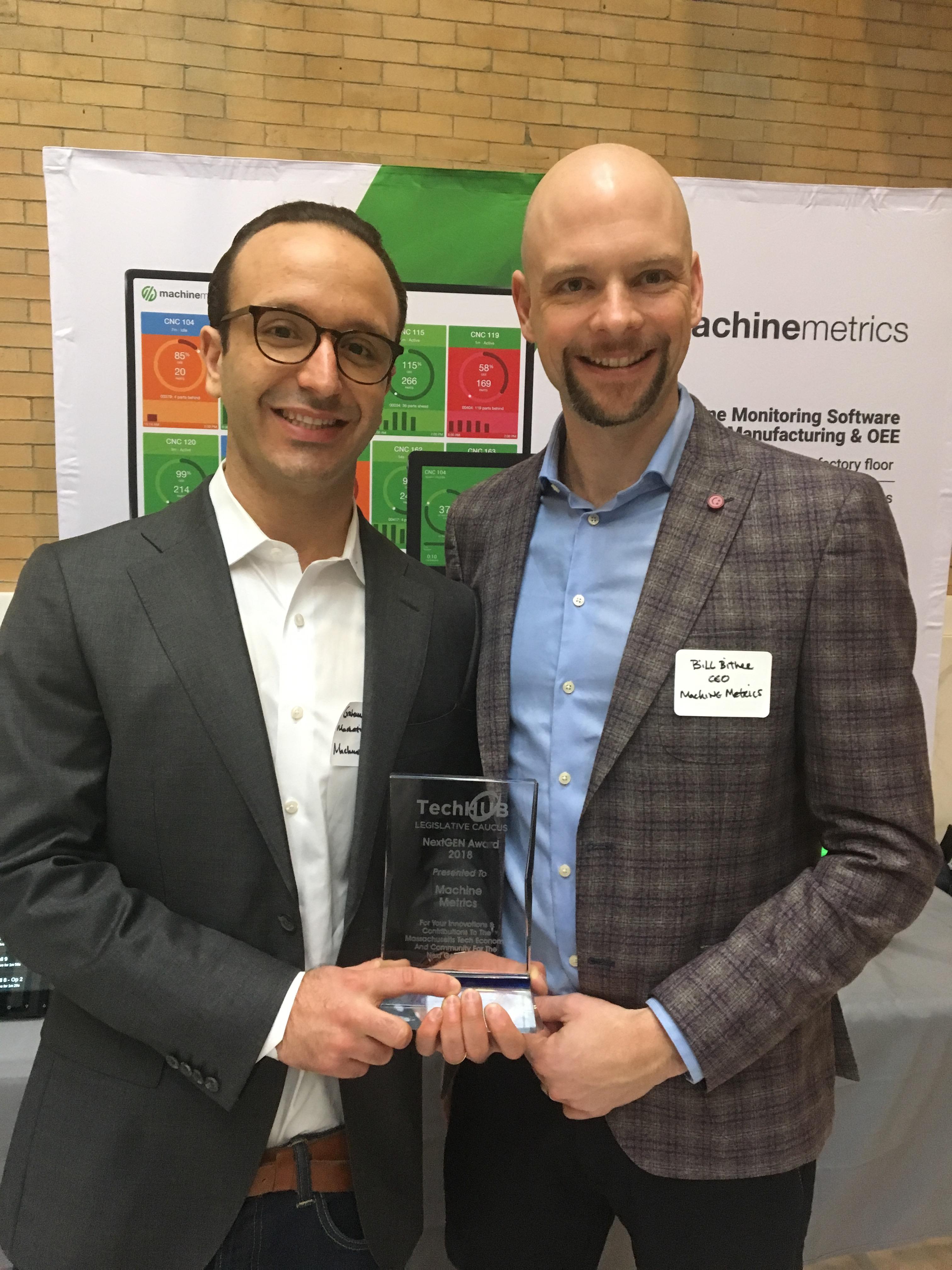 (MachineMetrics CEO & Founder Bill Bither with Director of Marketing Graham Immerman)
The event featured both in-state-tech companies and global corporations with a significant
presence and investment in Massachusetts. These companies are developing technologies and driving
innovation in areas including networking and communications, data analytics, robotics, autonomous
vehicles, smart communities, wearable technology, and digital health.
Tech is one of the state's strongest economic engines. According to the Massachusetts Technology
Leadership Council's 2017 State of Technology Report, the sector today directly employs over 300,000
and an additional 100,000 employed in tech occupations in other sectors of the economy, which
including indirect jobs, underpinning 34% of all jobs in Massachusetts.
The inaugural NextGEN Awards winners were recognized for a variety of distinguishing criteria,
including: disruptive technology, rapidly scaling operations in Massachusetts, demonstrating best practices in diversity hiring, and having impact on a regional economy in the Commonwealth.
"Today was a terrific opportunity to explore what is possible thanks to the innovations of the businesses propelling Massachusetts forward," said TechHUB Caucus co-chair Senator Karen Spilka (D-Ashland). "The winners of the NextGEN awards are transforming the future of technology and driving the next generation of economic growth."
"We appreciate the opportunity to host a discussion with tech leaders and public officials here at the
State House," stated Representative Ann-Margaret Ferrante (D-Gloucester), TechHUB Caucus co-chair.
"We are fortunate to have so much talent in Massachusetts, and the tech community is driving trends
that are making a positive impact on our communities. I look forward to continuing an ongoing dialogue
that will foster an even stronger innovation economy here in Massachusetts."
The TechHUB Caucus is supported by a Working Group that includes: Dell, Google, MassTLC, TechNet,
the MassTech Collaborative, Microsoft, MITX, and Verizon.
"The TechHUB Caucus plays a critical role in bringing together innovators from around the
Commonwealth with policymakers, helping forge a deeper understanding and openness between the
two groups," said Tim Connelly, CEO/Executive Director of the Massachusetts Technology
Collaborative, the public economic development agency tasked with growing the innovation economy in
Massachusetts. "Innovation Day at the State House is a great event where we see this dynamic in action.
It's a prime opportunity to ask questions, get hands-on demos, and to hear from the tech sector about
innovations that are just over the horizon."
The event featured live demonstrations from well-known tech firms and Massachusetts startups which
showcased innovative technologies. Participants included: 128 Technology, AUVSI, Bounce Imagining,
Cisco, GreenSight Agronomics, Idea-A- Thon, Locus Robotics, Machine Metrics, NextShift Robotics,
Onduo, Optimus Ride, Partners Connected Health Innovations, Pivotal, Raytheon, Riptide Autonomous
Solutions, Solid Energy, Tech Goes Home, Tulip Interfaces, Verizon, and the Center for Marine Robotics
at the Woods Hole Oceanographic Institution.
"Massachusetts is fortunate to have a thriving innovation sector. A strong ecosystem of innovators –
from startups to large enterprises – is revolutionizing how we live and work," said Donna Cupelo,
Region President of Verizon New England. "Verizon understands firsthand how important it is to foster
a culture of innovation that is driving trends and fueling economic growth for our state, our region and
our nation."

About the TechHUB

The TechHUB Caucus, supported by the TechHUB Policy Working Group, brings together various private
sector technology executives and trade associations around efforts to better connect with and inform
public policymakers about priority tech sector topics. The TechHUB Policy Working Group is a project of
the TechHUB Collaborative, an industry-led stakeholder group supported by the Massachusetts
Technology Collaborative, to serve as the nexus for industry, academia, and state government to discuss
and advance priorities for growing and strengthening the Commonwealth's tech sector.