So you're considering a machine monitoring system for your manufacturing facility. It's about time! While there are a wide variety of machine monitoring systems, there are key differences in the applications of the data, the overall user experience of each system, and the ROI experienced that set a platform like MachineMetrics apart from the rest; our product was developed by interviewing over 100 manufacturers to solve the gaps and inadequacies of their previous machine and production monitoring systems or methods.
Every manufacturer has very specific and individual needs, so this week's post discusses our top 5 considerations that are key to finding the best machine monitoring fit for your company.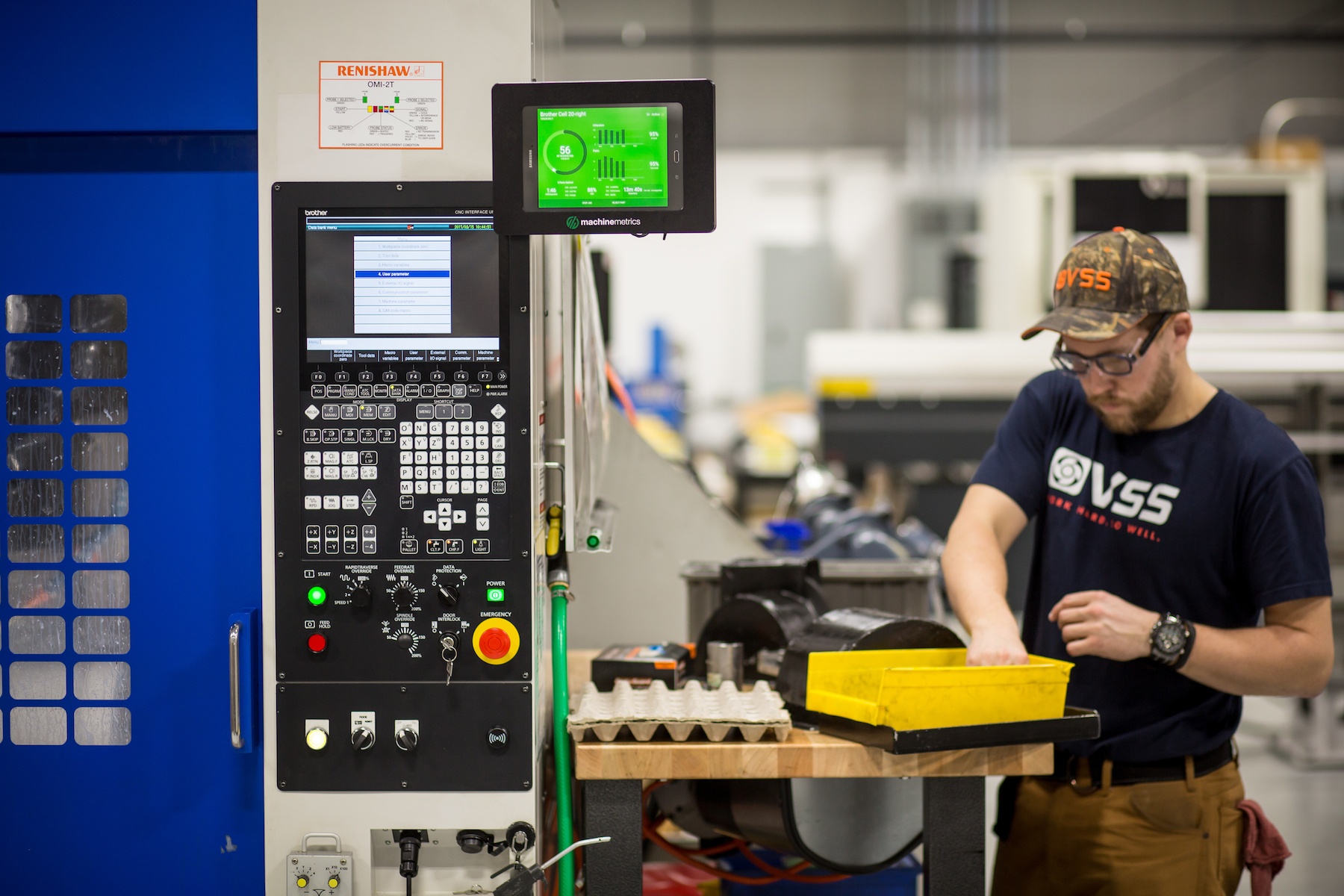 The Buyer's Guide to Machine Monitoring
1. Cloud based vs On-Premise Monitoring.
Cloud-based monitoring ensures your data is securely stored in the cloud. This makes anyone with access permissions able to view and use the data from anywhere; monitor your east coast facility from the west coast, and view the the data on any internet enabled device, including cell phone and tablets.
Another advantage of cloud-based monitoring in comparison with on-premise monitoring is that it reduces the amount of IT support required: Cloud-based applications eliminate the need to purchase and maintain expensive servers - minimizing internal resource costs and further adding to their economic advantage. No time is spent updating the software to the latest version - that all happens automatically.
2. Usability - Easy to use for everyone in the process, from operators and managers through executives
An often overlooked aspect of software is how easy it will be for everyone in your organization to use. Depending on their role within the organization and their comfort with computers, technology, and data visualization, employees will approach a new software application with varied needs and expectations.
For example, for a machine operator it is critical that the user interface be clear, the visual information intuitive and immediately digestible, and that adding data is quick and easy. In order to achieve this, MachineMetrics has one basic workcenter view for operators - this eliminates the need for them to visit multiple pages and makes training a breeze. Operators are able to start and stop jobs and categorize downtime with just a couple of quick taps on the tablet mounted at their machine control. This alleviates operator concerns that the system is hard to use or too time consuming to input data (e.g. the cumbersome nature of barcoders).
For managers and executives within a company it is essential that the reports be simple to access, updated in real-time, customizable, and easy to extract. All of MachineMetrics reports have built-in filtering capabilities based on each company's settings, and the data can be easily exported to Excel for further data analysis as needed.
3. Subscription (SAAS) vs. Traditional Software Solution
There are two major approaches to purchasing software. The more traditional route is to make a one-time purchase for a software system. The positive side of this approach is that you have a one-time expense. The downside to this approach is that the software is static and in order to get new features or new editions you usually have to purchase the latest version of the software. When you make your initial purchase it's difficult to know how long that version of the software will meet your needs and be fully supported - this is a risk few people consider, but an important consideration when choosing a machine monitoring system.
The other approach for software is a subscription-based model. For software as a service (SaaS) companies like MachineMetrics, customers select a number of machines to monitor and pay on an annual basis. Many small and medium sized companies - particularly those without extensive IT departments - make purchasing decisions without a good understanding of the value the software will deliver to their business. That can be a risky and extremely costly move with such a large, high-profile expense. Most SaaS applications provide companies with trial versions or pilot periods to test the application first and ensure there is business value in the application. If the software doesn't add value to your business, you need only cancel your subscription.
On-premise software vendors get large up-front license fees, and after deployment, it becomes your responsibility to maintain the software going forward. Customer service contracts typically add to the costs of traditional software. The SaaS model ties a vendor to your ongoing success. Their success depends on yours, which means they are driven to ensure you derive real value from the application.
4. Service: Training and Support, Customer Service vs Customer success
Receiving quality training and continued support are critical for helping new customers acclimate to software and continually find value in it. Many of the machine monitoring platforms on the market provide initial training and a customer service number for when issues arise. At MachineMetrics, we have taken a different approach to customer training and support and challenged ourselves to raise the bar.
Each MachineMetrics customer is assigned a Customer Success Manager who serves as their point of contact for their lifetime as a customer. The Customer Success Manager, also known as a 'CSM', is in regular contact with each customer during their integration process and is also responsible for their on-boarding and training. Once a customer has been successfully on-boarded, the CSM will continue to work with each customer through regular customer success meetings. The purpose of these meetings is to tie data to desired business outcomes, share new features, and to collect customer feedback. The customer success model is proven to help customers get maximum value from software which is our number one goal at MachineMetrics.
5. Analytics: It's all about the data that will help you improve your business.
Having a clear understanding of your goals for machine monitoring from the outset will help you evaluate what analytical features are key for your business. The data collected by machine monitoring systems is virtually the same across different machine monitoring platforms, but what is done with the data and what reports are produced varies widely.
MachineMetrics acts as a historian for all of your machine data - with the ability to export all of the machine's event history for any period of time. The timeline is useful for analyzing what happened and when on your machine. Information such as machine status, faults, programs, part cycles, and job runs is displayed on the machine timeline. View the status over time of all your machines for a single day, or drill down into a single machine for a very detailed view. The cycles report provides statistical analysis on part cycles - often uncovering part cycle times that were potentially underestimated. Unlike most machine monitoring systems MachineMetrics doesn't stop with just OEE, but goes a step further to show you potential capacity with stats like OOE and TEEP.
In conclusion:
There's no question that manufacturers who embrace data driven systems like MachineMetrics will have a greater chance to attain success within the IIOT landscape. However, not every machine monitoring system works for every company, and understanding your specific needs and defining your KPI's will help guide you to the right solution.