At MachineMetrics, our goal is to help manufacturers overcome the challenges associated with digital transformation and empower them to develop their roadmap toward manufacturing excellence. Our commitment to this objective requires that we provide our customers with the optimal tools necessary to achieve competitive advantages and success in an ever-competitive landscape.
We recently discussed the constantly evolving IT landscape and the necessity for manufacturers to not just keep up with the latest technological trends, but to embrace their arrival, to plan for change, and to stay one step ahead. To recap: one way MachineMetrics helps our customers do this is by leveraging Amazon Web Services' Virtual Private Cloud and it's capabilities.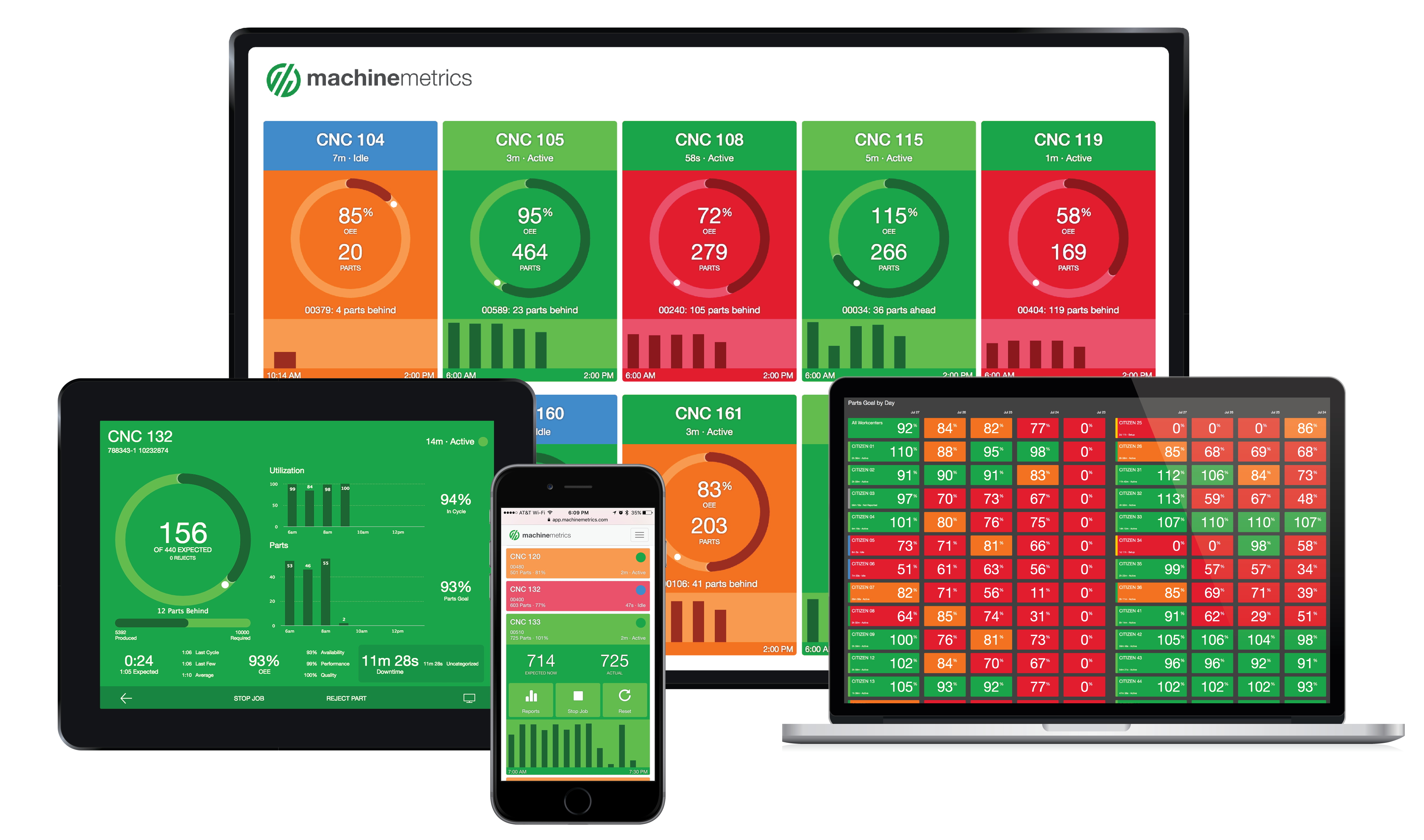 By partnering with AWS, some of the benefits we are able to leverage include:
1. Keeping Our Customers' Data Safe
The AWS infrastructure puts strong safeguards in place to help protect customer privacy. All data is stored in highly secure AWS data centers.
2. Meeting Compliance Requirements
AWS manages dozens of compliance programs in its infrastructure. This means that segments of your compliance have already been completed.
3. Saving Our Customers Money
Cut costs by using AWS data centers. Maintain the highest standard of security without having to manage your own facility.
4. Helping our Customers Scale Quickly
Security scales with your AWS cloud usage. No matter the size of your business the AWS infrastructure is designed to keep data safe.
5. Providing Upgrades and New Features Instantly
AWS is constantly upgrading and adding the latest security capabilities to their product, which updates automatically.
A quote from Richard Crowley, Director of Operations at Slack, best summarizes our feelings toward AWS: "The fact that we can rely on the AWS security posture to boost our own security is really important for our business. AWS does a much better job at security than we could ever do running a cage in a data center."
Because MachineMetrics is cloud-based, there are minimal IT infrastructure requirements. MachineMetrics' mobile friendly, secure cloud application allows you to access this data from anywhere and requires no servers and automatically updates with the latest features.
Thanks to the cloud, our mobile friendly software allows you to access your data from anywhere with a secure connection from your mobile phone or home PC without IT support or complicated home-baked firewalls and VPNs.
MachineMetrics has provisioned Amazon's Virtual Private Cloud to ensure the utmost security for our customers. This allows us to provision a logically isolated section of the Amazon Web Services (AWS) cloud where we've launched AWS resources in a virtual network defined by MachineMetrics. We alone have complete control over the virtual networking environment, including the selection of IP address ranges, the creation of subnets, and configuration of and network gateways. Running on a dedicated Amazon VPC means that all data is housed on a dedicated instance of MachineMetrics that can be tightly controlled and only accessible through a secure VPN tunnel. Amazon VPC provides advanced security features such as security groups and network access control lists that enable inbound and outbound filtering at the instance level and subnet level.
Additional Security Options:
Lately we've received a lot of questions about whether or not there are additional security measures that we can take to ensure and optimize cloud security for our customers.
To be clear, with internal networks, cloud-based systems depend on organizations to implement in-house security measures and train employees on best practices to keep data safe. The simple fact is that the Cloud is more secure than ever: Most cloud security incidents result from a combination of misconfigurations or inadequate protections put in place by the businesses themselves, and this suggests they need to better understand the risks of the cloud.
Secondly, there is no information that we are gathering through MachineMetrics that would create an issue with any level of government compliance. That said, there are a number of companies who may still want to utilize a governmentally compliant cloud. While we at MachineMetrics are more than confident in the AWS VPC's security which entails perhaps the most heavily invested in security for any cloud provider on the market (or for that matter, any data center of any type period), we are committed to ensuring both the safety and comfort of our customers.
ITAR Compliant AWS GovCloud:
For our customers seeking additionally privatized/compliant cloud options, MachineMetrics leverages the ITAR Compliant AWS GovCloud to double-down on security and compliance concerns for their customers is to leverage the AWS ITAR-Compliant Government Cloud. ITAR compliance in the cloud focuses on ensuring that information considered technical data is not inadvertently distributed to foreign persons or foreign nations. In order for data to be subject to ITAR, an IT workload or type of data has to be deemed an export according to the US Munitions List (USML). Since AWS does not have any visibility into or knowledge of what customers are uploading onto its network, including whether or not that data is deemed subject to ITAR regulations, all customer data within the GovCloud region is treated as ITAR data.
As a part of managing a comprehensive ITAR compliance program, companies subject to ITAR export regulations must restrict access to protected data to US Persons as well as restrict the physical location of that data to the US. Fortunately, AWS GovCloud provides an environment physically located in the US where access by AWS Personnel is limited to US Persons, thereby allowing qualified companies to transmit, process, and store protected articles and data subject to ITAR restrictions. The AWS GovCloud environment has been audited by an independent third-party to validate that proper controls are in place to support customer export compliance programs.
Additional Resources:
With the help of our friends at Amazon, MachineMetrics has put together a list of resources for our potential manufacturing customers considering the switch to cloud: