Known as the fourth industrial revolution since the 18th century, Industry 4.0 is an all-encompassing term to refer to the way computers, data and automation are evolving and coming together to change the way work happens, and in particular, manufacturing.
Building on the third industrial revolution that included the creation of the PC and the internet, Industry 4.0 takes technology to the next evolution by blurring the lines between the digital and physical worlds. Elements such as automation, AI, IoT, and more are becoming more and more prevalent. While industrial revolutions of the past were essentially about the advancement of technology, Industry 4.0 is more about the evolution of tech and its impact on everyday lives.

Why Industry 4.0 matters
Whereas industrial changes and technological advancement in the past might have been characterized as creating problems as much as it solved some, Industry 4.0 is about taking what exists and improving upon it. So while technology such as large scale computing and data acquisition isn't new, applying the 4.0 layer of cloud computing means that data that was previously retained in silos can now be shared across many levels of an organization, and around the world.
Moving away from traditional manufacturing, Industry 4.0 can reduce the strain from so many of the challenges the industry currently faces, including having to compete in a global marketplace with its concomitant volatility, shorten production cycles of increasingly complex products, allowing the ability to review and analyze data, resulting in valuable insights. Trends that change are no longer worrisome as companies are able to engage in course correction with maximum flexibility and minimal cost, and predictive maintenance creates more efficiency and a stronger bottom line.
Since Industry 4.0 isn't just about advancing tech but actually evolving it, economic indicators become focused on innovation, rather than creation. A company can innovate and create a new business model —from the initial idea to implementation—on a much faster cycle than in the past.
Rather than eliminating the need for human interaction, as some aspects of previous industrial revolutions did, Industry 4.0 is innovating on tech to put the customer first. Faster to market, on-demand production and easier customization levels ensure customer satisfaction on a whole new level. Even people who will be working with machines that have been improved by the IoT or robotics and automation will find their lot improved as repetitive simple tasks will be eliminated in favor of working on problem solving or innovating.
What is driving the move towards Industry 4.0?
There are a couple of needs that are driving manufacturers to embrace Industry 4.0.
First, and most valuable, is the customer. Their wants and needs are constantly changing, as is their demand for product sooner, cheaper and still using less resources than in the past. In addition, customization is the name of the game, which was costly and inefficient in previous evolutions of technology but which, with Industry 4.0, can become the norm. 3D printing, for example, can allow short run, quick turn around production on a highly customized item, at a marginally higher cost than a full production would be.
Next is the data itself: the ability to acquire and analyze the quantities of historic data that manufacturers produce constantly is usable intelligence to allow for demand, production and maintenance planning. Increasing efficiency and productivity, while at the same time guaranteeing a high end product quality, is all good for the health of a manufacturer.
Finally, the ability to leverage cloud computing and connectivity means that the constraints of the global market are virtually nil. Distance and differing time zones are no longer an issue when workers at all levels can access the data they need, from supply chain resourcing through production and shipping, in real time, displayed in ways that are material to any given user.
Implementing Industry 4.0
There are three key ways to ensure that implementing Industry 4.0—and in particular IoT integration on the factory floor—in your manufacturing environment goes off without too much difficulty: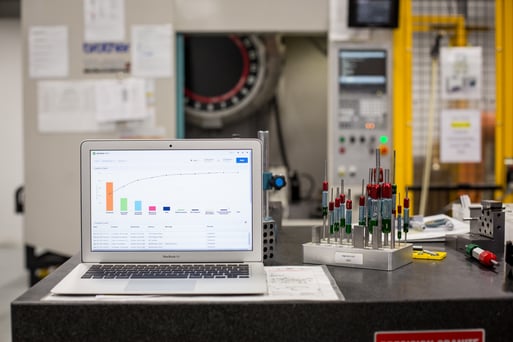 Make sure that you are not getting stuck with the 20/60/20 rule of change management. This is where 20% of your workforce is firmly on board with your plans, 60% are going along with it but are skeptical and 20% are not happy about it all. While 100% acceptance in any change management plan isn't likely at the best of times, that last 20%, when it comes to integrating industrial IoT, can be difficult to ignore. One way you can improve on the 60% is to acknowledge those who are change averse and see if you can dig down as to why, and get into some discussion about that bigger picture. Including people can help to make them feel that they have a stake in the changes. In addition, investing in training is the single best way to offset discomfort over the longer term. If people understand the WHY and the HOW, they'll be happier to come along for the ride.
Make the switch to proactive maintenance. Before Industry 4.0 and lack of machine connectivity, big data and cloud based analytics, maintenance was by default reactive. There was some ability to plan maintenance thanks to historical patterns but, overall, the standard style was to wait for failure before fixing a problem. With solid data analysis, manufacturers can leverage Industry 4.0 to not only predict patterns and trends for the purposes of scheduling maintenance and production efficient times, but can also reach a stage of autonomous detection, self-correction or repair by machines.
Share you data but protect it too. One of the big advantages of Industry 4.0 is the ability to share data in real-time, even with third party suppliers. If they can see what your demand looks like, they can better forecast to provision you adequately. With that sharing comes a need to ensure that your data is secure. Cybersecurity is a core pillar when it comes to Industry 4.0, with cloud based data storage, management and wireless connectivity. Getting that set up from the beginning will ensure that you don't have a downstream problem that will require a retrofitted solution.
Working with companies that are well versed and experienced in managing the change from traditional manufacturing practices to Industrial IoT and Industry 4.0 concepts is essential to a smooth transition, at all level of the organization. The era of big data is here for the taking!
Interested in learning more about industrial IoT? Contact our sales team today for a live demo.