The IoT and Edge Computing
The Internet of Things is growing exponentially with connected devices ranging from smart lights and ovens to industrial analysis data capture devices. By 2025, it is expected that there will be 41.6 billion connected IoT devices, generating 79.4 zettabytes (ZB) of data, according to IDC. For comparison, one zettabyte is approximately one billion terabytes.
In the early days of IoT, most of those devices would send all of the data they collected to the cloud for analysis. However, when you start trying to send trillions of gigabytes to the cloud, the data pipeline starts to get a little clogged up. That's where edge computing comes in—it helps IoT devices process some of that data locally instead, before, or sometimes in lieu of, sending it to the cloud. That's where the name comes from—the data is being processed at the "edge" of your own network, instead of being sent away.
The Role of Edge Computing in IoT
Edge computing serves a variety of purposes in the current IoT landscape. This distributed, local computing paradigm untethers IoT devices from latency and connectivity issues that would otherwise make some IoT use cases impossible. This essential technology forms the backbone of IoT applications that include classified data, require real-time or low-latency decision making, occur in environments where cloud connectivity is either spare or entirely unavailable, and particularly data-heavy cases such as in industrial IoT implementations.
Because edge computing devices analyze data in-house, there is zero latency, unlike with cloud-analyzed data. For precision time-sensitive tasks, this can make or break the functionality of IoT devices. Edge computing is a computationally efficient, secure, private, cost-effective way to utilize the Internet of Things at scale without running the risk of data breaches or network overloads. Additionally, edge computing offers a layer of resilience and redundancy for mission-critical tasks. Because this process is distributed—i.e. not centralized to a single system—if something breaks down, business can still continue uninterrupted while the broken element is fixed.
That is not to say that edge computing can't work in unison with cloud-based analysis—it absolutely can and often does. In these instances, edge computing may serve to offer some real-time data as well as filter which data to upload to the cloud over time for use in deeper or more complex analysis techniques.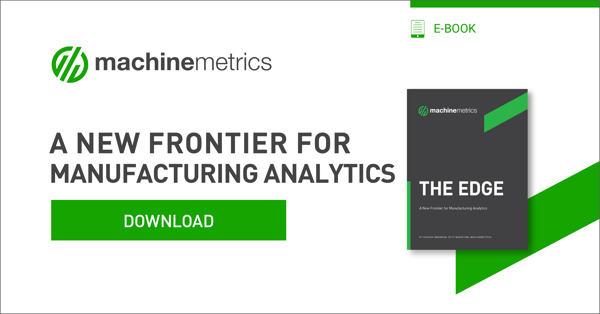 In an industrial IoT scenario, such as on a production facility floor, edge computing is duly important to reduce the risk of downtime or data breach as well as for more effective management of huge swathes of data. For manufacturers using edge computing, the low-latency aspect is a major boon for worker safety. For example, if the information collected from a data adapter shows subtle anomalies—e.g. chatter—that may indicate a stress fracture or other form of near-term failure, a machine can be immediately shut off rather than waiting for cloud analysis, the latency of which could result in downtime and scrap parts.
In short, edge computing analyzes some of the data from IoT devices at the edge of the local network—vs. transmitting it to the cloud—for faster, redundant, connectivity-agnostic IoT processing that is readily scalable.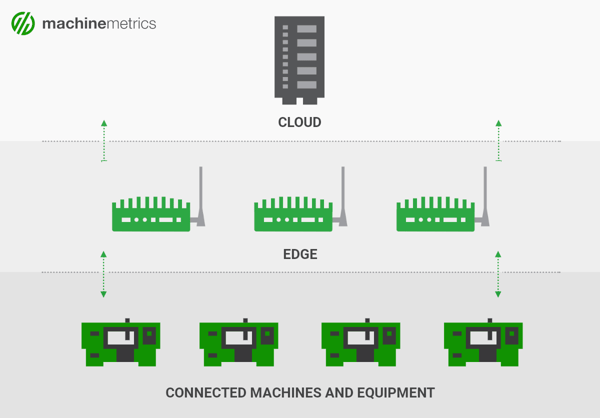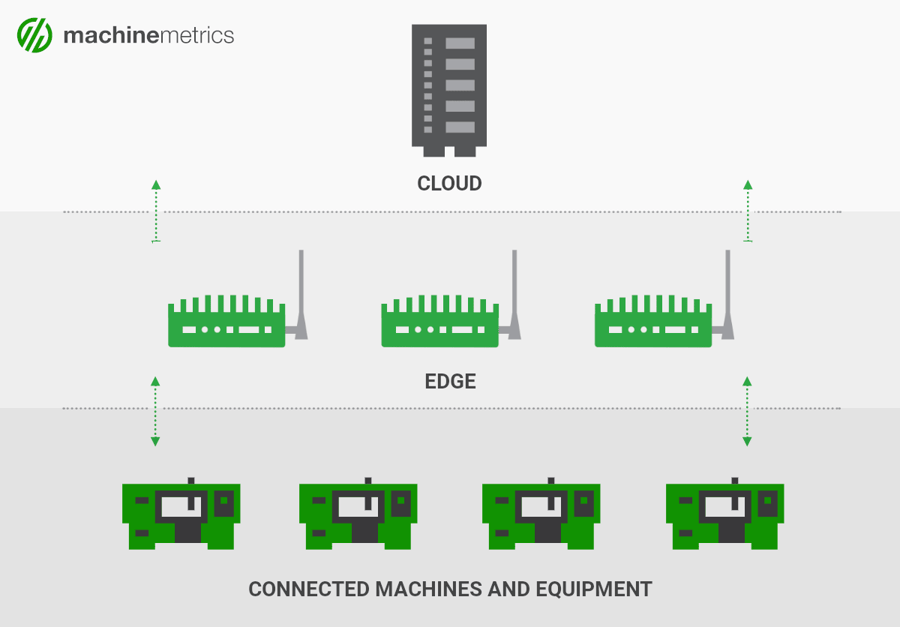 The Edge is a critical component of IoT, helping to reduce latency and improve reliability.


What is an IoT Edge Computing Platform?
In many ways, an IoT edge computing platform is very similar to a cloud computing platform, just closer to the applications.
"Edge platforms allow you collect data from industrial systems like PLCs, Digital Control Systems, sensors, or historians and run applications locally on top of the data, such as event processing, predictive analytics, machine learning models, and more – all in an offline first deployment." –Eric Fogg, MachineMetrics
As AI and machine learning become even more deeply integrated with business operations, the ability to retrieve and utilize data faster will be of increasing benefit as compared to the slower cloud alternative. This is almost invariably going to lead to a competitive advantage in a world where speed, customization, and skillful pivoting are everything.
MachineMetrics Edge Platform is able to:
Collect PLC and Control Data

: We offer quick-to-install, plug-and-play, universal adapters for data collection that support both open protocols and proprietary connectors so you can connect all of your machinery without hassle.

Connect Sensors Easily

: Even seemingly challenging devices such as external sensors or older equipment can easily be configured and managed remotely.

Transform Data Instantly

: Resolve the need to deal with data in a whole slew of different structures. Our data transformation engine standardizes data from all types of equipment for consistent reports and analytics. This includes data like machine status, custom sensor values, load, feeds, and more.

High-Frequency Data Collection

: 1 kHz data collection offers a more robust and granular view of your data than other devices on the market which standardly collect at only 1Hz, a full 1000x less.

Build Your Own Edge Apps

: Easily run advanced analytics and machine learning models to

analyze data at the edge

, then manage custom algorithms to change the behavior of your equipment under certain circumstances such as stopping a machine when a tool is about to fail.

Cloud Integration

: Securely stream data using ethernet, wifi, or even cellular communication to the

MachineMetrics Cloud Platform

.

Flexible Deployment

: MachineMetrics Edge hardware connects to all modern machine control systems via ethernet, but you can also install our edge software on your own server or VM. Whatever works best for you.

Remote Edge Management

: No matter where you are, stay in touch with your machines to diagnose issues or push updates with no travel required.

Keep Data Secure

: Security updates and data management tools are included. Data security is critical to manufacturers, as it is to us. Our infrastructure is secure and scalable.
Want to find out more about edge computing and edge analytics? Download our free eBook. If you're ready to see the platform in action and find out how we can best serve your needs, book a demo with us today.