Updated May 17, 2021
If you're in manufacturing, you've likely heard the buzz about the "Internet of Things" (IoT). Among the trending articles and many associated buzzwords, there's an underlying technology driving rapid and continuous value for manufacturers across all sorts of verticals.
Manufacturing is undergoing a global transformation referred to as the Fourth Industrial Revolution, or Industry 4.0. New information technologies are not only impacting manufacturing industry effectiveness but also equipping businesses with the ability to identify smarter ways to work.
As early adopters have proven, interconnected factories and industrial organizations are reaping the benefits of faster communication, visibility into manufacturing operations, increased capacity, and more.
Industrial IoT has already had a large impact on the manufacturing industry, and this is merely the beginning.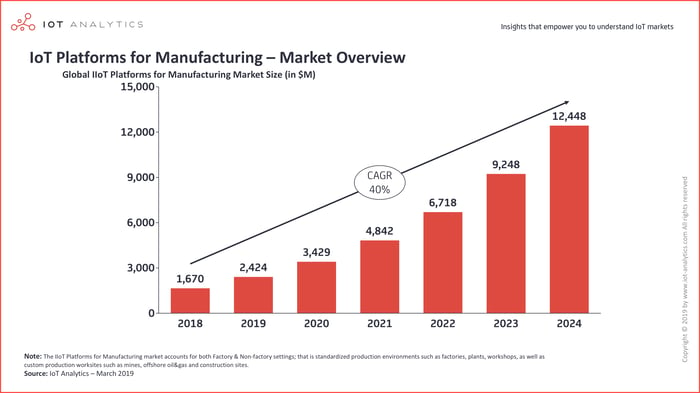 Source: IoT Analytics
Within this article, we'll be discussing practical applications and use cases of industrial IoT technology in manufacturing
What is IoT?
The Industrial Internet of Things (IoT) is the ever-expanding network of physical items or objects embedded with advanced sensors. These sensors exchange data with other systems and devices across the internet.
Data in this communication can trigger actions or responses, place orders, optimize processes, and make the equipment they're attached to more accessible and convenient for the consumer.
The user or another device may directly consume IoT data. It can also be processed and analyzed by another software using IoT solutions to yield analysis for marketing, sales, service, and other functions.
What Is IIoT?
The Industrial Internet of Things (IIoT) takes IoT further by using it to drive a digital transformation in manufacturing. IIoT uses embedded sensors to capture and analyze machine data to improve operational processes using networked industrial control systems.
Data collected with IIoT devices can be processed using edge computing or sent to a cloud-based machine data platform to render real-time, actionable insights. This information benefits users from the shop floor to the executive suite, empowering a total transformation of business practices.
This process takes traditional information technology (IT) and operational technology (OT) under a unified platform for complete visibility over a manufacturing enterprise. IIoT creates advanced automation like robotics and autonomous machine operation, improving efficiency, safety, productivity, and more.
The Benefits of IoT in Manufacturing
IoT represents a digital transformation in manufacturing processes and business operations. Using it alongside an advanced machine data platform has many benefits:
Process Optimization
IIoT offers an unprecedented opportunity to improve processes. While effective, traditional process improvement strategies like lean and Six Sigma are limited by manual and error-prone data collection.
Embedded sensors and other devices enable a manufacturing process to use real-time machine data and analysis to deliver actionable insights. These insights can lead to process improvement for known bottlenecks and hidden trends that manual data cannot unearth.
Inventory Management
Most manufacturing companies use legacy software such as ERP and supply chain management to try and optimize their supply chain processes. Inventory management is a critical part of the link between production and supply chain management that IIoT facilitates. Real-time transactional data can extend in both directions. It optimizes WIP management, material needed for upcoming jobs, and waste and scrap while continually adjusting material availability.
It also extends to the supply chain, constantly adjusting and optimizing order quantities and replenishment. IIoT inventory processes can even deploy advanced inventory tracking in transit and through production using RFID tagging and linked scanning technology to provide manufacturing operations with the right inventory every time.
Predictive Maintenance
Every manufacturing industry requires tight maintenance to ensure production processes operate without excessive downtime. IIoT enables precise machine utilization, allowing predictive maintenance to improve manufacturing processes.
Predictive maintenance uses the same embedded sensors to generate prescriptive maintenance strategies on the production floor. These strategies may be as simple as staging parts, supplies, and technicians for service timed precisely with a changeover. They may also use machine data and advanced high-frequency monitoring to detect and repair a failure before it happens.
Quality
Like manual data collection, inspection is often too little too late when used as the anchor of quality assurance. IIoT systems supercharge operational technologies to allow advanced automation. This automation includes autonomous or semi-autonomous action to correct off-spec or out-of-tolerance quality variations.
This means that advanced sensors - like optical scanning, vibration analysis, temperature measurements, and more - can be deployed to intervene faster than a human could. IIoT enables manufacturers to move quality from reactive to proactive, reducing the labor required for inspection while improving first-quality unit production.
IoT Use Cases in Manufacturing [+Case Studies]
There are a large number of use cases for the Internet of Things. After all, the ability to add IoT sensors to nearly anything and make it "smart" opens a floor gate of opportunity. You can only imagine just how many systems, equipment, and people can be connected to form a network.
However, this poses some challenges. According to Cisco, this is often due to the lack of in-house technical resources to properly DIY an industrial IoT technology solution.
Let's take a look at some of the top examples of using the Internet of Things in the manufacturing industry to see where manufacturers are realizing success.
Remote Monitoring
Remote monitoring is a great use case for leaders with industrial assets out in the field, such as machine builders. With IoT-connected assets and IoT sensors on an industrial internet, you can monitor equipment usage and health in order to assess performance and deploy service should there be any problems.
Furthermore, with equipment data in hand, you can better understand the performance of your equipment to improve product design and ensure customer satisfaction. Not to mention, this could open an entirely new business model of Equipment-as-a-Service.
Learn more about remote monitoring for machine builders and OEMs.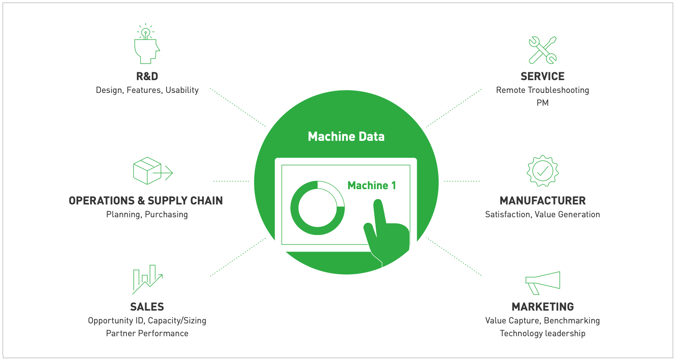 Supply Chain Management and Optimization
Imagine if the entire manufacturing supply chain was connected. Imagine how each component of supply chain operations could access and use data to ensure the highest rate of productivity.
With the Internet of Things, there are several major benefits that the supply chain will experience, summed up well by SupplyChain:
Real-time tracking of assets and products
Automation of warehouse tasks
Digitized paperwork management
Forecasting accuracy improvement
Greater control of inventory
Digital Twins
Digital twins are a virtual or simulated real-world object, concept, or area within a digital space. They're an interesting and powerful use case of industrial IoT. They can even include a 3D representation of all of the physical assets, operational systems, and structures within an entire facility.
This can help manufacturers test changes and simulate the impact without actually rolling out any physical changes.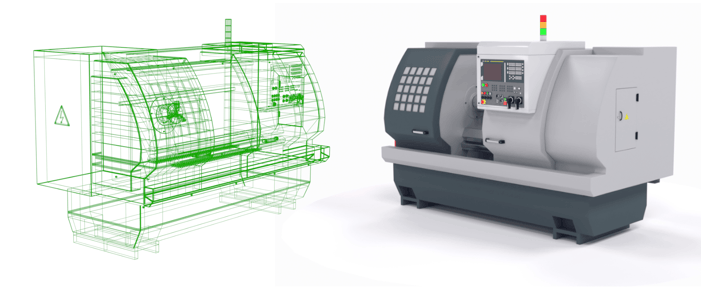 Real-Time Machine Monitoring
Imagine a manufacturing technology that gives operators and managers a gauge of how well machines are performing in real-time. They would have access to all the data they need to fix problems fast and ensure production schedules are met.
Real-time machine monitoring makes this possible, providing a stream of data straight from the machine to provide accurate data that can be used for in-the-moment decision-making or in-depth analysis.
Case Study: Fastenal Uses Real-Time Machine Monitoring to run faster, gain production hours, take on more jobs, and produce more parts than ever before.
Predictive Maintenance
There are many types of maintenance that manufacturers can employ at their facilities. As they advance in maturity, they can deploy more advanced forms of predictive maintenance based on data. In digital factories, advanced IoT tools such as machine learning algorithms can "learn" from an IoT device to provide actionable insights. This data provides insight into the performance and health of equipment, giving maintenance teams a better understanding of when equipment needs to be serviced.
With IoT-connected equipment, manufacturers can move from a calendar-based maintenance plan to a condition-based strategy. If they collect enough data on equipment performance and health, they can closely monitor variables to establish a threshold to predict impending machine failure.
This advanced form of maintenance, predictive maintenance, enables manufacturers to get the absolute most out of their maintenance spending while reducing downtime as much as possible.
Case Study: Predicting and Preventing Tool Failure
Production Visibility
The only way for most manufacturers to know what's happening on the shop floor is to actually walk out onto the shop floor. Even then, it may take some time to observe the operators and machines to truly understand where performance stands. They may have to engage with managers, analyze a whiteboard of part counts, etc.
With connected equipment via a machine monitoring solution, manufacturing leaders, plant managers, and operators have insight into all their machines with visual dashboards tracking the performance against production goals.
This opens many use cases for optimizing the performance of equipment, including process optimization, predictive maintenance, and quality.
Case Study: Real-Time Visibility - A Competitive Edge for SilencerCo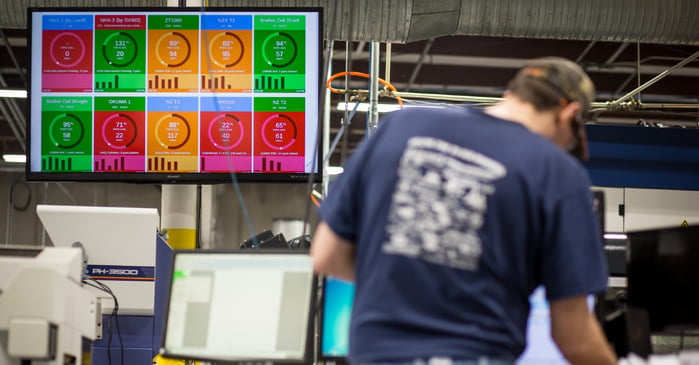 Integrating Systems
When it comes to IoT, all sorts of "things" can be connected, including people, equipment, and systems.
The beauty of system integration is that each system can use the valuable data provided by other systems in order to perform its function in a better way.
For example, consider MachineMetrics, an Industrial Data Platform. We can quickly and easily collect machine data, and since our platform is extensible, the application of this data is infinite.
The CMMS can use this data to automatically deploy maintenance upon a machine failure, jobs can be scheduled in the ERP based on more accurate cycle times provided by the machine data, and financial teams can use the production line data to more accurately quote customers and ensure the right amount of jobs are brought in for production processes.
This is why machine data is an incredible component of IoT success and represents the foundation of the digital thread.
Learn more about the importance of machine data collection.
Compiling KPIs
Dashboards, reports, analytics...there's a lot to analyze before understanding how well a business is operating.
The goal is always to reduce the time and effort it takes to understand if performance is matching expectations. Luckily, industrial IoT platforms are helping to compile and contextualize data into simplified reports and dashboards that can quickly explain how well a business is performing.
Video Case Study: How Fairview Machine Drives Productivity with Real-Time Dashboards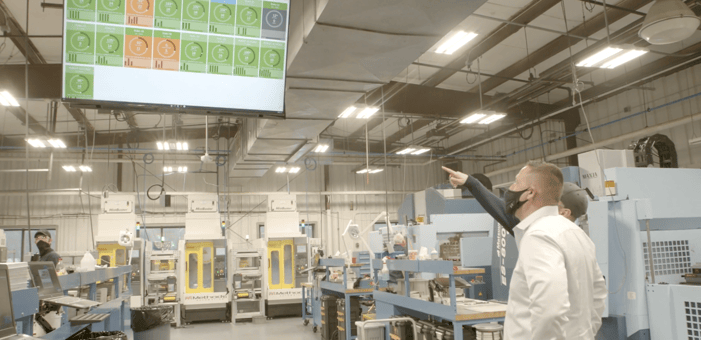 Automation
Industrial automation using the industrial internet is one of the largest promises of Industry 4.0. As manufacturers increasingly enable automation within their factories, they can reduce downtimes, provide predictable maintenance, and improve decision-making.
Although we often think of automation as a shop full of robots, it has a larger application. For example, consider the difference between manually collecting part counts and downtimes versus automatically collecting data from machines. With a connected shop floor via the IoT, the opportunities for automation grow significantly.
Asset Utilization
As one of the most important metrics in manufacturing, OEE gauges how well manufacturers are using their equipment.
The Internet of Things allows asset tracking for manufacturers, both large and small, to monitor and optimize equipment with data analytics. Industrial asset management allows the health and performance of machines to be tracked. In addition, downtimes can be categorized and decisions can be made to better use the equipment.
A similar situation occurs for employees. With data in hand, performance can be more accurately understood, and incentives can be set up to encourage high performance.
Without data in hand, decisions regarding both people and equipment would simply be based on gut instinct.
Case Study: Optimizing Equipment Utilization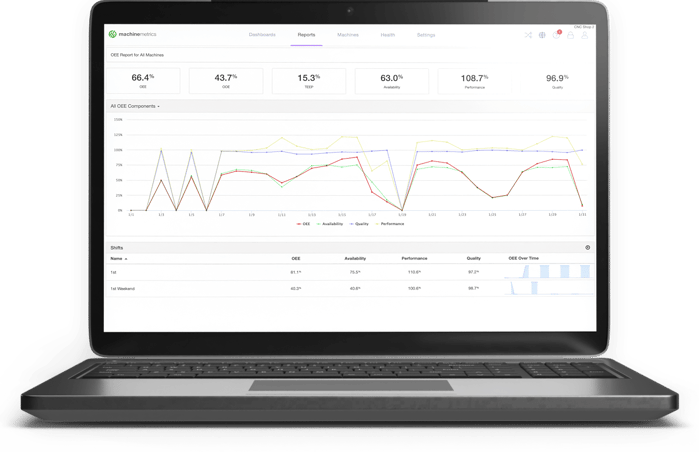 Difficulties of Adopting IoT in Manufacturing
1. Large Investments are Required and the ROI is Questionable
Whether or not this rings true depends on a company's approach. Ad hoc or piecemeal industrial IoT systems and DIY factory monitoring will undoubtedly be more costly and require investment. There's also the cost of upgrading infrastructure with expensive cable runs, device compatibility among different types and generations of OEM equipment, and other considerations.
When companies undertake these disjointed approaches, the ROI is questionable. Many of them have used this approach because it falls into a window where they see their in-house capabilities as most useful. They believe it allows them to use IT and maintenance resources already on staff to build out a system.
However, alternatives are now cost-effective and bring a tremendous return on ROI. By using a dedicated turnkey platform such as MachineMetrics' Industrial IoT platform, companies can leverage their data across all equipment. The platform is agnostic to OEM equipment and age, working with even analog devices.
MachineMetrics' platform also uses robust but easy-to-install IoT devices to take advantage of existing infrastructure as much as possible. This connectivity means the system can run on cable, wireless, and cellular, making expensive infrastructure upgrades unnecessary.
2. Concerns About Data Security
There was a time when cloud-based system security issues were concerning. But with the explosive growth of cloud computing providers like AWS, Azure, and Google Cloud, the backbone of the cloud-based ecosystem has invested in technology to make cloud-based systems more secure than on-premise systems.
Manufacturing companies' IT teams are limited, even in the most prominent manufacturers. They cannot invest in security technology and monitor the in-house system effectively against attacks, which are almost always based on workstation entry. Best practices and training at the workstation level work best for mitigating security threats. Cloud providers can also address these threats at the server level to provide added protection. While security was once a concern, it's now a misperception that IoT systems relying on the cloud are less secure than in-house IT protocols.
3. Employees Who Aren't Qualified
If companies have created a piecemeal or ad hoc system, there's a good chance they've also created a confusing array of disparate systems that each have a unique learning curve.
MachineMetrics IoT solutions utilize intuitive dashboards that can be accessed from well-placed HMIs. The data is contextualized to make valuable insights more apparent and the platform requires less training. The same is true for IoT devices - MachineMetrics' connected devices are easy to install and usually only take a few minutes to get up and running.
4. Integration With Operational Technology and Older Systems
Lack of interoperability is a long-suffering reality for many manufacturers and has made them wary of new technology. This is where platform design makes the difference. With IoT done in a homebrew fashion, company IT departments may be compounding an already frustrating interoperability problem. These subsystems may also be limited through IP and other proprietary issues, lacking customizability or programmability.
A solution such as that offered by MachineMetrics takes a different approach. It works with existing programs such as MRP/ERP/ MES and others through API connectivity to provide seamless integration. Rather than compete with those software systems, it drives real-time data and insights to all connected system components to allow programs such as ERP to function in an enhanced manner.
How to Use IoT and Machine Data for Remote Operations
The best manufacturing IoT platforms will offer access from anywhere. It starts with tablets on the shop floor where intuitive dashboards should assist operators and technicians. It should be accessible via PC, phone, laptop, and from anywhere on the planet.
Because alerts in a real-time IoT system are sent with prescriptive and analytical data often before a problem occurs, this conglomeration of device access means that managers and technicians can take action from anywhere to prevent problems.
Boosting Your Operational Efficiency with IIoT
There's a lot you can do with industrial IoT solutions. We've shared several popular use cases above, but as we mentioned before, the opportunities are endless. The only problem with this is, where do you begin?
Our recommendation is to get the heart of your shop floor connected so that, at the very least, you have immediate visibility into shop floor performance. Providing both yourself and your time with real-time production process data gives you an immediate boost in productivity simply because it helps the team stay accountable and ensure that any problems are caught quickly.
Furthermore, by starting with connecting your equipment, you'll have a strong foundation to build upon and continue to drive value with other use cases, whether supporting maintenance, quality, planning, or another segment of the operation.