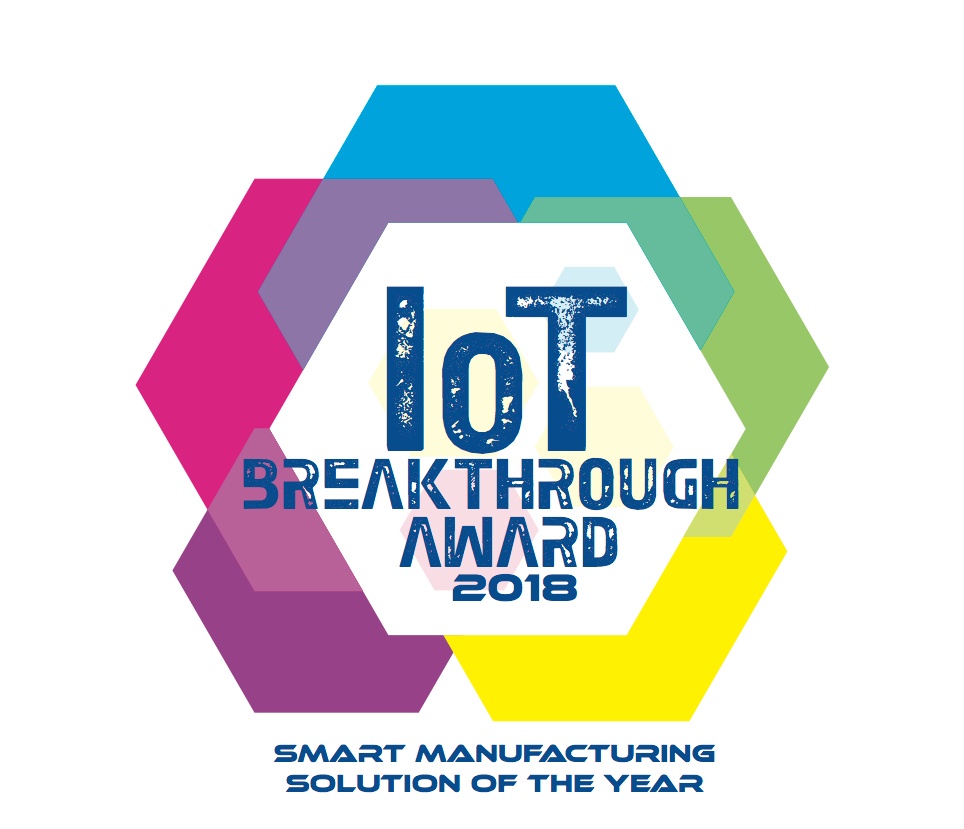 MACHINEMETRICS HONORED WITH IoT BREAKTHROUGH AWARD
MachineMetrics Recognized for "Smart Manufacturing Solution of the Year" Award
Northampton, MA, January 4th, 2018 – MachineMetrics, a leading industrial IoT (IIoT) and smart manufacturing startup located in Western Massachusetts, today announced that it has been selected as winner of the 2018 "Smart Manufacturing Solution of the Year" award from IoT Breakthrough, an independent organization that recognizes the top companies, technologies and products in the global Internet-of-Things (IoT) market today.
"A great deal of hesitancy still exists for manufacturers to embrace the technology that addresses the new challenges presented by digital transformation," said Bill Bither, CEO of MachineMetrics. "With installing cloud-based monitoring systems being the first and perhaps most important step toward data-driven manufacturing, we designed MachineMetrics to help companies overcome these challenges and create a roadmap forward so they can take this initial and crucial step. We are proud to be developing the future of manufacturing alongside them."
The mission of the IoT Breakthrough Awards program is to recognize the innovators, leaders and visionaries from around the globe in a range of IoT categories, including Industrial and Enterprise IoT, Smart City technology, Connected Home and Home Automation, Connected Car, and many more. This year's program attracted more than 3,000 nominations from companies all over the world. All nominations were reviewed and evaluated by an independent panel of experts within IoT industry, with the highest scored nomination selected as winner for each category.
"The benefits of digital disruption that Internet-of-Things technology implementations deliver are perhaps the most promising in the industrial and manufacturing space," said James Johnson, managing director, IoT Breakthrough. "MachineMetrics stood out in the Industrial IoT category with a compelling smart manufacturing solution that delivers tangible results in significant productivity increases. We congratulate MachineMetrics on their growth and progress in 2017 and we look forward to seeing continued progress throughout 2018. We are thrilled to recognize MachineMetrics as a 2018 IoT Breakthrough Award winner."
Roughly 50% of US manufacturers admit to not having a systematic roadmap or toolbox for easy rollout of digital manufacturing solutions, and over 15% of all US manufacturers identify a lack of knowledge about suitable providers as their biggest obstacle. Because no standard roadmap for digital manufacturing exists, many are often uncertain around where to start and what foundational capabilities are required to succeed.
MachineMetrics spoke with hundreds of these manufacturers to gather their feedback on why previous solutions were unsuccessful and how they could be designed better. The product of these conversations was a fully automated machine monitoring and manufacturing analytics solution that simplified IIoT for the shop floor. By providing visualizations of real-time production data, instant notifications, and historical analytics, MachineMetrics empowers manufacturers to make faster, smarter, more confident decisions based on real-time data.
Along with their first IoT Breakthrough award, MachineMetrics has also been named one of 20 tech-ecosystem partner by McKinsey and Co. for their Digital Manufacturing Growth Initiative and were named as a Top 10 Manufacturing Intelligence Solution Provider for 2017 by Manufacturing Technology Insights.
About MachineMetrics
MachineMetrics is the authority on real-time manufacturing analytics. Their machine monitoring and manufacturing analytics software provides real-time production visibility and deep analytics to help teams make proactive, predictive business decisions that make a big impact. With the easiest to use and simplest to integrate software on the market, MachineMetrics is bridging the communication gap between machines, operators, and processes to drive manufacturing efficiency by more than 20% on average for their customers.
About IoT Breakthrough
IoT Breakthrough, part of the Tech Breakthrough Awards organization, is devoted to honoring excellence in Internet-of-Things technologies, services, companies and products. The IoT Breakthrough Awards program provides a forum for public recognition around the achievements of IoT companies and products in categories including Connected Home and Home Automation, Connected Car, Industrial IoT (IIoT) and Smart City, Consumer IoT and more. For more information visit www.IoTBreakthrough.com.