MachineMetrics Releases Industry-First Benchmarking Reports On CNC Machine Performance.
In a month of big news for MachineMetrics, the Industrial IoT manufacturing analytics platform has announced that they have officially released benchmarking reports to their customers based on real machine data, an industry first for the machine tool industry. The release of this new capability allows MachineMetrics customers to understand their machine performance relative to their peers that can be segmented by type of machine and industry.
"Our unique ability to easily connect to any machine has allowed the MachineMetrics platform to quickly gain tremendous traction and aggregate what we believe is the most powerful global dataset of machine performance in the world. We can now use this data to provide the highest level of insight back to them such as accurate benchmarking on their equipment utilization." says Bill Bither, CEO of MachineMetrics, "The benchmarking data will allow MachineMetrics customers to justify winning new business, improvements in processes, and new investment or business opportunities. We are excited to continue to break ground for our customers and for the Machine Tool industry as a whole."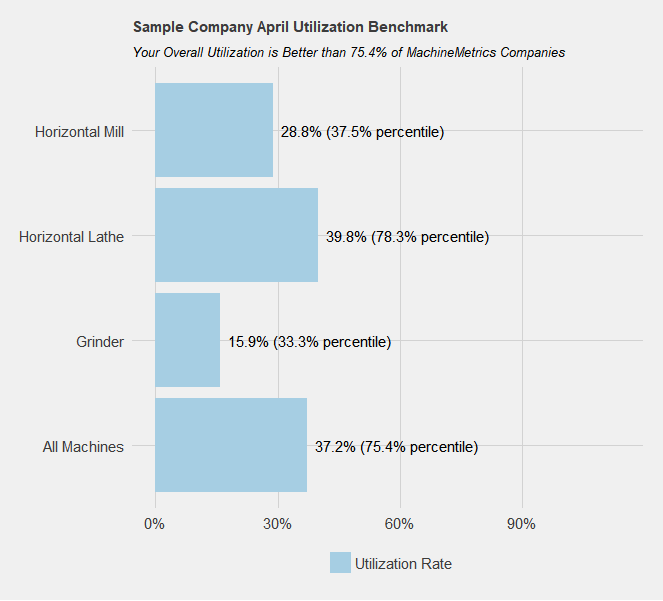 Benchmarking machine performance has been a notoriously difficult task to achieve statistical significance for in the past. With thousands of different machines and control types, understanding and benchmarking CNC machine performance has been a unicorn of sorts for manufacturing analysts. Previous industry benchmarking reports have been compiled based on self-reported survey responses which, along with the fact that the majority of manufacturers simply do not have access to the necessary data, are often inaccurate. Until now, no business has had the capabilities of MachineMetrics to connect to as many machine types and aggregate a data set with statistical significance to accurately benchmark true machine performance.
"We implemented MachineMetrics to deepen our connection to the machine and the data," says Jonathan Bicknell, Technology Manager at Turbocam International, "The data will always be honest. We might tell ourselves we are the best, but having actual benchmarking data that positions us amongst our peers allows us to back this notion up. Our question now is no longer where do we stand, but how do we increase our percentile while maintaining employee health - this could justify further automation."
Despite producing the greatest amount of data of any industry in the US, manufacturing is the furthest behind any other global industry in their digital transformation efforts. According to McKinsey and Company, roughly 50% of US manufacturers admit to not having a systematic roadmap or toolbox for easy rollout of digital manufacturing solutions, and over 15% of all US manufacturers identify a lack of knowledge about suitable providers as their biggest obstacle. Because no standard roadmap for digital manufacturing exists, many are often uncertain around where to start and what foundational capabilities are required to succeed.
"This is just the beginning of the value that MachineMetrics can provide for our customers using this data," Bither added, "Now that we know where a business stands, the next step is benchmarking the components of OEE and uncovering what factors correlate to good performance. What are the top reasons that cause downtime for our customers? What types of improvement strategies lead to performance improvements? These are the questions we are proud to be discovering answers to."
About MachineMetrics.
MachineMetrics has revolutionized Industrial IoT for the manufacturing sector. With simple "self-install" IIoT connectivity, MachineMetrics manufacturing analytics and predictive machine learning platform allows manufacturers to harness, structure, and take action on this data, driving manufacturing efficiency by more than 20% on average for customers. Their user friendly Industrial IoT platform easily integrates into Precision CNC machines, SWISS, Stamping, and Die and Mold shops to provide instant notifications, real-time dashboards and historical Pareto reporting, allowing managers to not only track efficiency and quickly identify production bottlenecks that are related to specific machining operations but also helps measure the effect of process improvements. MachineMetrics is focused on bringing smart manufacturing to the factory floor with software that's simple to integrate, easy to use, and produces powerful results.
Now integrated into factories across North America and Europe, MachineMetrics is growing fast. Their customers include Fastenal, Snap-On Tools, Gardner Denver, TurboCam, and Shiloh Automotive as well as partnerships with McKinsey and Co., SECO Tools and the Robert E. Morris Company.
MachineMetrics was recently awarded "Smart Manufacturing Solution of the Year" by the committee at IoT Breakthrough, winner of the Massachusetts TechHub Caucus' 2018 NEXTGEN Technology Award, one of 20 tech-ecosystem partner by McKinsey and Co. for their Digital Manufacturing Growth Initiative, as well as a Top 10 Manufacturing Intelligence Solution Provider for 2017 by Manufacturing Technology Insights.