Automating Production Monitoring
Manufacturing today is undergoing a significant transformation from manual "Lean" systems to connected systems that rely less on human interaction. Yet, most factories have disconnected operations. Machines are disconnected from the people who operate them as well as the systems that manage day-to-day operations.
People are essential for keeping equipment running, making processes more efficient, and making key business decisions, yet there is a significant labor shortage in manufacturing today.
Systems that track manufacturing operations, such as MES (Manufacturing Execution Systems) are designed to provide visibility into Production, Quality, Maintenance, and Inventory, but they require accurate data in real-time. Thus, the job of a front-line worker today is tied up ensuring this data is entered timely and accurately. In a time where manufacturers must be doing more with less, these frontline workers should be focused on operating and maintaining equipment, and improving processes, as opposed to manually entering data into software systems.
The reality is that manufacturers need this production data in real-time in order to make quick business decisions, automate processes to compensate for the lack of workers, and stay competitive. THis data has to be available in real-time and without time-consuming manual data entry.
Our vision since the beginning here at MachineMetrics has always been to solve this problem through automation, empowering manufacturers to optimize production using real-time machine data, not manual data entry. This concept, which we refer to as the "machine data digital thread" places the onus on machines to inform people and systems, versus the other way around.
It's our belief that people are your most important asset. We want them focused on high-value tasks, rather than tedious manual data entry or processes that can be automated.
MachineMetrics continues to remove the bottleneck (and consequences) of manual data collection, freeing up people to engage in the work best suited for people.
As a result, we have built an automated production monitoring solution that requires no operator input. This ensures operators can be focused on keeping machines running while allowing machine data to drive actionable insights and automation.
MachineMetrics' Upgraded Production Monitoring Solution
There are several benefits customers experience by upgrading to the latest production monitoring solution from MachineMetrics.
No Operator Input Required
Many production monitoring solutions require operators to painstakingly import work order or job data from their MES or ERP system into the production monitoring solution and back again. But this approach adds unnecessary manual tasks to the workload of busy shop floor personnel, and tends to result in delayed, inaccurate data.
MachineMetrics allows customers to manage and optimize their production without the requirement of manual operator input. As a result, operators can focus their efforts on managing machines and meeting production goals.
Going one step further, with an ERP integration, there is no need to have operators stand in line at an MES terminal to enter in operation data that MachineMetrics already knows.
Data Accuracy and Reliability
MachineMetrics uses AI and machine program data to identify the operations associated with the cycle in progress, rather than having an operator manually enter the information. We also use machine learning models to automatically determine certain states of a machine, such as if the machine is in setup or production.
With accurate operational data collected autonomously by MachineMetrics, manufacturers can better understand current and historical operational performance. Put in another way, you have the ability to know exactly what happened on the shop by tying operational data (which production run, which machine, which operator) to production data (number of parts created, machine utilization, downtime events, feed rate).
Improved Scheduling and Quoting
With a historical record of all production runs, scheduling and quoting become far more accurate. Manufacturers have cycle times, part counts, typical downtime, and other production data tied to each associated production run within their management systems.
Augmenting Machine Data with Human Data
Machine data can contain rich information, stored in program files. Information such as operation name, revision, expected cycle times, materials, and more can be used to add context to a production run. However some information just cannot be captured from the machine, such as which machine operator is tending the machine, maintenance information, and wokorder information. MachineMetrics has a configurable operator interface that can overlay this data onto the automatically captured data, to provide full context and traceability into your production operations.
Taking Action on Production Data
Without any operator input, a historical baseline is established from history, so any outliers can be identified immediately, and action taken to resolve these issues. Flexible reporting can be configured to display the performance of any period of time for every machine, for every operation with these performance issues highlighted with a detailed timeline of events to quickly get to root cause.
Extensible Production Data
As a platform, MachineMetrics can extend the value of operational data by integrating with shop floor management systems.
The operational data layered over machine data can be delivered to shop floor systems, such as an MES or ERP without the need for time-consuming manual data input or manipulation. These integrations enable data to be updated in near real-time, and with accurate data with no human input. No need for operators to take time away from tending their machines to wait in line at an MES terminal. Information such as workorders can be selected by the operator in tablets right at the machine to augment the automatically generated operation and machine data.
Learn more about connecting your machine to other shop floor systems.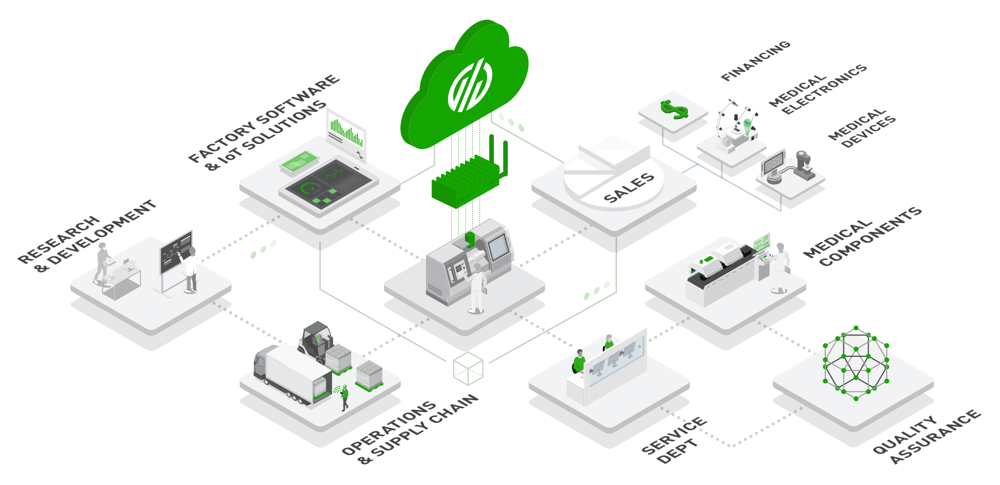 Forward-Looking Thoughts
MachineMetrics has been leading the machine monitoring industry for several years now and we continue to innovate our platform to drive even deeper machine connectivity, deliver advanced insights that drive action, and enable automation across the manufacturing stack, from production and maintenance to quoting and planning.
Our latest product advancements have completely eliminated the need for operator input to track the production performance of your manufacturing operations.
As the machine data component of the connected factory, it's our job to ensure all people and systems have the accurate, real-time production data they need to make better, faster decisions. All without forcing people to manually collect, compile, and analyze data. And this can be done efficiently at a scale of hundreds, or even thousands, of machines per plant.
As you follow your continuous improvement roadmap, we will continue to innovate on our platform, helping you free your people from burdensome manual tasks, identify and exploit hidden capacity, and nail down operational data to ensure you have an accurate view of shop floor performance.