Manufacturing leaders today are having an increasingly difficult time choosing software that meets their ever-growing needs. Traditionally, manufacturing operations would use an ERP/MRP system that was designed for their facility, and fill in gaps with Microsoft Access, Excel, or paper. These systems require a lot of maintenance, manual data entry, and usually a team of consultants to implement. ERP systems have attempted to solve these problems, only to add complexity to their systems, resulting in complex software that is difficult to use and hard to scale.
We're finally starting to see a new generation of manufacturing software that is easy to use, cloud-based, and more flexible for changing business needs.
The Evolution of Manufacturing Software
The original SaaS companies captured value from horizontal services and were similar across different industries, such as CRM and HR. The most well-known and successful example of a SaaS company is Salesforce.
We are now in the second generation of SaaS, which consists of many more companies and of an earlier stage. These products are more specialized, often vertically integrated, leverage AI, and have rich APIs. These more modern software platforms have the advantage of a much larger market for SaaS and can afford to specialize by focusing on a specific problem in a specific industry with integrations into other systems to provide the entire software stack. In the previous generation of manufacturing software, providers attempted to tackle all this functionality within one proprietary platform.
We see this specialized approach in other industries such as Technology and Marketing, and are just beginning to see it replicated in manufacturing. This is a best-of-breed approach that is causing the SaaS (Software as a Service) industry to explode into a $150 billion market across every industry vertical.
With that said, manufacturers continue to top off their technology stack with a management system, often ERP.
The Continued Reliance on ERP
Today's ERP systems are almost exclusively older generation software that requires a team of software integrators to onboard, train, and customize. ERP systems built for manufacturing also include MRP (Manufacturing Resources Planning) and MES (Manufacturing Execution System) capabilities that are designed to monitor and manage shop floor activities and WIP (work in process). Manufacturing operations are quite complex and vary from plant to plant, and even from job to job. MES Systems are heavily dependent on manual data input. This data-entry heavy approach to MES has given it a bad name, with many failed implementations, and phasing out of manufacturers.
We see the ecosystem evolving to best-of-breed systems that each solve a specific manufacturing problem, with their own workflows and easy access to data via APIs, all connected in one digital thread. This emerging ecosystem is able to leverage the highly mature horizontal SaaS technology to provide the best possible experience for the user with the least possible manual data entry.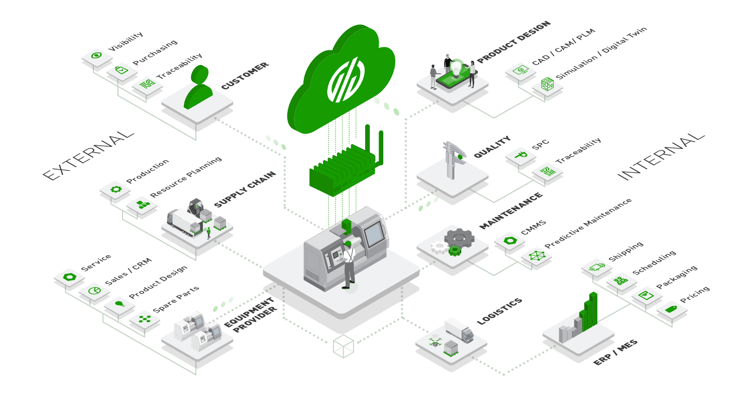 Manufacturing Operations Software
The previous generation of vertically integrated manufacturing software for SMB and the mid-market are all considered ERP/MRP/MES systems, and attempt to bundle all features required to run a manufacturing operation.
Here is a list of the more popular systems that we have experience with.
ECi JobBoss
Epicor
Infor Visual/LN/Siteline
Plex
Odoo
Proshop
Global Shop
Features in an MRP/MES typically include:
Operator, Machine, and Material Capacity Planning
Job Scheduling
Work In Process Management
Quality Management
Operator Instructions
Equipment Maintenance Management
Best-in-Breed Vertical Software Solutions
The newer generation of manufacturing software is more specialized with individual companies that focus on one (possibly two) specific domains within an ERP/MRP/MES with most integrating with the previous generation ERP/MRP systems.
Software

Description

Machine Monitoring Data Platforms
Focus on getting real-time data from automated manufacturing equipment and then automating workflows around these machines with analytics. Not standard in an MES as typically data is gathered manually by the operator. More advanced systems are IoT-centric with support for sensors and advanced analytics that can predict and prescribe actions for machine operators. Older generation machine monitoring systems based on DNC (ability to send programs to machines) have existed for a long time, but do not offer API flexibility, analytics, or workflow capabilities.
Quoting Systems
Integrate with ERP are geared towards contract manufacturers where much of the time is spent quoting jobs. More advanced systems will automate quoting based on part geometry and historical data.
Maintenance Management Systems (CMMS)
Monitor assets, work orders, and workflows around maintenance schedules. This is the most mature sub-feature of an MES with some older generation systems like IBM Maximo that have focused on CMMS for large manufacturers.
Visual Workflow Systems
Offer work instructions and help front-line workers be more efficient with their manual tasks. These systems are typically designed for assembly operations in manufacturing environments but sometimes span into maintenance and machine operators. They can integrate with measurement devices such as gauges and calipers to automate data input for quality.

This leaves the door open for new entrants that focus on Quality Management, SPC, Scheduling, and Managing WIP (work in process) which traditionally can only be found in more generalized MRP/MES Systems.
MES/Manufacturing Operations Software Systems
Now take a more modern approach and no longer starting with just accounting. A few startups are beginning to appear but are struggling to provide out-of-the-box capabilities, and polished user experiences. Further, they are following the elder generation of manufacturing software, risking becoming a jack of all trades and a master of none.
Horizontal Software used in Manufacturing Operations
Manufacturing-specific functionality covered by vertically integrated SaaS systems leaves the door open for very robust horizontal software systems that aren't designed specifically for manufacturing but can offer key functionality that is often better than the built-in functionality seen within the previous generation software applications.
Software

Description

Examples

Accounting Systems

Attempt to serve needs from different verticals with complex functionalities and full ERP systems. Newer platforms are more specialized in Billing/Invoicing, Inventory, and E-commerce with some starting to use modern, API-driven approaches that are simple, yet scalable.

Quickbooks
Xero
Softledger

Business Intelligence Platforms
Augment the built-in reporting that comes within vertical software and can pull data from multiple systems into a single view.

Spreadsheets
Grafana
Power BI
Looker
Tableau
Klipfolio

Communication Platforms
Send messages directly to employees and are often used within a workflow.

Microsoft Teams
Slack
Email
WhatsApp

Incident Management Systems
Help operations respond to trouble, assign to the appropriate people, and manage the status of incidents.

PagerDuty
OpsGenie
Zendesk

No-code, Low-code Systems
Fill in the gaps that exist for highly custom operations. This market is immature, and also exploding. These are modern versions of Microsoft Access.

Airtable
Retool
Microsoft Power Apps

CRM Systems
Enable sales and marketing professionals to manage leads, prospects, and bringing deals to a close.
HR Systems
Manages recruiting, hiring, onboarding, payroll, and benefits.

Rippling
Zenefits
Lattice
Where to Start? The Machine Level
At the heart of every manufacturing operation is the machine assets that enable production. This equipment produces thousands of data points every second and represents the preeminent component of the digital thread. The insights and actions driven from the data provides the foundation for manufacturers to grow their business and differentiate themselves competitively.
This is why the core of your search for best-of-breed solutions begins at the machine level. Manufacturers must deploy a solution that can autonomously capture and standardize accurate, real-time machine health and performance data across all makes and models of equipment.
This production data can be used to inform and drive your technology stack and associated processes and functions, including updating jobs in an ERP, creating work orders in a CMMS, or developing accurate production planning in a quoting system.
Unlock the power of machine data with MachineMetric Industrial Data Platform and take your quality, maintenance, and production to the next level. Book a demo today.
Or, read our latest whitepaper. We outline how manufacturers can take advantage of the most valuable resource at their disposal, machine data, to address their current systems' shortcomings while setting them on a path to a long-term strategy that capitalizes on best-of-breed technologies. Is your MES stifling innovation?
Read: The Death of MES (As We Know It) And the Rise of Data-Driven Manufacturing Automation