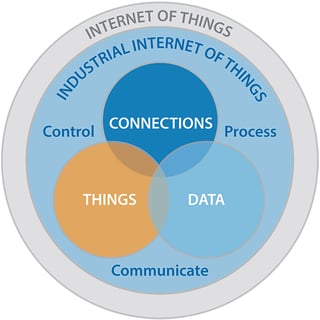 If you're in manufacturing, chances are, you've heard the buzz about the "Internet of Things" (IoT).
With good reason.
Globally, manufacturing is undergoing a transformation. New information technologies - the products of the IoT revolution - are not only impacting manufacturing effectiveness but also equipping businesses with the ability to identify smarter ways to work.
---

Many organizations, historically buried in data, are suddenly finding that they have access to tools they can use to understand how to conduct better analytics so they can better manage production.
IIoT-based technologies are allowing manufacturing companies to trade traditional batch-level visibility on the shop room floor to a laser-focused, unit-level visibility.
Many are calling this the dawn of smart manufacturing.
And manufacturers are flocking to this breakthrough that is making real-time, autonomic interactions among machines and systems and other assets a reality and producing a level of managed manufacturing never before seen.
IIoT offers a level of automated networking that is helping companies design more innovative products, improve operations, perform predictive maintenance, and generally, become more competitive.
However, despite the current spotlight it enjoys, IIoT is not new. In fact, it's has been around and growing for many years.
While there's no official definition of the Industrial IoT, what it boils down to is this: new technologies meshing with some dating back 40 years – making it possible to connect and control nearly everything in real-time so manufacturers can make more informed decisions.
Those who have already embraced Industrial IoT and incorporated it into their operations are realizing the tremendous business potential when data is integrated with plant-floor production.
Smart manufacturing environments - extending from the plant floor and throughout the supply chain - produce information that can be accessed and used to produce actionable insights - in real time.
Huge amounts of raw information can now be used to virtually track capital assets, processes, resources and products; allowing businesses to look "inside" their manufacturing operations so they can streamline business processes and optimize supply and demand.
Enabling technologies like smart devices, data analytics, cloud computing and mobility make the ability to manage this sea of information both practical and cost effective.
Nowhere are the benefits of this more evident than with machine monitoring - a shining example of what's possible when new technology merges with old.
Not long ago, just the thought of automatically collecting data from shop floor machines and using this data to provide real-time visualizations, notifications, and historical analytics to help factory workers make faster and more informed decisions, would have seemed unimaginable.
---
Today, machine monitoring exists as a modern, secure cloud application, accessible from anywhere, providing automatic updates, and little IT expense.
Companies who choose to leverage the manufacturing efficiencies that the Industrial Internet of Things makes possible will put themselves in position to better manage production and beat out the competition.
Ready to make machine monitoring an integral tool for your shop floor? Click the button below to get started today!
OR CALL: 413-341-5747