Using Machine Data to Drive Factory Floor Optimization
Automated manufacturing equipment (CNC machines if you will), and the people who operate this equipment, are the beating heart of any manufacturing operation and represent one of the largest capital expenses for manufacturers. These machines are worth hundreds of thousands of dollars and produce more data than that of any other industry, yet this data is not being captured or analyzed to improve efficiency despite all of the innovations in robotics and automation
These machines produce hundreds of data points every millisecond, and the data structure is different for every machine. This makes it incredibly important to standardize the data across all the different machines. However, this is difficult to do for certain pieces of equipment.
It's not as simple as standardizing via OPC-UA or MTConnect, because only a fraction of machines support those protocols. We have customers who have spent YEARS attempting to leverage DIY solutions to collect and transform data into standard models from their assets, manually coding data points one by one, machine by machine. This often results in years of custom development and integration before obtaining initial value, a terrible misallocation of resources for manufacturers.
The insights and actions driven from the data provides the foundation for manufacturers to grow their business and differentiate themselves competitively. Today, manufacturers find themselves at different stages of a journey to leverage data and the digital thread to optimize and automate their business processes.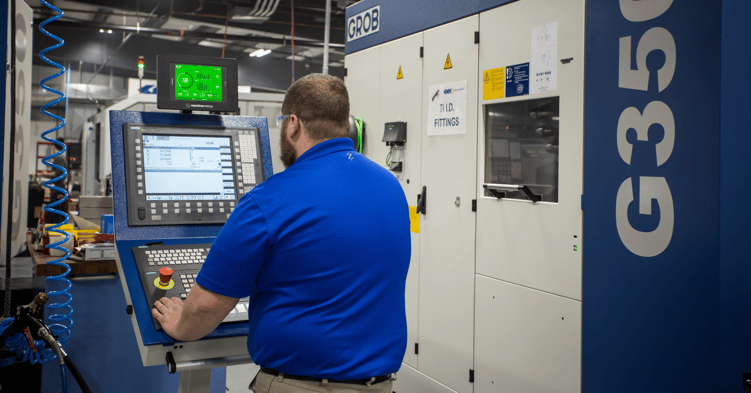 At MachineMetrics, we engage with many manufacturers who discover early in their journey that data from their plant operations is insufficient and unreliable. For key metrics such as equipment utilization, manufacturers who do not have automated systems for capturing transformed, or contextualized, data from their machine assets, are often under the mistaken belief they are performing at a satisfactory level. In reality, our average manufacturing customer starts with a utilization of 28%, significantly lower than what is perceived. Similar unsatisfactory statistics are also found for OEE, downtime, and other key metrics
The Downside of Manual Data Collection
The underlying cause of the subpar, yet inflated, perception of performance originates with data that is captured manually. Manual data capture often results in data that is inaccurate, manipulated, or missing. It is a shaky foundation that cracks and buckles when attempts are made to drive continuous improvement and innovation.
On the other hand, accurate real-time data automatically captured and transformed from machine assets creates a solid base for capturing insights and driving value. Of course, this is easier said than done.
Challenges of Machine Data Collection
Manufacturers understand the value of data, and a large reason for the lack of both efficient data collection and use of data in decision-making is two-fold:
Manufacturers are technology-averse or continue to use outdated practices, which results in manual data collection and its associated consequences.
Manufacturers struggle with the many barriers to building a culture and technology infrastructure that successfully supports automated real-time data collection. We cover these challenges below:
Data Variety
Not only are there many distinct types of equipment — Lathes, Mills, Plastic Injection Molding, Stamping, Laser Cutters, Robotics, etc — depending on the mechanisms available for acquiring data from those systems, the data points can be very diverse. To provide effective tools for analyzing that data across these distinct systems, the data must be transformed into a common data model. Not only does each machine control have its own mechanism for gathering data, but data points can also differ by the Family, Make, and Model of the machine using that control as well as the version of the software running on that control.
Data Volume
Manufacturing equipment, and discrete manufacturing equipment in particular, is very complex. A machine is a large system of components that work in coordination resulting in hundreds of distinct data points that change constantly. Depending on the application, there may be situations where it is required to capture data at rates of 100Hz or 100KHz. Platforms consuming this information must analyze the data at multiple levels within the system to avoid sending and storing unnecessary data when only the aggregate or computed result is sufficient. These systems must be capable of performing complex processing where it is most appropriate — at both the edge and in the cloud.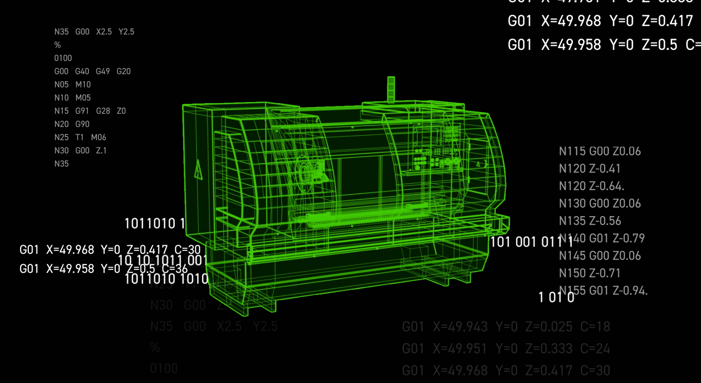 Connecting directly to the control of a CNC provides a large volume of machine data in a variety of diverse data points.
Data Speed
While some systems can provide value with low fidelity and high latency, certain IoT use cases require much more real-time data to be effective. Edge technology is required to process high volumes of data, make decisions in milliseconds or less, and act to potentially prevent damage to the machine or the workpiece. Even dashboards that provide visibility into a job's performance can gain tremendous value from low latencies — drawing immediate attention into a process that's falling behind or failing.
Discrete manufacturing introduces even more complexity. This starts with the variability of the machines in discrete manufacturing plants. There are many different machine manufacturers, and no one plant has only one brand of machine. The many different machines also have different control systems and communication protocols. They are of different vintages, ranging from new with modern controls to 20-30 years old with limited control capability. Connecting to, and collecting data from, the various plant assets is a significant undertaking as well, considering most of these machines were never designed to provide data for the kind of holistic, factory, or enterprise-wide analytics solutions companies are focused on enabling today.
Sources of Machining Data
The beauty of a connected operation is that manufacturers can collect and use data from numerous sources. As long as the data is contextualized and relevant, this can help managers get deeper visibility into the status and performance of the shop floor, even helping to fill gaps and add context to existing data.
Machine Tools
As the most valuable source of production data, the machine tool provides a stream of data that is contextualized by MachineMetrics and used for real-time production dashboards, reporting, and notifications. Stakeholders can be instantly notified of machine downtime events and see when production is behind schedule with access to machine data that includes machine statuses, alarms, overrides, loads, speeds, and feeds.
Connected Systems
To fill gaps in production data and add additional layers for context, it can be helpful to share data among the different systems within a manufacturing environment, such as ERP, MES, CMMS, CAM, etc.
MachineMetrics has application programming interfaces (APIs) that can pull in information from outside sources. This combination of machine and operational data can be leveraged together to generate insights or drive automation. For example, machine data indicating a failure can automatically trigger a work order in a CMMS.
Operators
The MachineMetrics Operator Interface, which lives at each machine, provides a communication tool for operators to add context to machine data. This is an essential layer of data as it helps to explain the "why" behind machine downtimes, alarms, scrap parts, etc.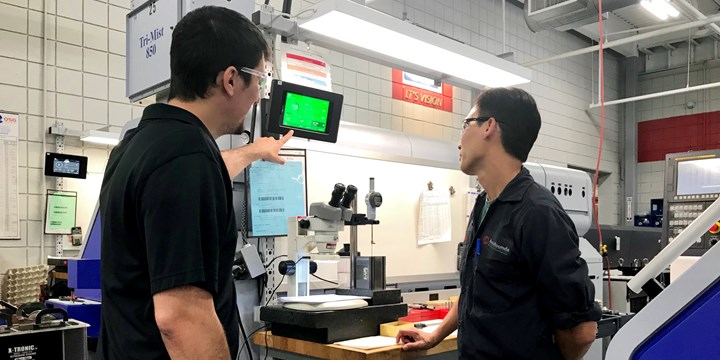 With Tablets at each machine, operators can provide valuable context to the machine data, documenting reasons for downtime events and scrap parts.
The MachineMetrics Approach to Automating Machine Data Collection
In manufacturing, the edge is necessary to capture data from machines and transform that data into a common data model so that analytics can be performed. It must be able to support various PLC protocols to enable connectivity across the variety of assets on the factory floor. It should also support capturing data from sensors for simpler assets or when a standard connectivity method is not available from the PLC. MachineMetrics has developed and supports most standard industrial protocols with their various nuances, as well as building custom connectors to many different CNC machine controls.
Standard Protocols supported include:
OPC-UA
MTConnect
Modbus TCP
Ethernet/IP
Custom Machine Control Connectors built include:
FANUC FOCAS
Heidenhain iTNC530 and iTNC640
Citizen M700
Mitsubishi M70/M80
Brother Speedio
HAAS Serial
Matsuura CNC (custom alarms added to the FANUC FOCAS connector)
For legacy machines, connecting via a simple sensor is enough to determine the activity of the machine and to report on utilization. An analog current sensor is often used, and there is support for various Digital and Analog Acquisition devices, including the Labjack. This has enabled other use cases that require capturing temperature, vibration, pressure, and the ability to connect to relays in the machine.
Both PLC/Control and Sensor connections can be maintained through the online interface, and the data can be filtered, processed, and transformed with a simple scripting language designed specifically for IoT data.
Data can be streamed at Low Frequency (on an event change, or 1 sample per second), or it can be streamed at High Frequency (1000 samples per second) for certain Controls and sensors. Support for high-frequency data has required that MachineMetrics built its own edge technology to support this high level of data processing and streaming.
In order to scale the edge across thousands of machines, and to be able to remotely maintain, upgrade, and support the edge software, MachineMetrics Edge platform enables remote device management built to remotely configure, upgrade, and manage edge devices collecting data across our customer sites. Support technicians and customers themselves can troubleshoot issues, run diagnostics, configure networking, and test their firewall using these built-in tools. A common language interface (CLI) has been custom built to offer further diagnostics and support. This CLI can be used to upgrade devices, but customers will soon be given the option to upgrade the edge software themselves.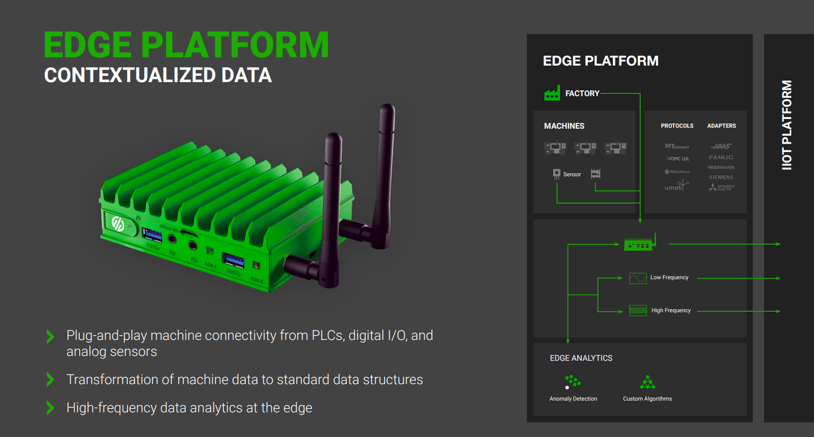 MachineMetrics Edge Platform provides a scalable solution for manufacturers that can be self-installed to easily collect data from any piece of equipment and enable actionable machine insights in a matter of minutes.
Machine Data Collection as a Foundation for Smart Manufacturing
CNC machine data collection begins with connecting your machines via a variety of methods, including both wired and wireless solutions.
Once data is able to be collected, it is contextualized and standardized to be used in real-time dashboards and notifications, as well as historical reports for deeper analysis. But this is only the beginning.
Machine data represents the foundation of the digital thread, empowering an unlimited number of use cases to optimize and automate business processes, allowing manufacturers to grow their business and differentiate themselves competitively.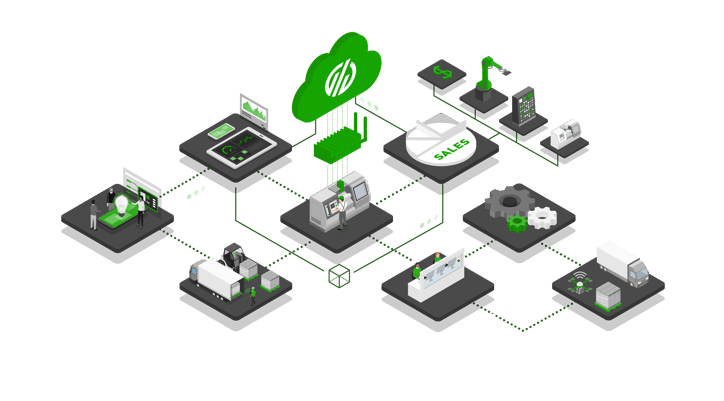 However, the value provided by machine data can only be used effectively if it is automatically captured and transformed.
What we have seen with customers that approach this with paper-based and other manual solutions is that the production data is far less effective, as it is delayed, inaccurate, uncontextualized, and does not scale beyond simplified use cases. Or worse, it is filled with gaps or nonexistent.
On the other hand, accurate real-time data automatically captured and transformed from machine assets creates a solid base for capturing insights and driving value.
Performance can be baselined across similar machines, lines, and plants with confidence knowing the underlying data is accurate. Machine asset performance can even be measured and compared to similar assets across a particular industry outside of the company.
In the end, there is only one version of the truth and the machine does not lie. With accurate data capture and transformation, combined with visibility and actionability through notification and workflow triggers, a 15 to 20% improvement in utilization performance can be realized in a matter of months.
We can follow this digital thread to see where additional context is added and how this data is used within other processes and systems to drive efficiencies at scale.
Operational Data
The source of your production includes both the equipment and people on the shop floor. Data from machines is automatically collected, but we have yet to discuss the impact of operator data.
With tablets placed at each machine, operators can add context to machine data, which provides a deeper understanding of the performance of the equipment.
For example, operators can document the reason for a given downtime event, so that plant managers analyzing downtime not only have an accurate view of how much downtime their plant has experienced, but also the top reasons why. The same holds true for scrap parts.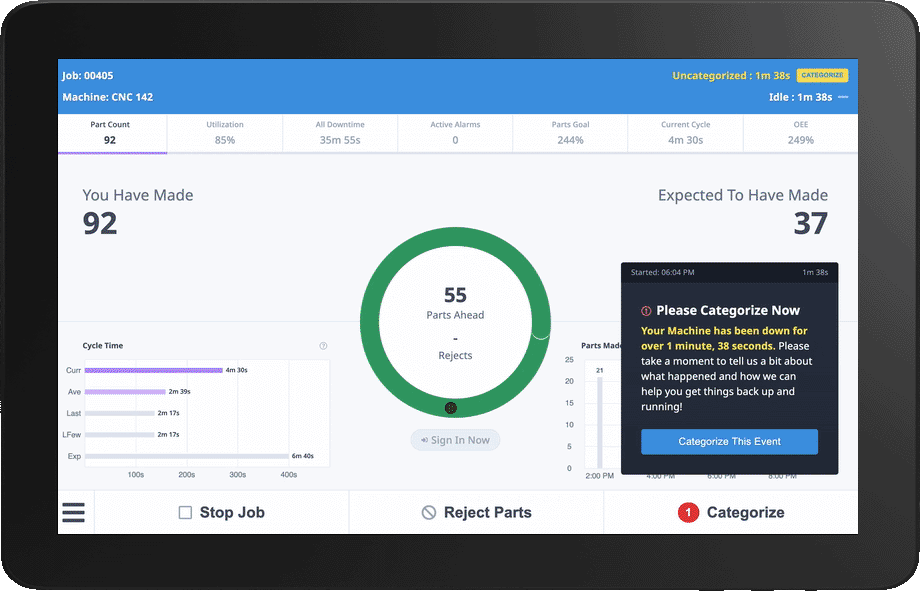 An example of an operator categorizing a downtime reason as a "catastrophic tool failure" at a tablet interface.
This gives management a better understanding of the problem so that more efficient processes can be developed to manage the most egregious downtime and scrap reasons.
Furthermore, this machine data, paired with context from operators, can enable notifications based on specific downtimes which alert operators and maintenance team members of downtime events, so they can resolve the problem as quickly as possible.
Machines, People, and Systems
The digital thread stitches together multiple components of the digital factory. As we follow the thread, machine data begins to impact other systems used by manufacturers.
When machine data is collected automatically, it can be integrated into systems, such as an ERP, MES, or CMMS, in order to manage processes more effectively or to make better operational decisions based on the combined data.
A few examples to illustrate the importance of this:
Enterprise Resource Planning Systems
Manufacturers generally manage jobs and scheduling in ERPs, where information will be stored on job standards and cycle times. However, there is a high likelihood that job standards and cycle times are inaccurate, which greatly affects the expected run times of jobs, as well as distorts pricing, as shops generally price based on the time it takes to machine a given product.
If a manufacturer is collecting real-time machine data, cycle times can be updated in the ERP to develop more accurate standards and ensure pricing is in line with expected job run times. This gives manufacturing leaders a better understanding of what the shop is capable of taking on and how much profit they are expected to generate.
Computerized Maintenance Management Systems
Another example of leveraging machine and operational data in other systems is improving and automating maintenance with a CMMS.
There are many strategies in existence when it comes to maintaining equipment, but most manufacturers continue to rely on reactive maintenance or calendar-based maintenance (with a recommended schedule provided by the machine builder).
Reactive maintenance tends to result in significant amounts of downtime. And calendar-based maintenance (a preventative maintenance strategy) tends to be expensive due to unnecessary maintenance work.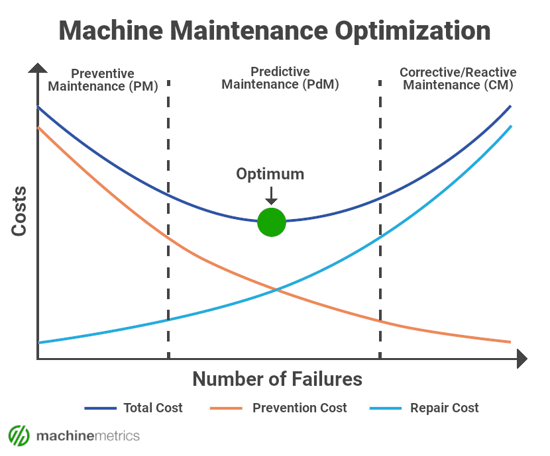 The "Goldilocks" zone between expensive calendar-based preventative maintenance and reactive maintenance that leads to large amounts of downtime and large repair costs.
By threading machine asset data and insights into the CMMS manufacturers can transform a maintenance strategy from reactive and calendar-based to usage or condition-based. Without a digital thread originating at the machine asset, the value a manufacturer can expect to achieve from a CMMS investment is significantly diminished.
With machine data available, maintenance schedules can be optimized to align with the usage and condition data streaming off of the machines and this data can even be used to trigger workflows that automatically generate work orders in the CMMS and notify the correct person of the machine condition, downtime event, alarm, impending failure, etc. so that they can fix the problem as fast as possible, or even before a failure occurs.
The Machine Data Digital Thread: Unlocking Industry 4.0
As manufacturers enable solutions that can better capture and transform their production data, not only will they be able to drive better fact-based decisions, but they will be able to leverage the data to develop better processes and drive automation on the shop floor.
Machine data opens an entire world of use cases, making it the foundation of production data and empowering manufacturers with a deep competitive advantage.
We'd be happy to discuss how MachineMetrics Industrial IoT Platform can help you no matter what stage of the journey you are in, whether it be monitoring your equipment to identify downtimes faster, or leveraging high-frequency data to predict and prevent machine failures.