Realizing the value of Industry 4.0 solutions can be a daunting for many manufacturers. Already shell-shocked by enormous disruption in the last few years, companies have seen stable, lean, and predictable supply chains give way to a new era of buffer stock to keep companies running.
The reality is that these systems were cost-optimized to increase value within the enterprise. With those models changing, there's now a sharper focus on labor and equipment utilization. And with it comes an urgency to increase value by uncovering hidden capacity and optimizing processes through the use of data as the linchpin of continuous improvement and cost control.
Luckily, there are plenty of opportunities available on the shop floor. It's simply a matter of revealing it with accurate production data.
By looking at Industry 4.0 solutions, such as the IIoT, through the lens of an investment manager, manufacturers can use existing business knowledge to understand the ROI that a given Industry 4.0 initiative can achieve. This can help manufacturers to make effective decisions when selecting technology solutions, as well as justify the investment to higher-ups.
A Framework to Evaluate the ROI of Industry 4.0 Solutions
Many manufacturers are skeptical about "yet another new software." But that needn't be the case. Even though the new normal is driving greater urgency and uncertainty, it can increase collaboration among vendors and manufacturers.
MachineMetrics has been at the forefront of helping companies uncover value and gain confidence. We provide engineering support for understanding the use case that a given solution can offer and provide companies a preview of how the MachineMetrics platform can help drive continuous improvement.
The first step is value identification. Here, the IIoT project is justified to help identify key performance measures and operational metrics. Value engineers help uncover pain points and collaborate on what benefits a company can expect. The result is a consulting-level presentation in the language of the candidate company with the company's culture and unique needs included.
The next step is value realization. An ongoing measurement process is established using real-time data to measure and compare machine and operational performance. As the pilot quickly reveals organizational impact, the value engineer (working side by side with key company staff) can help determine additional corrective action and map out improvement processes to optimize the system.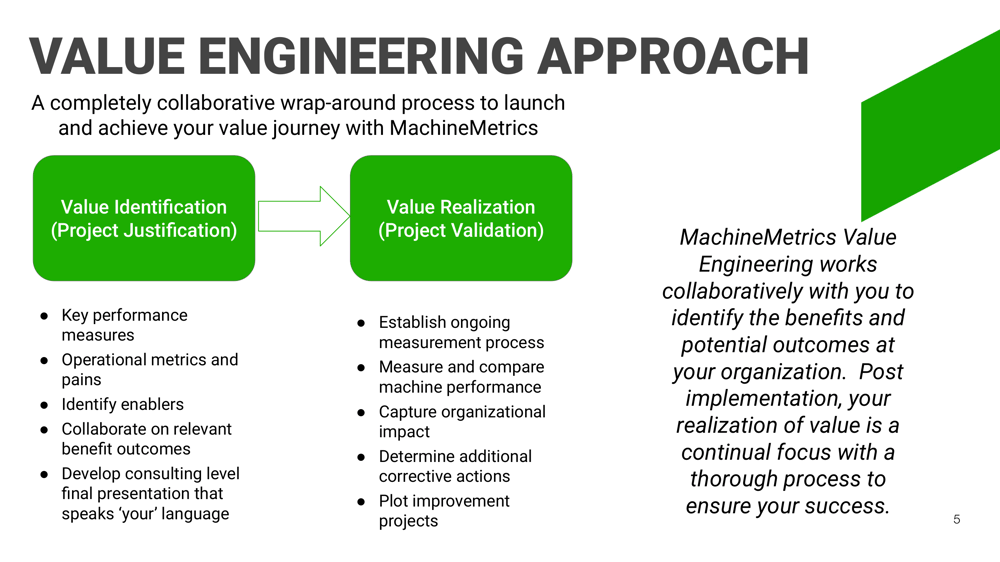 MachineMetrics also offers resources enabling manufacturers to calculate the impact of the platform on their own, such as our ROI Calculator. With a few simple data points, you can easily put a rough financial figure against the investment to measure the value delivered. Taking this a step further with a discussion with our team will help to pinpoint a more specific ROI.
How and Where Does MachineMetrics Provide Value?
MachineMetrics provides value with measurable benefits based on machine data. It also allows customers to measure their ROI in days or weeks since the system can quickly go live. One of the most significant, measurable benefits of the MachineMetrics platform comes with a marked increase in OEE (average customers experience a 20% increase in efficiency).
Companies can turn increased utilization into lower labor requirements, drastically shortened setup times, reduced overall downtime, and other operational variables. This helps companies lower costs and means that more is produced in-house without reliance upon outsourced manufacturing.
With accurate, real-time data and advanced analytical insights, plant output is ramped up while quality costs are reduced. This improves cash flow and significantly reduces capital investment by capturing owned capacity.
MachineMetrics' value is also revealed in its rapid ROI. This is because it's not just another manufacturing software. ERP, MRP, and MES systems require long learning curves and the stabilizing effect of accurate standards, which are difficult to acquire manually. Rather than replacing existing systems, MachineMetrics integrates with these systems via API and provides them with those standards and stability at a level not previously possible.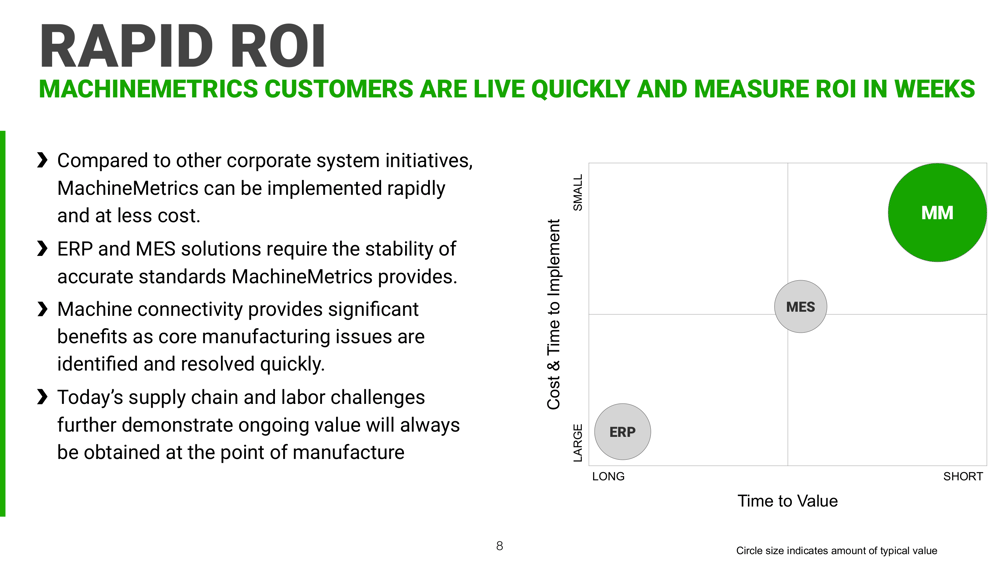 Measuring Shop Floor Benefits
MachineMetrics acts like the dashboard of a new car. With access to all systems displayed, the "driver" can see what problems occur before they happen. MachineMetrics offers a platform of real-time data and gives control over the system to operators, technicians, managers, and other stakeholders.
The level of operational visibility provides much greater control of the plant floor. For example, downtime is captured across all equipment to better understand why it is occurring and to resolve it as soon as possible.
Advanced analytics deliver actionable insights, enabling managers to identify hidden trends and further optimize processes throughout the factory. This means that production standards, schedules, and scrap accountability can be improved and optimized.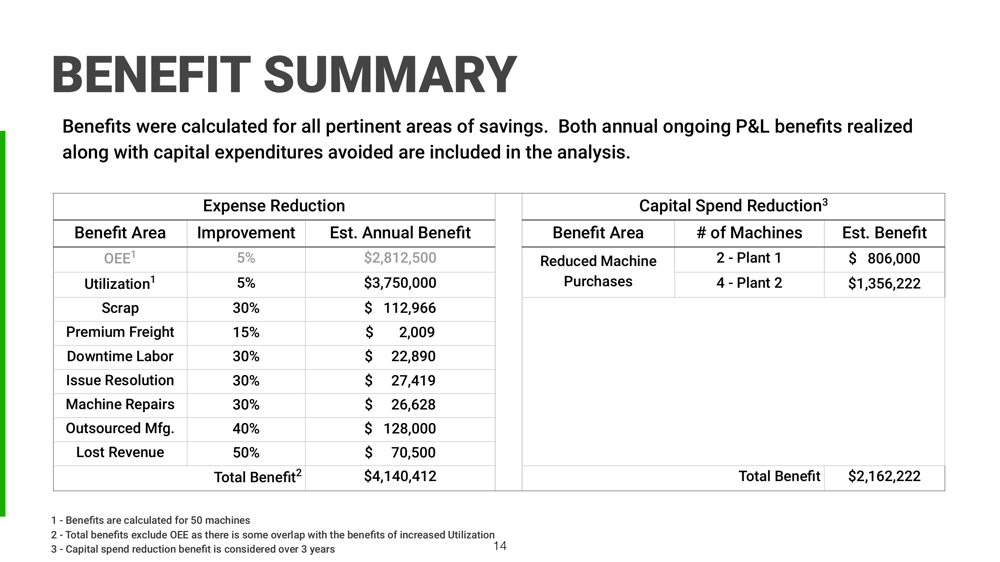 Case in Point
MachineMetrics' value engineering approach has been proven with real-world customers who have seen the power of what the platform delivers. When Avalign, an Illinois-based producer of precision medical equipment, wanted to tackle the problem of predicting maintenance events, they approached MachineMetrics.
With a pilot of 60 machines, the MachineMetrics value engineering team was able to show them that their biggest problem wasn't maintenance events - it was set up time. Using real-time data to highlight the customer's actual problem led to an astounding improvement in operational performance across the board.
This included a 40% increase in OEE and 14,000 hours saved. In just three months, Avalign increased capacity by $4.5mm and throughput by 10%. By working closely with Avalign to help identify where their actual value lay, MachineMetrics delivered what the customer needed most.
MachineMetrics' hands-on approach to identifying and realizing value meant that Avalign experienced fast ROI and improved performance to the point that the platform is used in 280 of their machines in over six sites today.
Avalign OEE Director shares more on this process of discovering value with an Industry 4.0 solution and the results his team achieved:
MachineMetrics Gives You Control Over Your Data
Identifying the benefits and outcomes of their best-in-class IIoT platform is critical to the MachineMetrics mission. That commitment to value means they don't just offer a package and only support it when the phone rings. MachineMetrics weaves value throughout their entire customer experience.
From value engineering to helping customers understand and become comfortable with IIoT to pilot scale systems that quickly prove their power, the MachineMetrics Industrial IoT platform gives you what you need to succeed and uncover value and capacity within your existing equipment.
To learn more about how MachineMetrics can help maximize the value of your machines using data, book a demo today.