This article is part of a series discussing the value of machine data for shop floor management systems. Integrating machine assets into your connected factory ecosystem unlocks accurate, real-time production data that can be used to enhance not only production, but many other functions across both the shop floor and in business operations, from maintenance and quality, to quoting and planning.
Better, Faster Quotes Are Within Reach
When it comes to pricing products and preparing quotes for prospects and customers, there are many solutions available, including ERPs that offer quoting capabilities as well as software built specifically for quoting.
Also known as configure-price-quote (CPQ) or cost estimating software, quoting software automates the quoting process to enable faster quotation and fewer errors. Quoting software also retains past data and quotes, which can help for future jobs that must be quoted.
But like all platforms, quotation software is only as good as its data inputs.
Data accuracy within quoting software is critical, especially for job shops, contract manufacturers, and high-mix low volume operations. Accurate data can be the difference between maintaining margin targets or producing jobs at break-even or loss.
Today, manufacturers can use the accuracy of machine data to increase CPQ software's effectiveness and ensure desired margins. After all, machines don't lie, and they produce a real-time, accurate stream of data that can be captured to inform part counts and cycle times, providing key historical data to rely on when quoting jobs.
How Machine Data Improves Quoting Accuracy and Speed
While process industries may utilize the power of consistent volume to ensure margins, discrete manufacturers may struggle with smaller lots, shorter runs, and vast differences in equipment performance from job to job.
For contract manufacturers and high mix-low volume operations in particular, jobs may frequently change, making historical data less reliable. As processes improve over time, the data quality will degrade, so it must be constantly updated to maintain integrity.
This makes it increasingly difficult to effectively and quickly generate quotes. Machine data provides an accurate record of equipment and job performance ensuring sales teams and estimators have the information they need to quickly turn around RFQs.
Accurate Reporting and Analysis
Native analytical capabilities of CPQ and other quoting software rely on data. In manual data collection and analysis, it's almost a given that there will be a significant lag between the time data is collected and analyzed and when it's available to quoting software.
Manual collection also means errors and omissions, resulting in inaccurate data that could severely impact quote quality. This inaccuracy exists because manufacturers are likely to use estimated cycle times and machine availability or use data that has been manually input into the quoting software.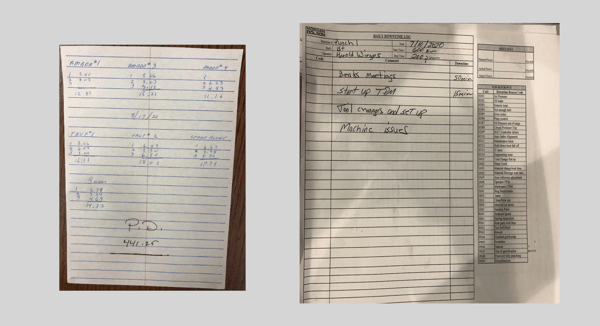 Since people are adding the data manually, there is likely to be variation in the data collected, leaving estimators and sales teams with a flawed historical record of past job performance and costing information.
Using real-time data that is standardized and immediately available to CPQ software means that sales staff can see actual performance and efficiency, generate reports and analyses, and set quotes at the optimum price point.
Improving Performance of Jobs
Real-time and historical production data from equipment lets you see exactly how much capacity is available to meet customer demand. As machine data improves operational performance and efficiency, the additional capacity becomes available to run more jobs.
Machine data from production, including cycle time, part counts, scrap rates, and other metrics, will also provide more accurate costs, enabling accurate estimates and markups when providing quotes.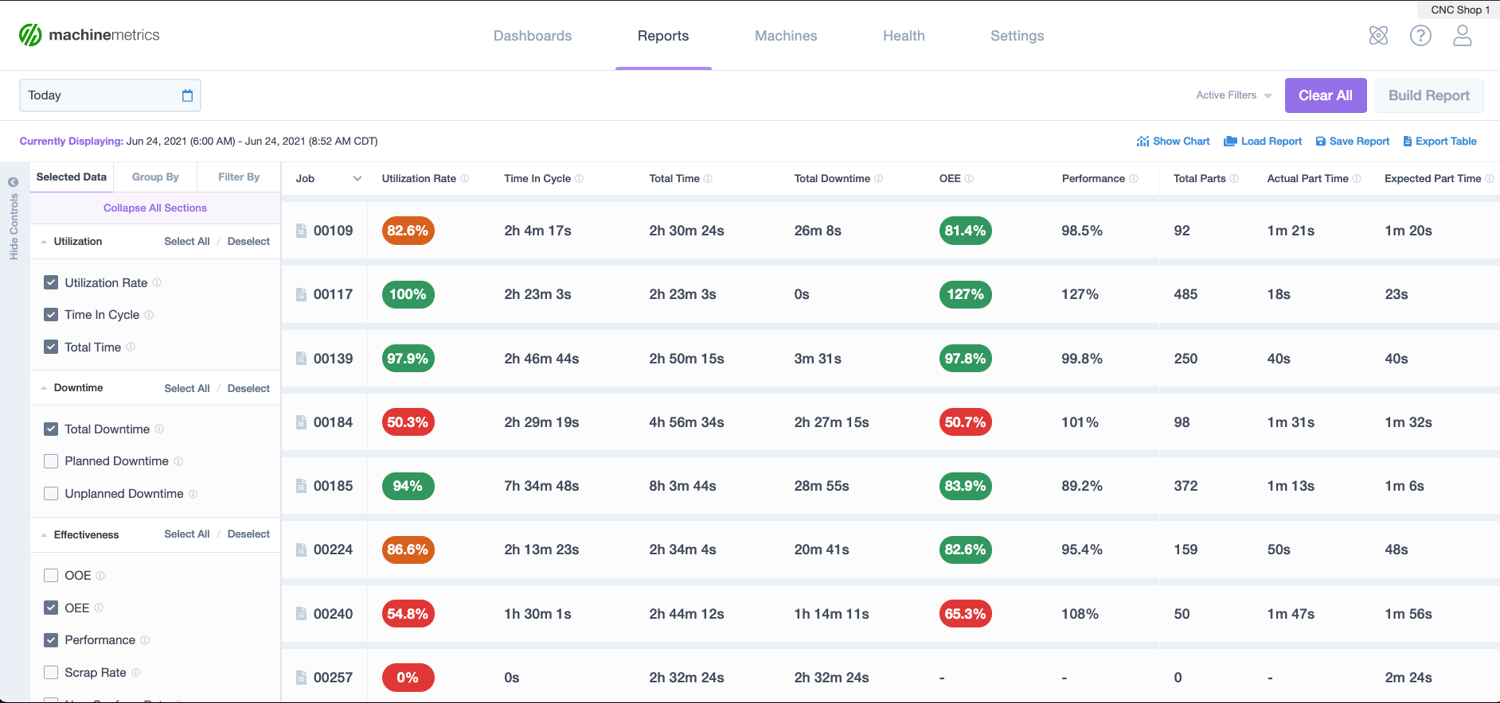 MachineMetrics collects data from equipment and ties this to an associated production. This ensures manufacturers have a historical record of how jobs typically perform.
Resource Management
While real-time machine data and a machine data platform help improve operational performance, managers can also use these tools to manage resources. Labor, material flow, environmental conditions, capacity planning, and other variables can also be optimized.
For quoting software, this leads to more capacity, lower costs, and greater flexibility in scheduling jobs to meet demand and reduce lead time. As real-time machine data improves, resource management quoting becomes more accurate based on newly liberated resources, allowing competitive quoting on new jobs.
How to Leverage Machine Data for Better Quoting
The MachineMetrics Machine Connectivity Platform helps you leverage your machine data to improve quoting, ensuring more accurate estimates and improving the speed at which RFQs can be delivered.
MachineMetrics works as part of a best-in-breed ecosystem of solutions. We are the production data component. We do not offer a quoting solution, but the data we collect from machines is pivotal to understanding operational performance and ensuring your shop floor systems are updated with accurate production data.
Use Operations Data
Estimates on run times, downtime, and cycle times are dangerous in fast-paced manufacturing. The MachineMetrics platform uses data like part counts, cycle time, utilization rate, etc. It also uses advanced analytics for real-time analysis of operational data, such as jobs running, reasons for rejected parts, and reasons for downtime. This data is processed in the cloud to allow CPQ systems to access it along with historical analysis to create accurate quotes.

Do you have accurate cycle times for each operation you manage? MachineMetrics collects this data automatically and can send it to an MES or Quoting System.
The average MachineMetrics customer sees a 20% increase in efficiency in the first month of use and higher gains over time as users discover other process optimizations. With reduced unplanned downtime and cycle times, companies can produce more parts or the same volume of parts in less time. This capability enables them to quote more competitively and increase their number of customers.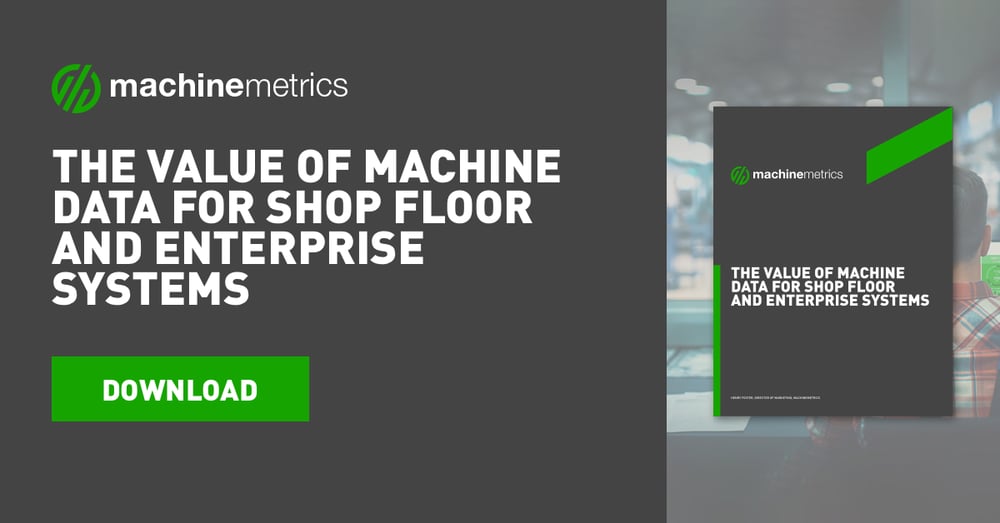 Rely on Advanced Automation
Automation and connected factory systems empower process improvement over time, and real-time production data enables manufacturers to accurately gauge the cost of manufacturing a new part.
This automation is coupled with workflows built into MachineMetrics that update key data points that impact the costing of parts like cycle time, changeover times, setups, and more. Historical data on production and operations will be retained for future use in the platform.
Connect to Systems Seamlessly
Because MachineMetrics creates a holistic, connected factory environment, it lets you connect legacy systems on the shop floor and enterprise software throughout the operation. The platform is highly extensible and has developer capability for building custom API applications and driving real-time data to all software systems in the company.
This extensibility continues with numerous native integration capabilities for ERP, CMMS, communication, business intelligence, and work instruction software commonly used by businesses.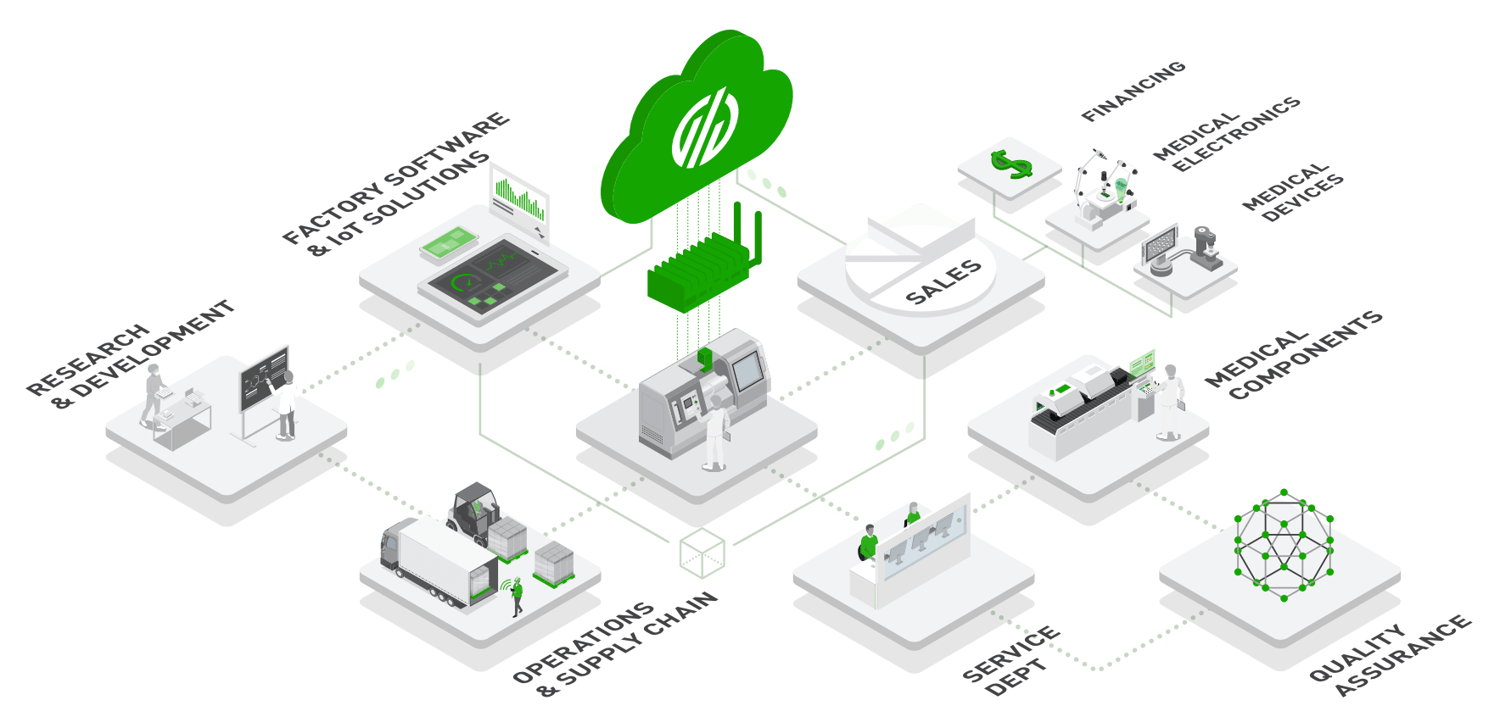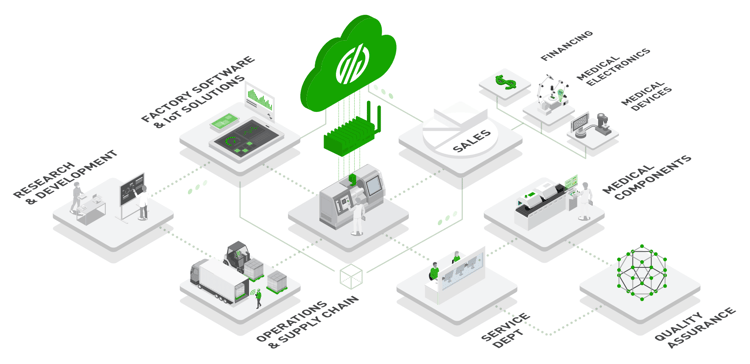 Quoting With the Confidence of Accurate Production Data
Machine data is driving manufacturing efficiency to new heights. Why only use this data for production management when you can also leverage it for quoting, maintenance, and other functions across the business?
MachineMetrics can supercharge your quoting speed and accuracy by surfacing production and operational data from machines.
Want to dive into a discussion with a product specialist? Set up some time with our team, or watch the platform in action to see how we do it.