This article is part of a series discussing the value of machine data for shop floor management systems. Integrating machine assets into your connected factory ecosystem unlocks accurate, real-time production data that can be used to enhance not only production, but many other functions across both the shop floor and in business operations, from maintenance and quality, to quoting and planning.
Solving for Data Silos in Your Tech Stack
Manufacturers have historically relied on manual systems and legacy software solutions to manage and organize production processes.
But these systems were often standalone, siloed software solutions that did a poor job of reaching the intended users.
These systems could help to manually get data to other departments of the enterprise, but the process was often filled with gaps. It often involved operators and managers collecting part counts and manually uploading them at an HMI in order to get the data into a software system for analysis.
As a result, one of the biggest gaps we have seen (and continue to see) is the one between business systems and shop floor systems.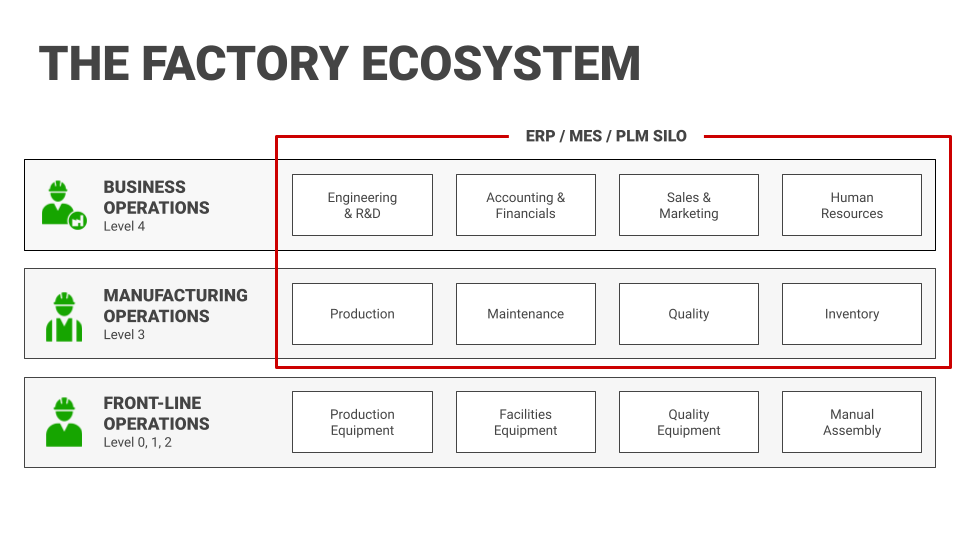 Business intelligence (BI) software was developed to harness the power of data for all of a manufacturer's needs. It lets companies organize large amounts of raw data for use in any functional area that requires it. Enduring that production data is included within these BI tools is kep to understanding shop floor performance and connecting it to business performance.
But manual data collection, analysis, and upload is not cutting it. This is where an automated machine data collection solution becomes handy.
Let's take a closer look at BI tools in manufacturing as well as the impact of using accurate, real-time machine data to enable their performance.
BI Software at Work
BI systems rely on a straightforward structure. The data is usually stored in a cloud-based data storage platform for easy and cost-effective access compared to older in-house data storage solutions.
Advanced analytics provide meaning and structure to the data and offer actionable insights. AI can also analyze hidden trends in the data to enhance its value.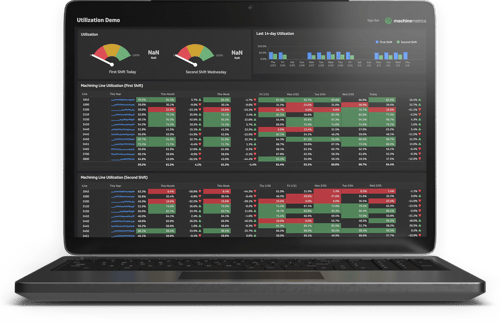 Users have access to data in various formats. Data may be accessed via computer, HMI, or even laptop and phone, enabling employees to review the KPIs necessary for their job. These KPIs can cover various topics, including finance, customer, market, production, sales, and HR.
BI software offers tools to make data more valuable and relevant to each user. Many of these tools focus on analytics, while others organize the data based on relevance to the user. Many applications parse and chart data for specific disciplines for finance, engineering, planning, etc.
Examples of BI tools include:
Dashboards
Data mining
Predictive and statistical modeling
Reports
Design visualization
Scorecards
Here are a few BI solutions we have used here at MachineMetrics:
Power BI
Tableau
Klipfolio
Grafana
The Link Between Machine Data and Business Intelligence
While business intelligence tools have powerful capabilities, their value can be significantly enhanced when connected to the high volume and quality of data collected from machines on the shop floor.
Getting this data, of course, has historically been the major challenge.
Traditionally, many companies tracked machine data manually. Part counts, cycle times, and downtime were manually recorded on paper, whiteboards, and/or excel, and then were manually uploaded to management systems for analysis.
This results in delayed, inaccurate, error-laden data which greatly hinders decision-making and stifles any chance of enabling automation.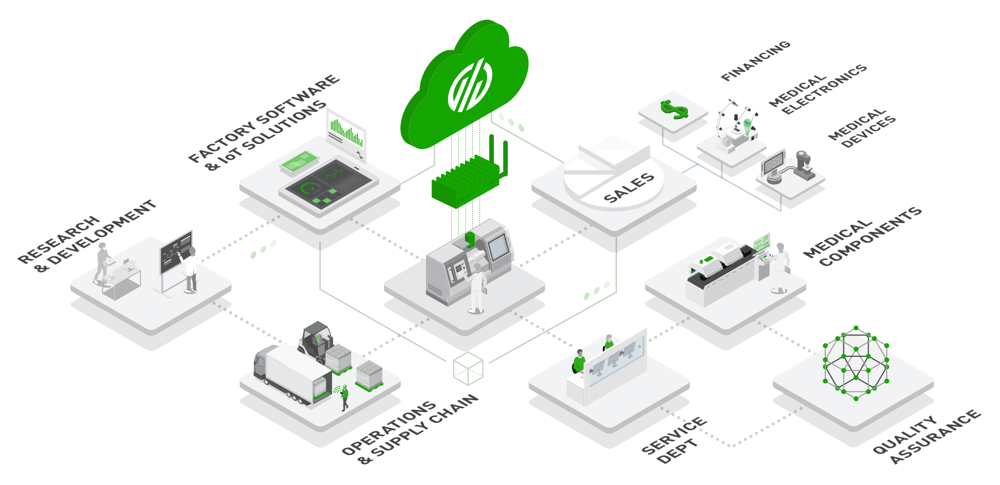 MachineMetrics automates data collection across the factory floor and integrates with BI software. It standardizes and structures data into usable formats before analysis. The platform works with any model or machine generation, whether digital or analog.
By linking MachineMetrics to BI software, performance at multiple levels (machine, spindle, operator, department, etc.) as well as machine conditions become visible in real-time.
How Machine Data Increases the Value of BI Tools
MachineMetrics captures, standardizes, and contextualizes machine data in real-time to empower and enhance the native capabilities of BI software in the following key areas:
Data Collection
Manual data collection pulls down the power of BI software. This manual process often results in errors, biases, and omissions, and contributes to data silos within departments using disparate systems, creating redundancy and overlap.
While other data sources, like accounting, may have perfectly accurate data, production data is likely to be highly inaccurate to to the manual nature of data collection.
MachineMetrics removes this manual collection in favor of automated data collection at the point of production. It cleanses, structures, and formats data for use in BI systems, as well as other key shop floor management systems.
This real-time data can then be used by the BI system to provide accurate insights and visualization.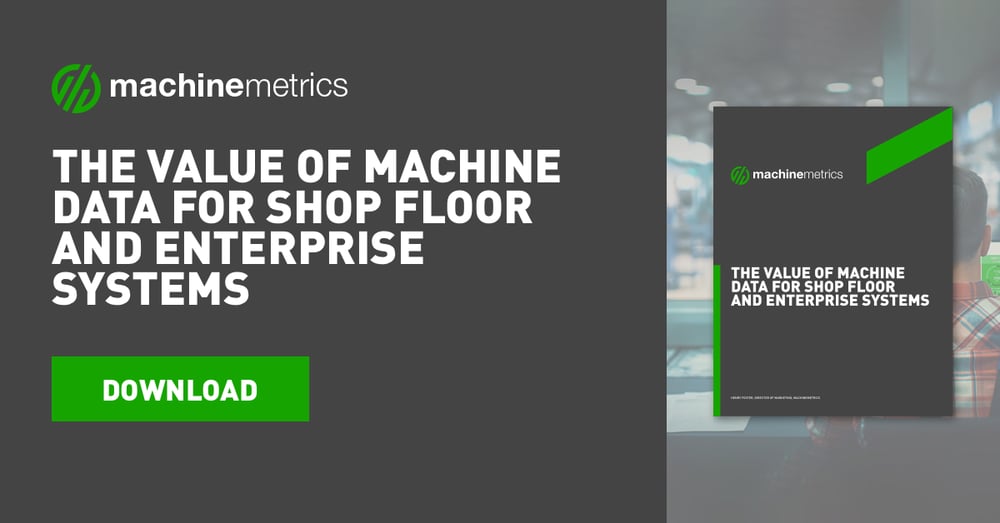 Planning and Scheduling
When accurate data is accessible via BI tools and systems, it enables better planning and scheduling. Real-time data on machine conditions and production progress allows for predictive and prescriptive insights.
Production, labor, and job schedules are more accessible for planning actual capacity and capability. At the same time, increases or decreases in demand can be predicted quickly to allow for pivots without excessive disruption to the production schedule.
For example, Flexco, a manufacturer of belt fasteners, cleaners, and maintenance products, uses machine data to align production planning and execution. This resulted in a 9% increase in overall plant utilization.
Budgeting and Financial Planning
Operational and Capex budgeting is complex for any manufacturer. With data collection and advanced analytics, companies can identify areas for improvement and optimize processes. These improvements can increase equipment utilization and OEE, driving better decision-making for capital, labor, and operations budgets.
The same real-time data means that inventory systems are tightly manageable on a perpetual inventory basis, and transactions are visible in real-time. BI tools for financial planning can focus on current data and require less rationalizing, and they can be tied directly to automated purchasing and accurate reorder points.
Benchmarking
It's hard to know where to go when you don't know where you are. Shop floor monitoring using machine data means BI software is empowered to analyze performance at multiple levels. Because production data from the shop floor is accurate, manufacturing organizations can set accurate benchmarks for production. This benchmarking helps them establish realistic expectations and goals.
Benchmarking also helps manufacturers develop sales and marketing strategies and understand where the company is compared to its competitors. The same is true of measuring performance against industry standards.

Reporting and Analysis
BI tools are great at compiling and visualizing data but lack the depth to ensure the data's credibility and validity. With so much data manually collected by operators and managers, BI systems alone can't solve the data integrity problem.
This is where the MachineMetrics Machine Data Platform comes into play. It ensures production data is up-to-date, accurate, and reliable. With a machine data platform driving quality data to a BI software, the BI software is empowered to do what it does best.
Centralized Data
Disparate systems and siloed information often cause headaches for manufacturers. BI systems generally pull data "as is." Data may be missing from one system, inaccurate in another, and missing altogether in a third.
The MachineMetrics platform is extensible to other platforms through API connectivity, native integrations, and webhooks. A link to MachineMetrics creates a single source of truth by ensuring that when production data is sent to multiple systems, such as quality, MES, and CMMS, they all receive the same information.
Improve Business Intelligence with MachineMetrics
MachineMetrics lowers cost, drives process improvement, and increases efficiency and productivity. The platform adds value to BI software tools, enabling them to function at a significantly higher accuracy rate.
With access to accurate production data, your MES, ERP, BI, and other management and analysis solutions become that much more effective.
Learn more about building a best-of-breed tech stack in manufacturing to enable a truly connected factory.
Want to see the MachineMetrics Platform in action? Watch an on-demand demo.