Connecting the Enterprise
By scaling machine connectivity across multiple plants, enterprises can gain a comprehensive view of their operations, which can help them identify areas for improvement, optimize processes, and allocate resources accordingly.
Currently, CXOs have little accurate data on the efficiency of their operations, leading them to make decisions based on limited, delayed, and biased information. With market competition increasing, supply chain constraints, and a massive labor shortage, executives are searching for solutions to extract insights from the multiple plants they manage.
The hodge-podge of manual and semi-automated data collection and management systems in place, such as MES and ERP, provide limited capabilities for capturing plant-level data and making the information actionable at the enterprise level.
According to LNS Research, the most effective strategy for unlocking the potential of industrial analytics is investing in advanced data infrastructures, including machine connectivity and next-generation automation. By building a strong foundation of data infrastructure, enterprises can better collect, manage, and analyze the data they need to make informed decisions and drive operational improvements.
The challenge is scaling machine connectivity across the enterprise. With MachineMetrics, it can be accomplished with less capital, at a rapid speed, and with limited in-house technical resources.
Challenges of Scaling Machine Connectivity
Deployments of IoT projects have been growing steadily, but users are struggling to scale pilot projects. According to a 2022 study from Bain, 80% of buyers scale fewer than 60% of their pilot projects.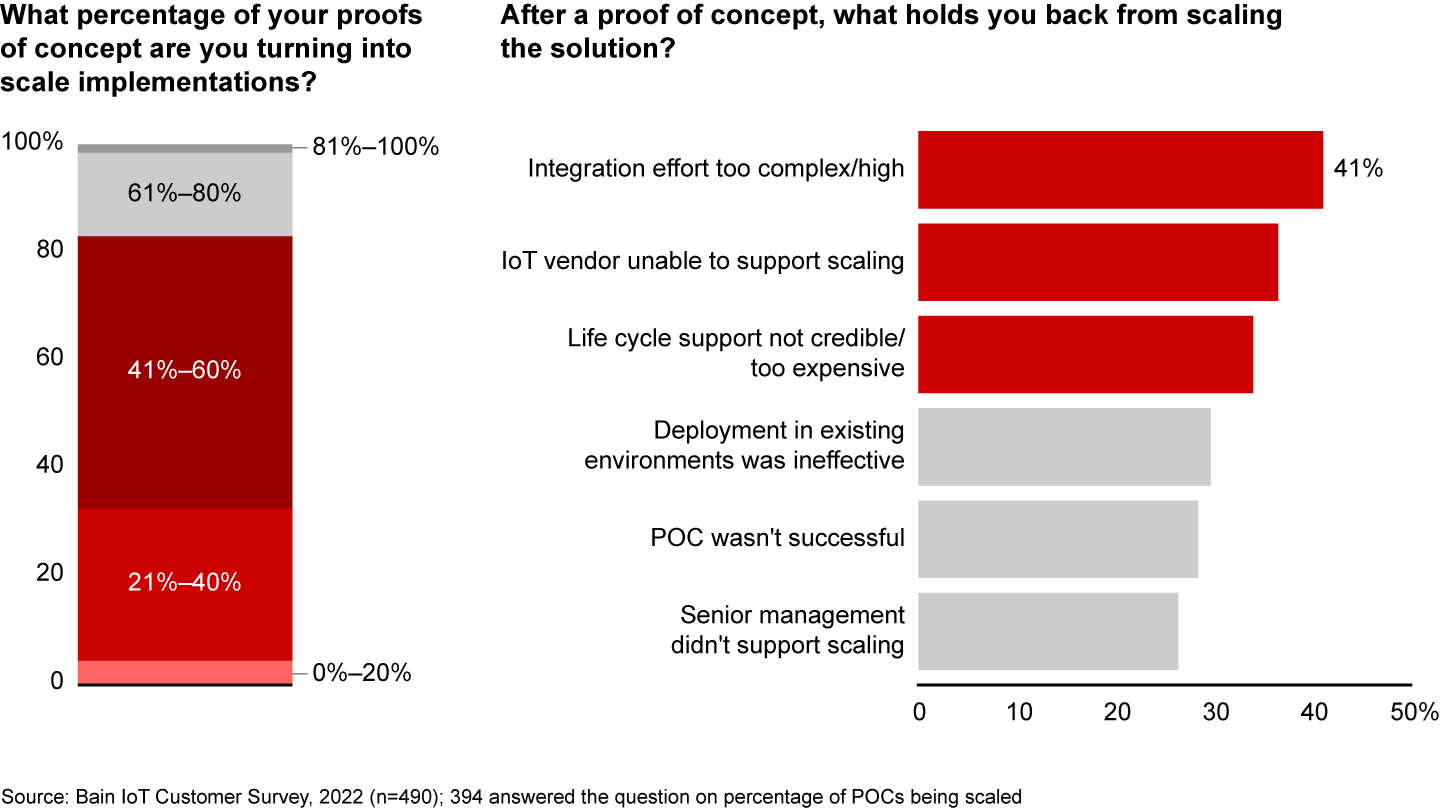 Reasons cited for these failures include the complexity of integration, vendors that are unable to support scaling, and inadequate life cycle support of the IoT solution. Other barriers to initial adoption include IT/OT integration, lack of technical expertise, and unclear ROI.
MachineMetrics was built to overcome the many barriers associated with connecting machines at scale. Our platform enables deep connectivity to machine assets without sacrificing scalability across the enterprise, interoperability with other systems, or accessibility to the data for driving insights.
Let's review some of the top challenges to achieving multi-plant machine monitoring.
The Complexity of Machine Data
Connecting to OT assets, even for individual plants and machine shops, has always been a challenge. There are different types of equipment, but there are also different makes, families, and models of controls, and different versions of software running on controls.
Multiply this by hundreds of machines and multiple plants and you have a massive technical challenge on your hands. Further, collecting data alone is not the only part of this challenge.
Arguably the most difficult component of machine connectivity is the standardization of the data that has been collected. To enable actionability, it is necessary to transform and standardize the data into a common model that can be ingested by applications and systems. Otherwise, there will not be any value attainment from the data.

The foundation of MachineMetrics is the autonomous capture and transformation, or contextualization, of machine data. This capability enables consumable machine data and insights in a matter of minutes, all as part of a plug-and-play solution.
Our automated data transformation engine transforms machine data into standard data structures across all types of equipment to enable consistent reporting and analytics without coding or data-tag mapping across all your machines and plants.
Whether connecting to one machine, or hundreds, MachineMetrics is able to support rapid growth. The platform is cloud-based to adapt to changes in demand, growing equipment purchases, and site expansions while remaining easy to maintain, update, and access remotely.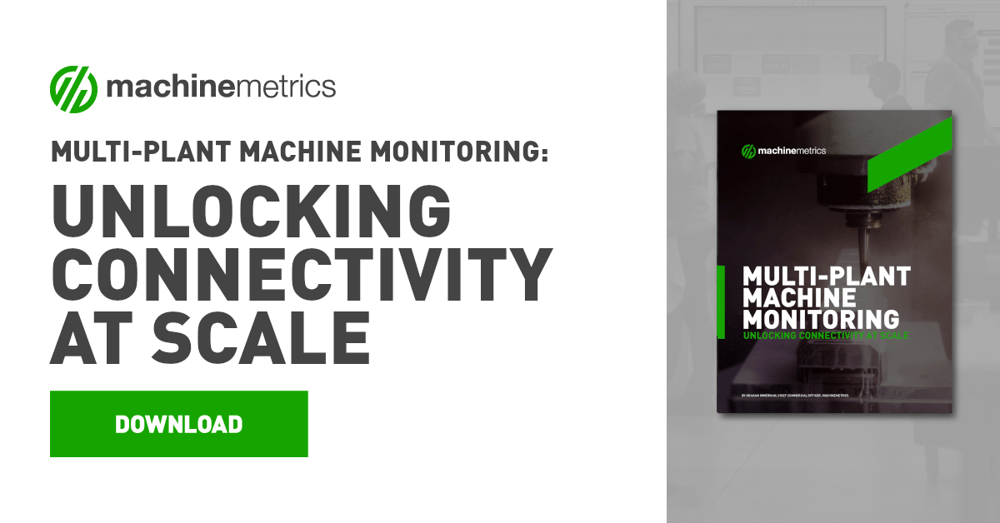 Lack of In-House Technical Resources
A lack of in-house technical resources is one of the biggest barriers to scaling out multi-plant machine monitoring. Often when manufacturers approach IoT deployments, they have in-house capabilities to launch small-scale pilots.
The challenge comes with scaling. The organization will have to hire additional technical resources to connect machines, standardize data, ensure security, regularly run backups and updates, integrate systems, enable data accessibility, and visualize data. With homegrown connectivity solutions and horizontal IoT platforms, scalability becomes cost prohibitive as these approaches lack economies of scale.
It is an expensive misallocation of resources to attempt to build a scalable data collection solution. Instead, manufacturers should focus on what they do best, make things, and find a solution that will get them to value as fast as possible.
MachineMetrics is a plug-and-play platform that enables fast, easy connectivity, while acting as a foundation for continuous value. We ensure enterprises can bridge the gap between IT and OT by ensuring asset connectivity at scale, with speed, and securely.
OT teams have immediate data visibility with out-of-the-box and custom reports and visualizations, as well as the ability to drive applications, workflows, and other shop floor systems. IT teams have an organized and secure data infrastructure for machine connectivity that supports the many business systems across the enterprise without the manual requirements of on-premise or homegrown solutions.
MachineMetrics is also one of an elite group of technology providers to achieve AWS Industrial Software Competency. What does that mean? It means you can rest assured we've aligned with AWS architectural best practices for building the most secure, high-performing, resilient, and efficient cloud infrastructure for industry applications.
Unclear Value and Payback Period
With digital transformation, there is a bandwagon effect that has occurred. As more enterprise initiatives become reality, other manufacturers are compelled to deploy technology solutions in an effort to increase operational efficiency and maintain a competitive edge.
The issue here is that without a clear idea of the goal/value/objective that is being pursued, it is unlikely that value will be achieved and that the pilot will be deemed successful.
Before Industrial IoT solutions are considered, it's important to map out what is to be achieved in a pilot, the initial cost as well as the economies of scale, the implications of scaling out the solution in terms of training and resource constraints, and the use cases and value that can be enabled at scale from multiple dimensions (plant versus enterprise level, production teams versus IT teams, frontline workers versus managers).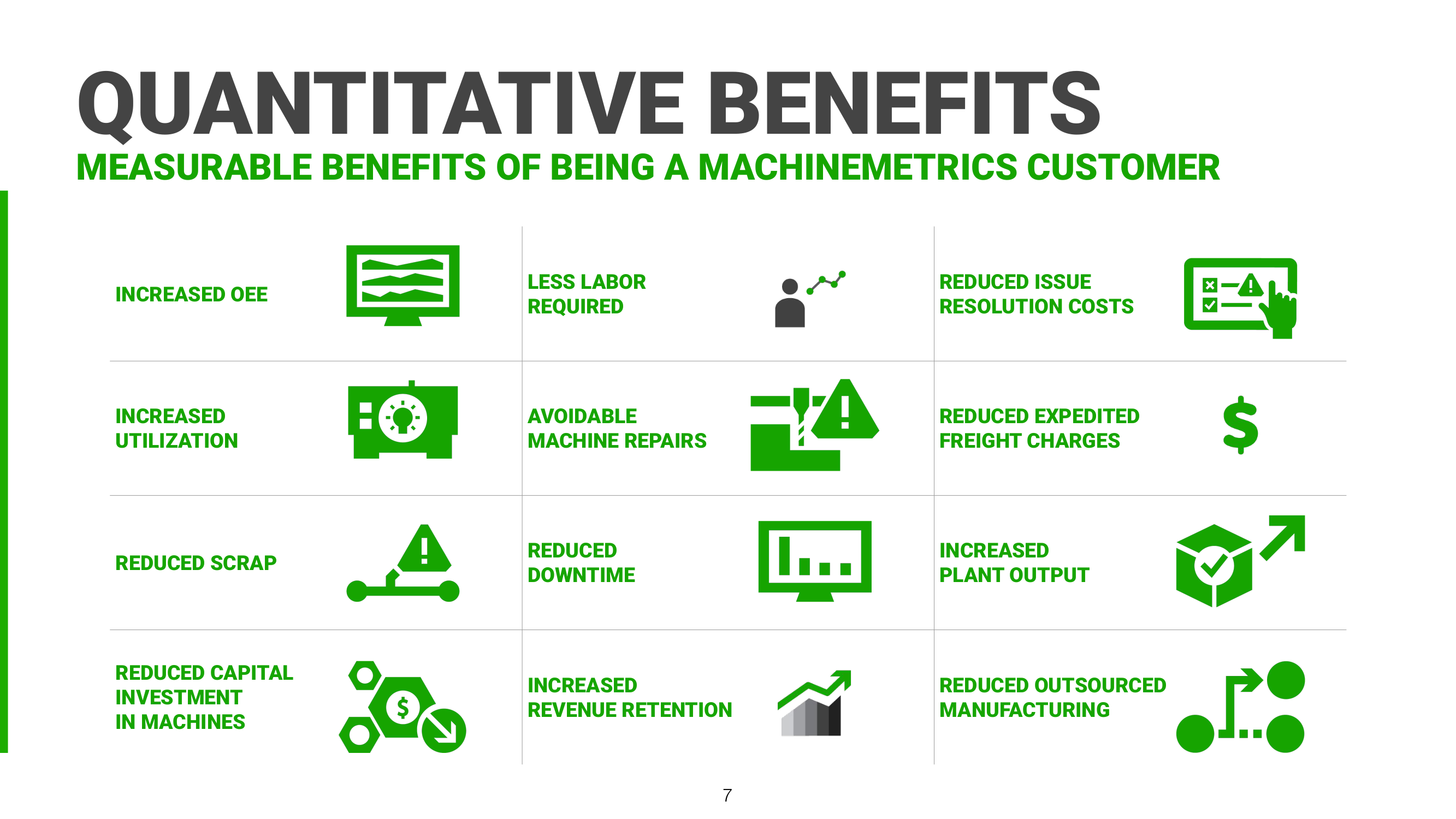 Below we discuss some of the common use cases MachineMetrics has enabled for customers in multi-plant deployments. For the sake of value and payback period, we work with customers to identify their goals and objectives before rolling out any technology.
During a pilot we are able to accurately measure against that goal and quantity the value delivered. Our average customer realizes ROI in 30 days and upon the trial period ending we work with you to build a roadmap to continuous value with the platform.
Enterprise Machine Monitoring Use Cases
With standardized and contextualized production data available at the edge, cloud, and available in OT and IT systems at both the plant and enterprise level, there is a wide range of valuable use cases that can be pursued.
From an enterprise perspective, manufacturing leaders have the capability to better understand, monitor, and improve their fleet of facilities, with a deep view of operational performance provided by real-time, accurate production data.
Below we provide a high-level overview of the more common use cases our customers deploy, but we also have a guide that goes deeper if you would like to do further reading: Top Use Cases and Value Realization
Plant Visibility
Monitor and analyze the performance of any of your plants to better understand efficiency and throughput across multiple dimensions, whether it be certain production lines, jobs, or processes.
Benchmarking
The ability to get deep operational insights from plant to plant enables enterprise users to benchmark and compare performance across each facility.
Capacity Analysis
Analyzing the entire enterprise for machining and labor capacity opens up the opportunity to allocate work accordingly. If a production line is constrained at one facility, you can shift the work to another location that has available capacity.
Production Planning
Analyzing enterprise-wide production performance helps production planning teams manage and meet demand. With accurate machine data, including part counts and cycle times, leaders can ensure the right amount of labor, equipment, and material is available.
Scaling Connectivity with MachineMetrics
Connecting Equipment at the Edge
MachineMetrics can connect to any type of machine, and work with any communication protocol and control system. As a leader in machine connectivity, MachineMetrics also enables the standardization of data into a common model. This eliminates the need for manual data tag mapping to ensure data is collected, contextualized, and standardized autonomously.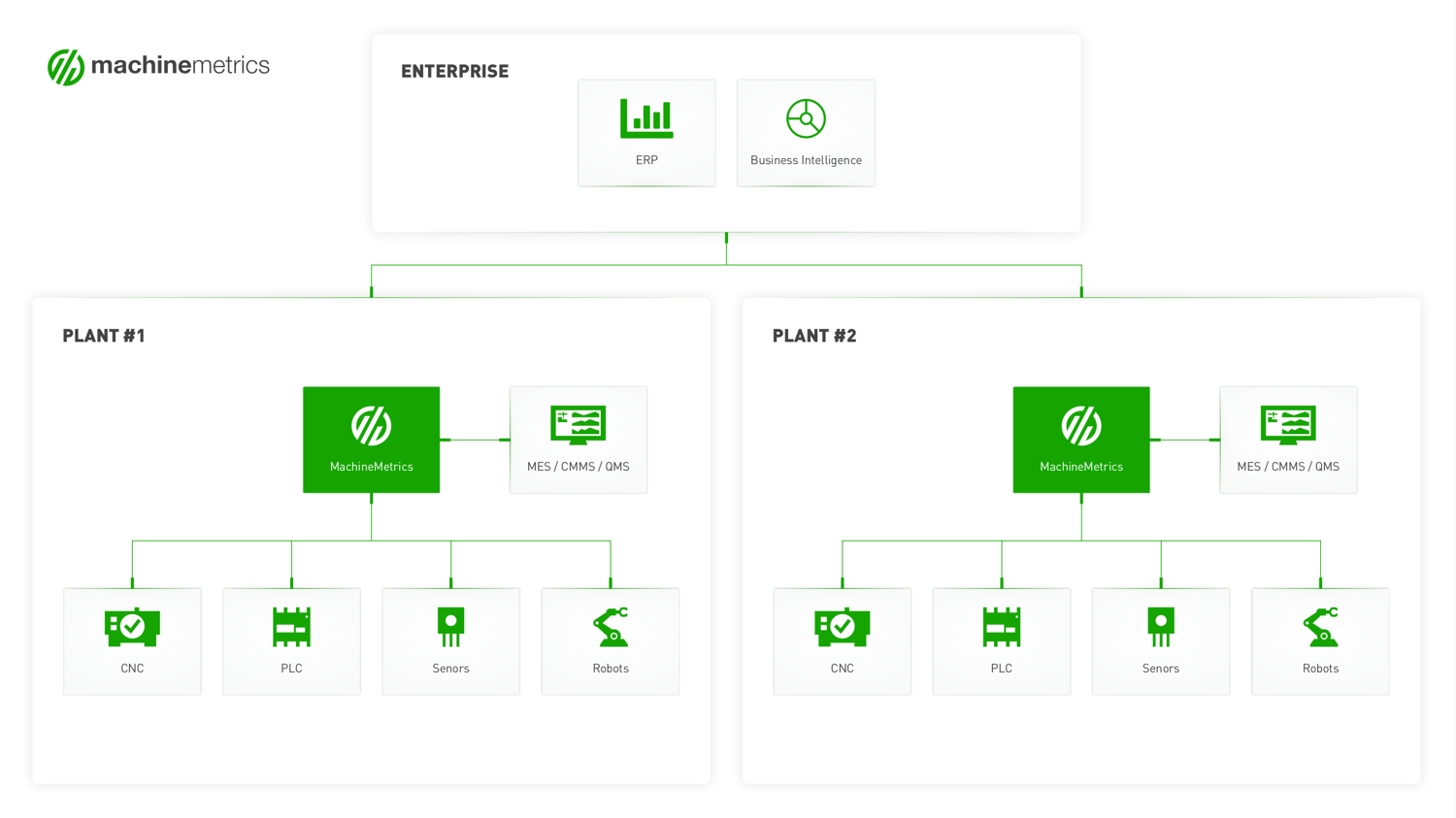 The Cloud and Extensibility
Once data is collected from equipment at the edge, it is securely sent to the cloud platform where it can be further contextualized with operational data.
Operational data is information concerning the operation of the machine, such as the machine's activity (in production, setup, maintenance), the part number being manufactured, the operator responsible for the machine, and quality data. Layering operational data on top of machine data unlocks the opportunity to drive vertical, rapid value-driving use cases.
Once all data is centralized in the data platform, it can then be leveraged in a number of ways for various data consumers.
Plant Level Consumption
At the plant level, MachineMetrics offers out-of-the-box reports and dashboards that provide immediate shop floor visibility and enable in-depth analysis to better understand the performance of any machine, job, operator, or process, as well as the operation as a whole. This helps production teams resolve downtimes faster, analyze and unlock capacity, optimize and automate processes, and perform condition-based maintenance.
The extensibility of MachineMetrics offers further value, enabling users to stream data into key systems such as an MES, CMMS, or Quality Management System. Integrating machines with your shop floor system(s) ensures that each system has the most effective data it needs for either people managers to make better decisions, or to enable the system to drive automation based on the production data.
Enterprise Visibility
At the enterprise level, users have access to a standardized model of consumable production data across all facilities. This data, available via the MachineMetrics cloud platform, is readily available for enterprise systems, such as ERP, or Business Intelligence tools, like Grafana.
This is especially helpful for the visibility of enterprise production performance, allocating work efficiently across facilities, and managing supply chains. Further, it gives executives the ability to tie shop floor performance to actual business performance. This ensures that any continuous improvement initiatives pursued across the organization can be analyzed based on their bottom-line impact.
Building Your Competitive Moat
Extracting real-time production data across all machines and facilities offers a massive competitive advantage for enterprise leaders.
MachineMetrics supports an industrial data infrastructure that enables real-time high-quality data, accessibility at multiple levels and functions of the organization, and a common data model that allows for consumption by key management systems, such as ERP, MES, and CMMS.
Couple this value with the ability to deploy connectivity across entire fleets of equipment without additional in-house technical resources and you have a solution that simply works.
With the MachineMetrics Free Trial program, users can deploy on a small scale to prove the value of the platform while building more accurate estimates for full-scale deployment. Book a demo with our team today or sign up for a Free Trial.