Manual production monitoring efforts can only take you so far. The paper sheets, excel docs, whiteboards, and manual data entry systems are putting a strain on frontline workers.
Not to mention, they're leading to delayed, inaccurate data that hinders decision-making and leaves management scrambling for answers. (Hint: How truly accurate is your ERP?)
And basic machine monitoring solutions aren't cutting it.
Manufacturers need automated solutions to capture rich shop floor data and more importantly, put it to use.
With an accurate measure of the performance of processes, equipment, people, and the shop floor as a whole, manufacturers can prioritize the most lucrative opportunities for improvement, whether it be tweaking processes, exploiting hidden capacity, or automating tasks.
With MachineMetrics, you can use powerful and advanced analytics that outrun traditional monitoring systems to unlock your data's value and overcome the difficulties holding you back.
Why MachineMetrics? Let's take a closer look.
The Solution to Manufacturing Challenges
We are all trying to get ahead, but there are a few obstacles holding the industry back:
Skilled Labor Shortages

: Every week brings new reports of skillset shortages in manufacturing. There just aren't enough people to staff existing jobs.

Lack of Production Visibility

: Automated equipment is great, but proprietary software creates siloed data, a lack of interoperability, and a loss of visibility.

Manual Data Collection

: Manual data collection is error-prone, biased, and time-consuming. It severely limits the value of data. Plus, it takes your team away from value-added work.

Downtime and Constrained Capacity

: If there is one word that plagues manufacturing managers, it's downtime. People need help figuring out when, where, and why downtime is occurring, so it can be solved immediately and prevented going forward.
All these challenges can be addressed, or at the very least mitigated, with accurate, real-time production data. Companies need a single source of truth under a unified, real-time platform that connects all assets and offers actionable insights.
With MachineMetrics, managers can begin to solve problems, improve processes, automate actions, offer accountability to their workforce, and leverage the power of their data to its full extent.
Machine Data: More than Just Another Data Source
Machine data represents the most important source of information for manufacturers to rely on. It reflects the unfiltered reality of the shop floor, and it isn't subject to errors or bias.
Because it isn't reliant upon people, it can bypass human limitations to dig deeper and faster into available data and collect it with higher frequency than previously possible.
The concept of machine data as the driver of production monitoring is a radical shift in strategy. It represents the shift from a people-driven strategy to a machine-driven strategy.
People vs. Machine-Driven Strategy
A people-driven strategy relies on people to record, collect, consolidate, and input data into a management system. While standalone legacy software may offer some analytical value, the analysis can result in limited or lousy decision-making.

A machine-driven strategy enables the autonomous collection and standardization of machine data for immediate use on the shop floor. Frontline workers and management can use MachineMetrics to uncover insights provided by the machine data to adapt processes, engage in better, faster decision-making, and enable automation.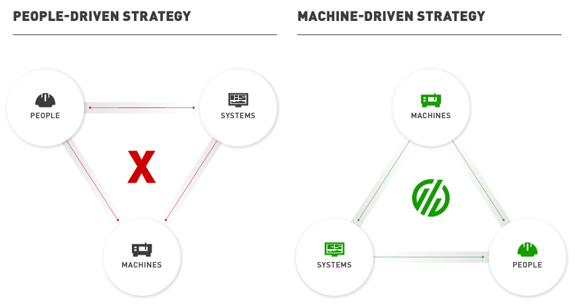 Maximizing the Value of Machine Data
Some monitoring solutions simply collect utilization data. Others offer deep connectivity capabilities yet lack the features that help make the data actionable.
MachineMetrics is the leading connectivity solution for capturing and using data to drive value beyond monitoring. It's uniquely positioned to deliver value compared to monitoring systems alone. Its features include:
Connectivity
Connectivity is key to acquiring the data needed from each machine asset. This deep connectivity provides the foundation of data that platform features use to drive value. The MachineMetrics platform enables connection to any asset, including OEM equipment of different generations, different OEM assets, and even analog systems like older production equipment without embedded monitoring or electronics.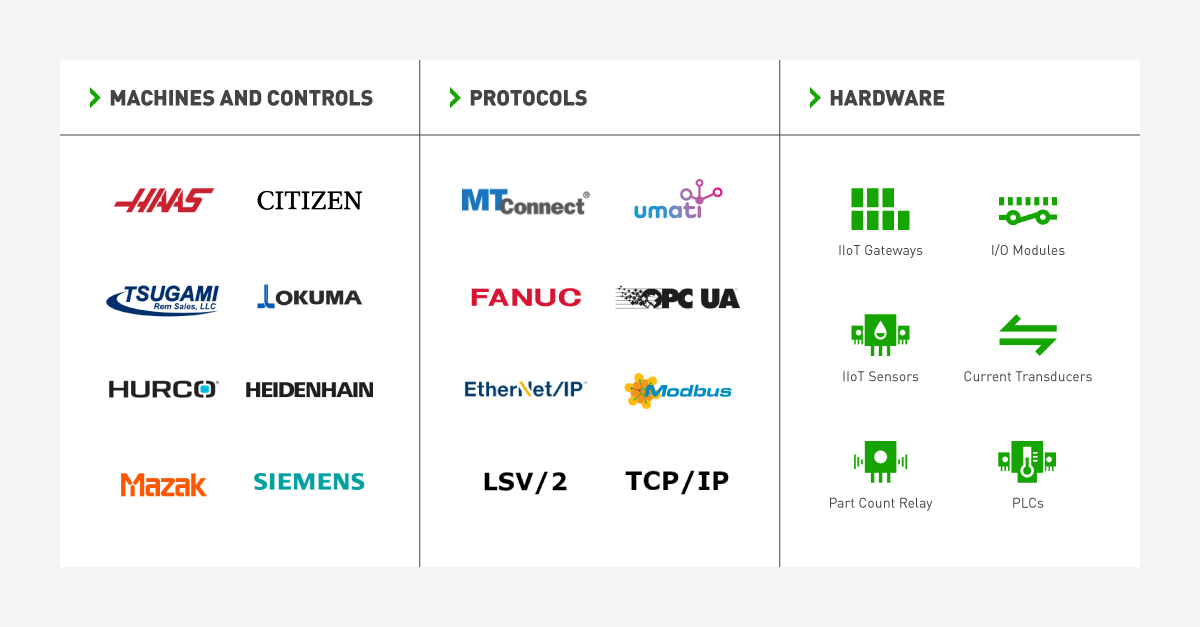 Out-of-the-Box Value
Much of the MachineMetrics platform is functional right out of the box. Pre-built dashboards mean users have immediate visibility. Pre-built reports can be put to work immediately to jump-start a company's transformation. Managers can continue to configure their systems without needing to start from scratch.
Workflows
MachineMetrics' value continues with built-in workflows in which automated functions can alert those who need to act. These workflows benchmark production and enable additional configuration to optimize and improve processes across the board.
Extensibility Through APIs
MachineMetrics extends to other enterprise software through open APIs. Operational performance data and machine conditions can be pushed into an ERP or CMMS so all enterprise systems are operating off the same version of truth accurately and in real time.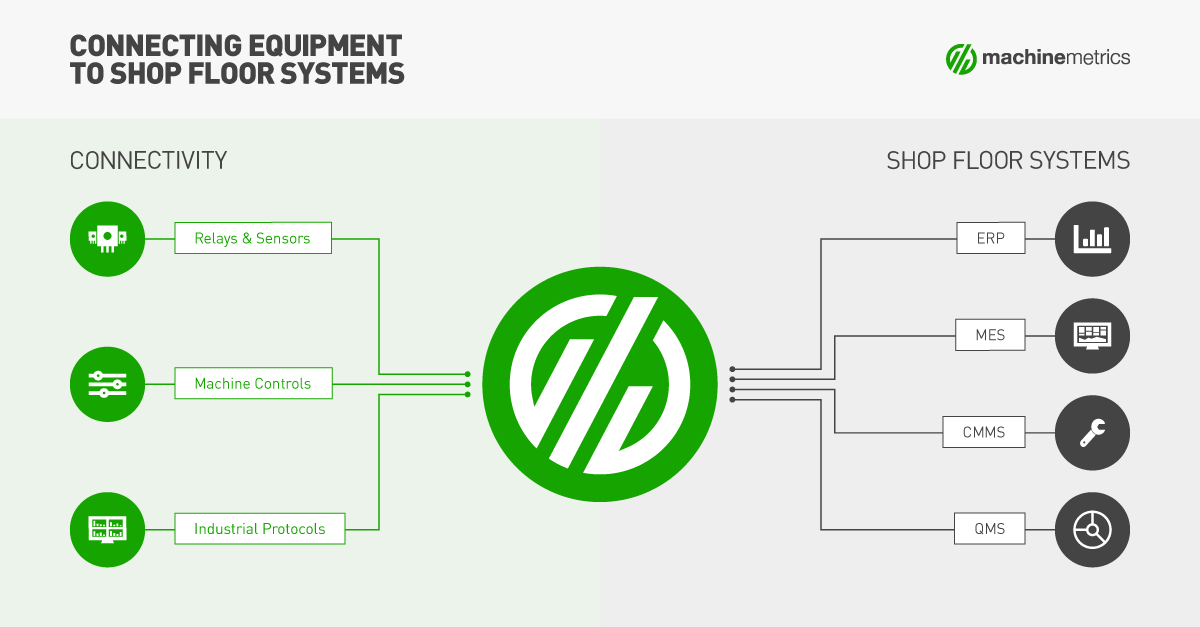 Proven Use Cases: Driving Value with MachineMetrics
As a platform, MachineMetrics allows users to get up and running quickly but also offer the ability to build more advanced use cases throughout the continuous improvement journey. In the beginning, visibility and utilization data alone will be highly helpful. Over time, you may leverage the data to support other functions such as maintenance, quality, and planning.
Below we summarize some of the most valuable use cases our customers deploy.
Reduce Downtime
MachineMetrics helps users know exactly how much downtime occurred and why it occurred. This is helpful for taking immediate action to address downtime on the shop floor, as well as adjust processes to prevent downtimes from occurring altogether.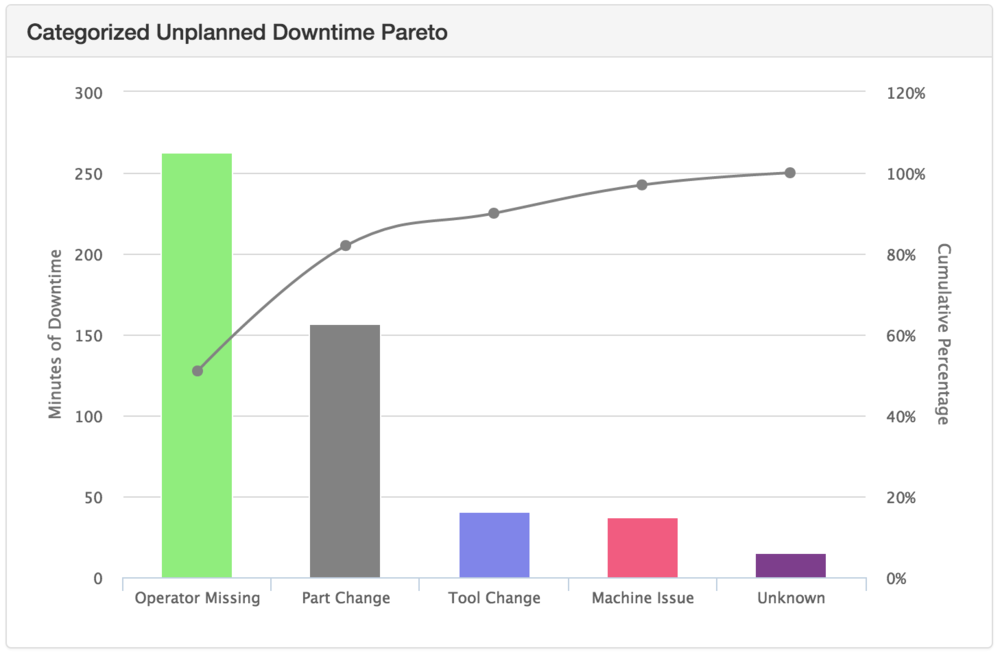 Carolina Precision faced a long-standing issue with downtime in its CNC Swiss turning facility. With MachineMetrics, the company was able to leverage machine data and complete visualization of production to identify downtime and increase productivity by 20%. Reductions in downtime accounted for 688 additional operating hours per machine, resulting in $1.5 million in savings.
Analyze and Increase Capacity
Production restraints come from three distinct avenues: availability loss, performance loss, and quality loss. The traditional response to these losses is to concede capacity to the impact of insufficient data by subcontracting work to another company, increasing operational costs with added shifts, or buying more machines.
MachineMetrics automatically collects data on critical KPIs like breakdowns, changeovers, quality loss, and downtime. Managers can develop strategies to recapture lost downtime and avoid expensive solutions like new equipment.
When Avalign Technologies needed better visibility on the production floor of its medical device manufacturing facility, it turned to MachineMetrics. The company achieved instant visibility, leading to a 25-30% increase in OEE. This increase allowed the team to leverage the existing workforce better and uncover greater capacity on existing equipment.
Optimize Processes
MachineMetrics increases visibility through dashboards and real-time analysis, empowering managers to make data-driven decisions and optimize processes. This optimization can occur within manufacturing, maintenance, quality, and supply chain to optimize single processes from multiple directions.
Process optimization can alleviate bottlenecks, improve inventory processes, reduce necessary space, change SOPs, and more. These changes reduce costs and increase efficiency, productivity, and OEE.
Like many traditional manufacturers, Morgan Olson used paper-based tracking for machine utilization. Using MachineMetrics, the company transformed its error-prone, inaccurate, and delayed data system into a powerful automated monitoring system to optimize processes and increase utilization by 20%. This resulted in a savings of $600,000 in planned Capex expenses.
Monitor Machine Condition and Improve Maintenance
There is machine condition monitoring, and then there is MachineMetrics.
MachineMetrics integrates seamlessly with CMMS systems, empowering maintenance teams to collect, standardize, and analyze machine data. Built-in workflows and valuable insights keep managers informed of equipment health and enable them to deploy predictive maintenance programs.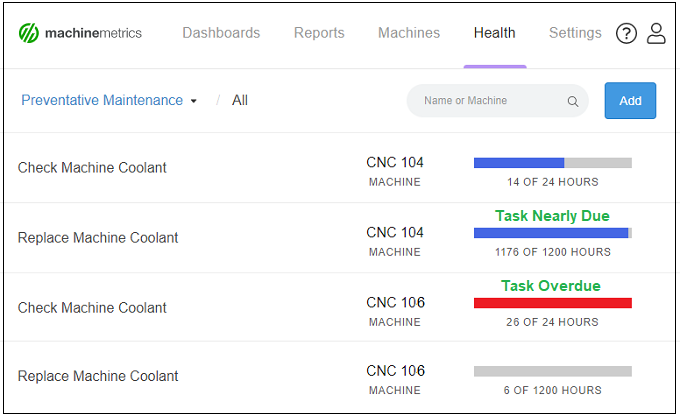 Boyd Corporation successfully leveraged MachineMetrics and the Fiix CMMS to monitor machine conditions and develop a proactive maintenance strategy. This enabled the company to confidently move to automated work order scheduling with real-time machine data from MachineMetrics.
Improve Quoting and Scheduling (Job Standard Optimization)
In many industries, accurate job costing is critical to profitability. Inaccurate data makes this a roll of the dice. MachineMetrics captures all data, including machine and operator data.
Manufacturers can develop work standards that reflect machine, production, product mix, and operator data, as well as determine precise job costing. As processes are optimized, planners can revisit jobs with improved performance and offer better quotes while protecting margins.
MachineMetrics client SilencerCo needed to understand machine utilization better to optimize its job standards. Using MachineMetrics real-time manufacturing data, the company was able to eliminate 11,500 hours of unplanned downtime and realize a 200% increase in good part visibility.
Increase Frontline Worker Performance
Frontline manufacturers are one of a company's most valuable resources, and their availability is growing scarcer. MachineMetrics empowers you to utilize these invaluable assets to their maximum potential.
Immediate visibility lets workers understand their performance and access standardized documents to eliminate confusion. Data analysis also helps managers reduce non-value-added activities to get the most out of each labor hour.
When Wiscon wanted to reduce downtime, improve processes, and enable workers to focus on quality instead of data collection, it turned to MachineMetrics. The result? A 30% increase in equipment utilization and another 30% increase in capacity. This drove an $84,000 average increase in sales per employee and increased operator efficiency by 48%.
Try MachineMetrics for Free
In a world of tight margins and constrained resources, technology solutions should be carefully vetted to ensure the likelihood of success.
MachineMetrics has a commitment to delivering value and ensuring customers are able to solve the problems they set out to fix. After delivering performance results for hundreds of customers across thousands of machines, we're confident in our abilities and we would be honored to partner with you in your digital transformation journey.
If you're still skeptical of the power of machine data and its impact on the shop floor, take MachineMetrics for a test drive with a free trial.