What Separates MachineMetrics from Other Production Monitoring Solutions?
Understanding that machine monitoring was only part of the solution, MachineMetrics developed its machine monitoring system to function as a machine connectivity platform. This approach recognizes the limitations of standard, or even "next-gen" machine monitoring solutions and enables greater value attainment by functioning as a foundation for continuous improvement.
With automated production monitoring, packaged integrations, open APIs for easy integrations, and workflows functioning as "automation builders," the MachineMetrics Machine Connectivity Platform lets companies use their real-time data to empower unlimited use cases with out-of-the-box functionality.
This functionality drives immediate insights that unlock value and capacity at an unprecedented scale. The MachineMetrics platform helps manufacturers aggressively pursue continuous improvement, innovation, and interoperability with existing systems to ensure the most value possible can be driven from the machine data digital thread.
Let's look at the difference between standard or "next-gen" machine monitoring and machine connectivity platforms like MachineMetrics.
Standard and "Next-gen" Machine Monitoring vs. Machine Connectivity Platforms
Machine data platforms like MachineMetrics offer a considerable leap in capabilities and functionality above standard or "next-gen" machine monitoring.
Integrations
In standard machine monitoring, there is a risk that the monitoring system may not work with other enterprise software. This continues the tradition of siloed data, keeping vital data walled off from other systems and creating the need to manually standardize and analyze incompatible data sources.
With a machine data platform, these systems integrate seamlessly. This breaks down silos and highlights the value of a best-in-breed technology stack that relies on native integration capabilities to unify systems under a single source of truth.
MachineMetrics operates with any generation or OEM of machinery. It can accept digital and analog data, works with IoT embedded equipment, and offers the ability to connect to legacy assets. This means that all equipment data is collected, structured, and standardized for immediate actionability.
Plus, this machine data can then be used within other enterprise systems, such as MES, ERP, or CMMS. Learn more about our native integrations.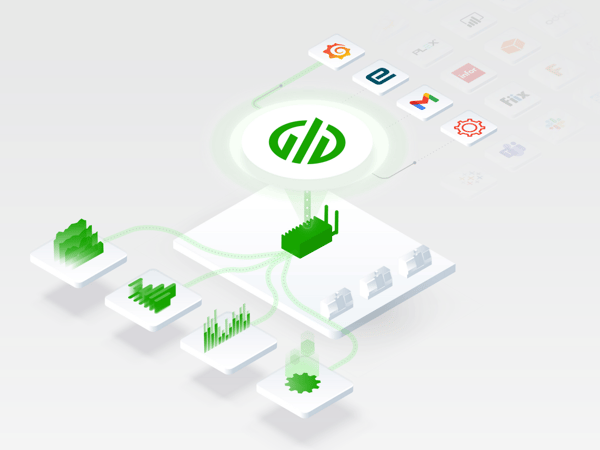 Automation
Most legacy systems continue to rely on manual data entry, a time-consuming initiative that hinders continuous improvement and slows down teams. The crux of a machine connectivity platform is the autonomous collection of production data for immediate use. This not only prevents the low-value work of manual data collection, but drives immediate efficiencies, such as automating tasks.
For example, with MachineMetrics, alerts and notifications triggered by machine data enable proactive responses and put resources to work to reduce downtime and improve efficiency. MachineMetrics uses powerful automation-building workflows to benchmark performance and develop workflows to continually improve processes.
The MachineMetrics platform can identify real-time data from machine- and operator-generated operations. With machine-generated operations, the platform automatically creates machine operations and production runs to reduce manual operator input.
Data can be read directly from an MES or ERP system to automate the jobs' start and stop. And work orders are updated automatically as data from the machine is used to update the current production.
Further, the platform is flexible enough to allow older equipment - like CNC machines without program headers - to be added to the data stream.
APIs
Standard machine monitoring systems weren't designed to extend into other systems. A manual connection was a prohibiting factor because each part, machine variable, and other data had to be entered before configuration.
MachineMetrics recognized early the value of extensible machine data in an environment where every company's needs were unique. Their open APIs allow developers to use their data to create applications that work for them.
Production APIs enable the development of custom applications that help manufacturers optimize their production. Performance can be visualized by shift, day, week, hour, operator, setup time, downtime, and more. This can be sent to other enterprise software to empower those departments to improve processes.
While standard or next-gen systems were limited by many of the same problems of traditional manual data collection, machine connectivity platforms pull in, structure, and analyze an immense volume of data. Due to the MachineMetrics API, companies can then use this information within their own data lake.
The MachineMetrics Platform is exceptionally agile because it's built with the ability to enhance third-party systems and empower custom applications. The developer APIs provide templates for getting started, let users access machine and operational layer data, and enable them to build out from there. This ensures manufacturers get value today with out-of-the-box features but provides a foundation for continuous improvement as they develop more advanced use cases in the future.
Configurability
Each manufacturer has unique business needs, production processes, and methods for measuring performance across the shop floor.
Legacy software solutions as well as many modern machine monitoring systems are rigid in their approach to offering solutions. This forces manufacturers to conform their processes to fit the given system.
With a Machine Connectivity Platform like MachineMetrics, users can view the data in exactly the way they need to with configurable machines list, timeline views, and reporting.
This enables shop floor managers to leverage both pre-built reports for out-of-the-box production visibility and the ability to create customized dashboards and reports that fit their needs.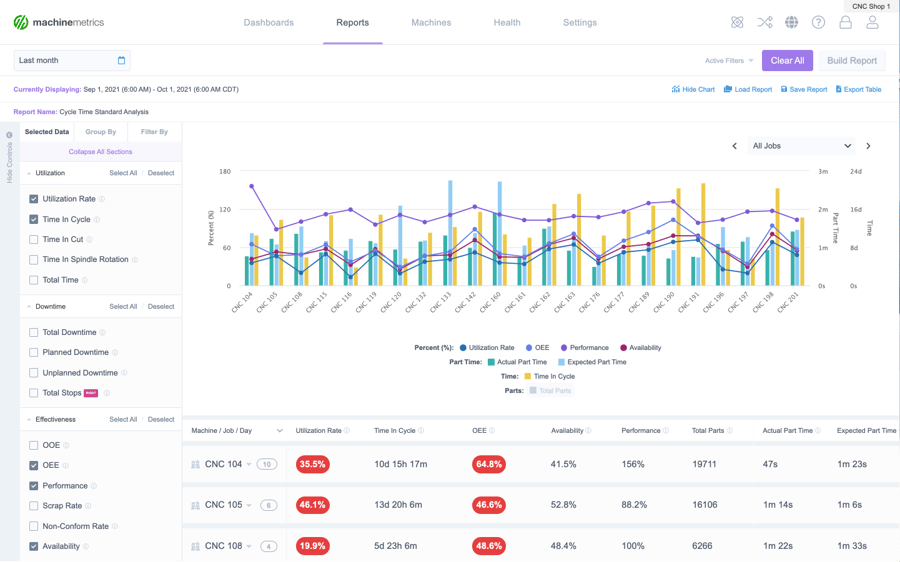 With the MachineMetrics Production Report Builder, users can filter and drill down to view exactly the information they need.
How Manufacturers Are Using a Machine Connectivity Platform to Drive Value
The limitless number of ways in which machine data can be used is what sets MachineMetrics apart from standard machine monitoring solutions. The acknowledgment that each manufacturer is different - and, therefore, each has its own set of problems and opportunities - highlights the platform's flexibility and agility.
This approach naturally leads to a variety of value-driving use cases. In fact, we have a guide to some of the most popular use cases our customers take advantage of: MachineMetrics Top Use Cases and Value Realization.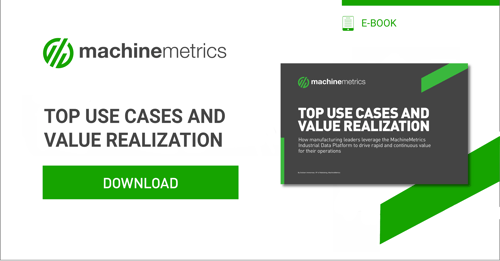 Below are a few use cases that demonstrate how the MachineMetrics platform has helped discrete manufacturers across various industries transform their data into actionable insights:
Automating Production Data to Other Systems at Flexco
With a long history and a focus on bringing new products to market, Flexco is committed to digital transformation to help meet production challenges. As demand increased, they wanted to improve their performance between production planning and executing the plan on the floor. And they wanted to use MachineMetrics to automate machine data to their external systems.
Using the MachineMetrics Machine Connectivity Platform, Flexco was able to bring all its machine assets under a single umbrella for data and analysis. They automated data collection and used MachineMetrics' analytics to power their process improvement goals and tackle downtime issues as they arose. This process helped them identify the most significant downtime culprits and address them head-on.
Flexco also realized the power and extensibility of MachineMetrics would allow them to automate many functions and tasks in their external systems. Using the built-in workflows, they could push alerts and notifications to these systems.
One example is the use of workflows that allow the creation of a forklift dispatch to automate calls. Flexco feels that this alone will reduce materials handling-related downtime by 30-50%. The value of the data and insights generated by MachineMetrics has been so impressive that Flexco plans to automate machine data into other external systems, including their ERP and Business Intelligence software.
Beyond software integrations, MachineMetrics has given them the confidence to develop simulation models so they can simulate production rates to understand what rate best meets demand. They will soon be creating visual work instructions for front-line production based on condition-driven diagnostics.
Driving Predictive Maintenance at Mayville Engineering Company
When Mayville Engineering Company (MEC) needed to improve the quality and integrity of its production metrics, MachineMetrics was able to deliver a solution. Their previous data collection came to form a patchwork system where uptime was measured across a wide range of equipment with vastly different ages. Some tracked it automatically, while others measured uptime using specific variables.
The production floor was plagued by quality, material handling, inventory, and other issues, creating confusion for operators and staff. MEC knew they needed to deploy a flexible system that could connect all equipment assets and allow integration between their enterprise software.
A critical area for MEC was downtime created by maintenance issues. MachineMetrics was able to deliver insights that brought many mechanical and maintenance problems to the front. This visibility enabled higher collaboration between production management and maintenance.
Using data and real-time machine conditions, maintenance was empowered with a path toward predictive maintenance through alerts and notifications native to MachineMetrics. They could react to alerts proactively rather than wait for notifications from operators. And operator context was reviewable to give maintenance a better picture of what was wrong.
The deployment of MachineMetrics at MEC improved overall uptime by 10-15%, and this accomplishment was accompanied by a 15-20% improvement in efficiency. The automated workflows helped drive improvement and gains across the company and helped MEC chart a path toward actual predictive maintenance.
Read Mayville Engineering's full story.
Enabling Lights-Out Manufacturing at SilencerCo
SilencerCo, a manufacturer of silencer, firearm, and accessory components, encountered many short runs and a high volume of changeovers. Because of the nature of the product, part quality is significantly higher than in many other industries.
SilencerCo wanted to capture real-time data to benchmark themselves and improve decision-making. With real-time machine data, operators could focus on quality part production while letting the data drive live metrics. Managers could then make decisions and adjustments on-the-fly.
Using MachineMetrics, SilencerCo was able to double machine utilization and reduce headcount. They also identified root causes more quickly and felt that communication across the facility was enhanced.
As utilization increased, staff could focus on process improvement that allowed them to pursue the holy grail of any manufacturer – lights-out production. In one example, insights from the platform helped develop solutions for the frequency of chip build-up. This solution led to their ability to run the machine lights-out, adding additional value to the operation and lowering costs.
Unleash the Power of a Machine Connectivity Platform
Standard machine monitoring systems were a big leap. But a machine connectivity platform takes your data's power to the next level. With advanced analytics, robust workflows, and visualization, the MachineMetrics Machine Connectivity Platform provides the customized solution you need to digitize your production and drive value.
Interested how a machine connectivity platform can unlock value across your shop floor? Set up some time with our team to discuss where the most lucrative use cases exist for your organization.