Using Shop Floor Control to Manage with Confidence
Intelligent shop floor management is a basic premise of modern management approaches. It's proven that optimally functioning shop floor operations have a direct, positive impact on management's ability to ensure the business meets its production targets and that no delays impact delivery commitments. It also fosters the establishment of regular, timely, and seamless communication between an organization's senior C-suite and its manufacturing director who can, in turn, ensure that he or she has a direct line of sight into the activities of plant and shop floor managers and their respective teams.
Correctly executed, modern shop floor management approaches boost the productivity and morale of employees across the organization. Operations can be standardized according to industry best practices. Loopholes or weak points in the production process can be quickly identified. And problems can be solved right on the spot.
All this empowers the organization to establish a cadence of continuous process improvement.
What's more, streamlined and efficient manufacturing shop floor operations provide senior management teams with data-driven insights that allow them to make informed decisions in regards to reducing downtime, increasing capacity, mitigating bottlenecks, and justifying capital expenditures.
Ultimately, the potential for efficient shop floor operations to boost a business's bottom line shouldn't be underestimated.
Are you wondering how to improve your shop floor management and better control production and planning?
The first step is to thoroughly understand the concept of shop floor control and its related processes and disciplines.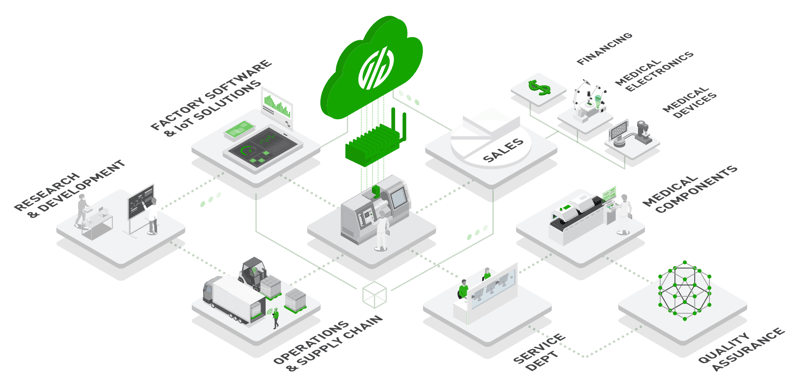 What is Shop Floor Control?
The shop floor may be understood as the area inside a manufacturing facility where equipment and parts are produced and assembled. In years gone by, most of these functions would be carried out by workers. Today, advances in production-line technologies allow for these tasks to be performed by automated systems, or by a combination of the two.
Shop floor control refers to the process of using methods and tools to track, schedule, and report on the progress of the work that's underway inside a manufacturing unit.
The components of a shop floor include:
Materials (either natural resources or artificial materials) which are the "ingredients" used to make products.
Machinery, equipment, and tools – These three components work concurrently to manufacture the physical end product.
People - Machinists, operators, plant managers, engineers, and others play a close role in operating equipment and managing production on a daily basis.
What Are the Three Phases of Shop Floor Control?
There are three discrete shop floor control techniques or phases: order release, order scheduling, and order progress.
Order Release
In this phase, all the documentation required to process a production order through the manufacturing operation is released. It generally comprises the following:
The route sheet which sets out the process plan to be followed.
Material requisitions which specify which raw materials will need to be drawn from inventory.
Job cards which are used to capture and report on the amount of direct labor time that's assigned to the order. These are updated as the item(s) progress through the production plant to completion.
Move tickets are used to authorize materials handling workers to transport parts between different work centers.
Parts lists accompany the production order and track its progress through the manufacturing facility. Modern manufacturing plants use automated identification and data capture technologies, eliminating the need to keep multiple paper documents.
Order Scheduling
In the order scheduling phase, production orders are assigned to the relevant work centers within the manufacturing facility. It includes the creation of a dispatch list, which specifies which work centers should carry out production orders.
Information regarding the relative priorities of different jobs and their due dates is also specified. This assists with machine loading and job sequencing.
Order Progress
In this phase, the status of the various orders in the plant – in terms of both progress and production performance – are monitored. This information is summarized into reports, such as:
Work order status reports
Progress reports
Exception reports
Improving Your Shop Floor Monitoring and Management
Improving the quality of your shop floor management processes calls for a sharp focus on gaining greater visibility into the status of your operations. This means accessing real-time, granular insights. Where does production currently stand with respect to commitments and goals? Is any equipment experiencing unscheduled downtime or being underutilized? Are there existing or potential roadblocks or bottlenecks, and where precisely are they located?
With a robust shop floor management system in place, you'll be able to realize the following benefits:
Real-time Visibility
You need immediate and real-time access to production data at multiple levels of the organization. Not only will this give you peace of mind that you're keeping to your production schedule, but it will also ensure that your operators know that they're accountable for in regards to production goals.
This level of visibility also means that workers can spot issues (such as machine downtime events) as they happen and quickly move to solve them.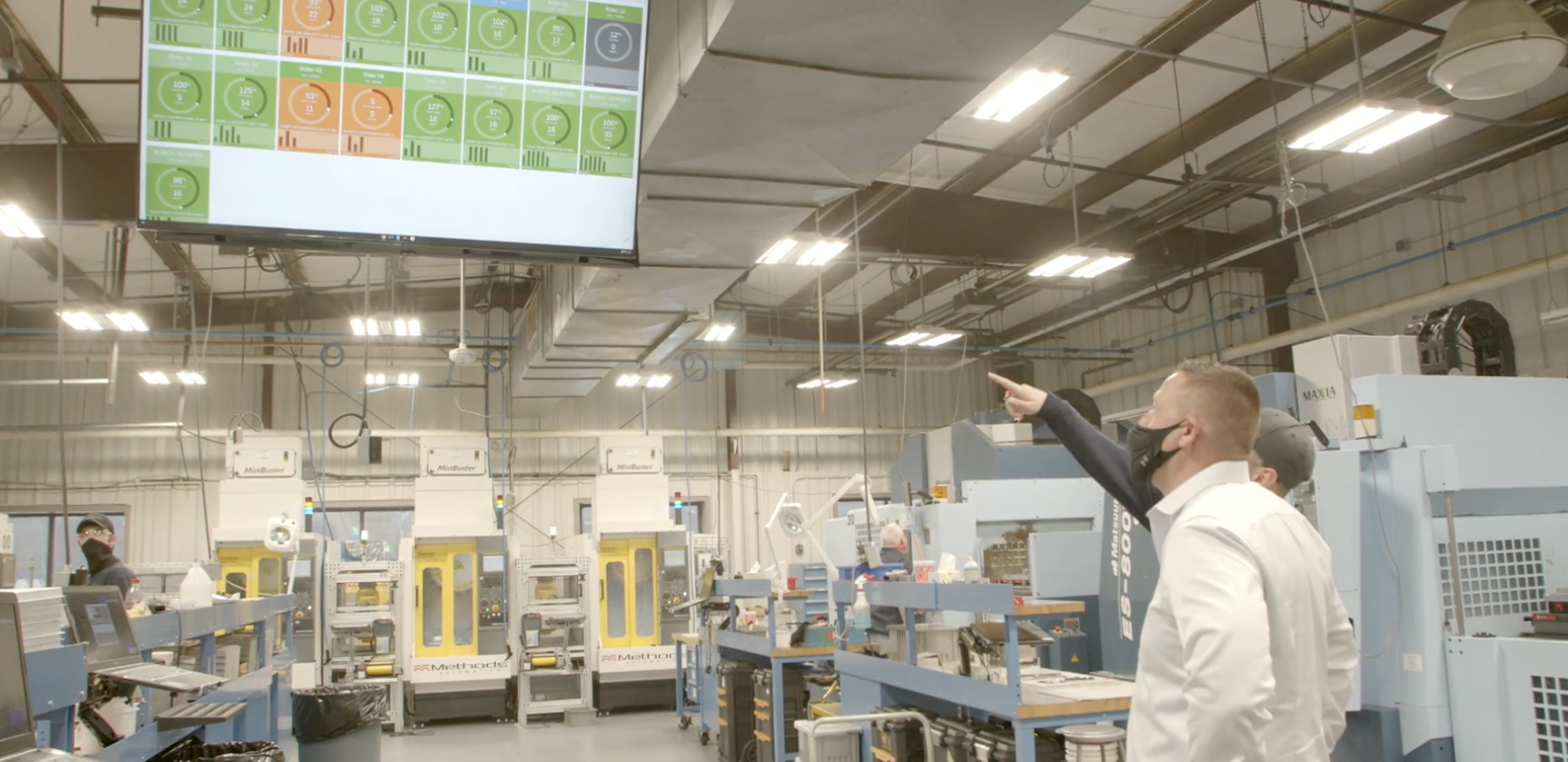 Benchmarking Insights
Only if you're able to collect accurate data will you be able to analyze and benchmark your manufacturing operation's current status and output against its historical performance and pinpoint any emerging trends. Ideally, it would help if you were also in a position to objectively and accurately benchmark your operation's production performance against prevailing industry standards.
Lower Costs
By leveraging advanced and automated shop floor control systems, you can cut costs in several ways. For instance, automatic data collection mechanisms eliminate the need to create and maintain bulky spreadsheets or paperwork. This frees your operators up to focus on revenue-generating endeavors, i.e., creating quality parts.
Unplanned downtime costs money. By taking a more proactive and predictive stance regarding machine health and performance, you can minimize unwelcome outages and failures.
Another way that better shop floor control can cut costs is by reducing the volume of unused or unusable scrap parts within your operation.
Identify Opportunities for Ongoing Improvement
Searching for and identifying production underperformance and instances of waste are necessary for continuous shop floor improvement. But it needn't be tedious nor time-consuming. By leveraging automated shop floor control techniques, you can swiftly identify bottlenecks and unused capacity to increase your facility's overall output and productivity.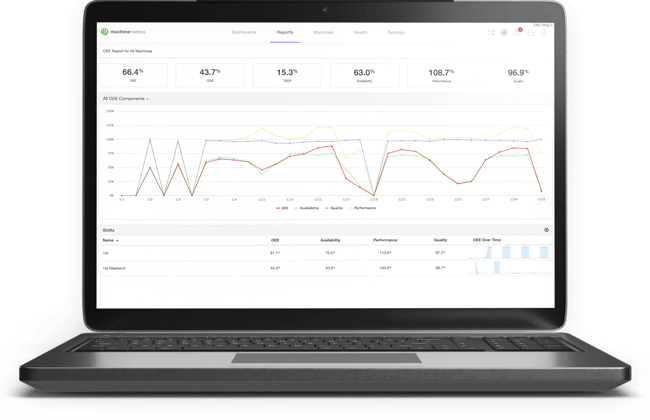 How Can Data Unlock Shop Floor Insights and Control?
Forward-looking businesses that are committed to embracing modern shop floor management approaches appreciate the power of data and automation. They recognize its potential as a tool to give them not just visibility and control but also a competitive edge. Data can lead to more satisfied customers and increased sales.
So, let's explore why having accurate, real-time automated data collection mechanisms for both machines and operators is vital.
Big data is increasingly becoming the lifeblood of manufacturing because so much of what goes on in such businesses is measurable – which means that with the correct tools, it can be optimized. When collected data is used in conjunction with predictive analytics and similar technologies, manufacturers can realize significant people and machine productivity gains.
Downtime and quality issues become less-prevalent headaches thanks to predictive and prescriptive maintenance. Other benefits include reduced supply costs with the addition of demand forecasting, supplier scoring, waste reduction, and warehouse optimization.
Selecting a Shop Floor Control System to Meet Your Plant's Needs
If you're committed to taking your shop floor control capabilities to the next level, you need to consider your service provider selection and technology investment options thoughtfully.
MachineMetrics has developed an advanced shop floor control solution trusted by hundreds of manufacturing organizations across the globe. We utilize several complementary methodologies to collect data from machines. How we go about data collection is entirely dependent on the unique features and limitations of each machine. Age, control, make, and model all factor into a machine's capabilities.
Read on to learn more about our approach and the features you should be looking for in a shop floor control system.
Manufacturing Data Collection and Shop Floor Software
It's impossible to manually collect the amount and variety of data needed to realize the benefits it promises, so you need a system to do it. MachineMetrics' purpose-built manufacturing data collection software takes care of the complexities of gathering, standardizing, and analyzing data behind the scenes on your behalf. Its functionality includes:
Real-time data collection via the edge to manage automated tasks that need to occur as close to real-time as possible
A cloud platform for data collection and processing that allows you to draw on powerful resources at a fraction of the cost of purchasing the same equipment to store and analyze data more deeply
Machine integration via the PLC or I/O to swiftly and accurately collect machine data in a manner that's not error-prone or requires continual adjustment
Integration with other manufacturing software, such as the MES, ERP, CMMS, etc.
Ability to connect with sensors under circumstances where sensors such as motion detectors are the ideal device to use
High-Frequency Data Collection capabilities to leverage as inputs for time series or machine learning models
Granular Tracking and Reporting Capabilities
MachineMetrics' tracking and reporting functionality is designed to keep you consistently on the front foot with all the real-time information you need at your fingertips, wherever you are. Don't let delayed, inaccurate, manual data collection slow you down.
Equipment data is automatically extracted and populated in pre-built reports.
Leverage advanced custom reporting and automation for deeper analysis as your continuous improvement journey advances.
Track all your quality data and analyze Pareto reports to uncover the reasons for excessive scrap parts − no need for paper or spreadsheets.
Ensure your machines are running at optimum capacity thanks to machine utilization reports.
Follow and evaluate trends over time. Benchmark your operation against historical performance across individual machines or your entire operation.
Automate OEE reporting with machine scheduled availability, performance in terms of meeting ideal cycle times, and quality. Dive deeper by segmenting data by shifts, individual jobs, and more to identify and fix issues fast.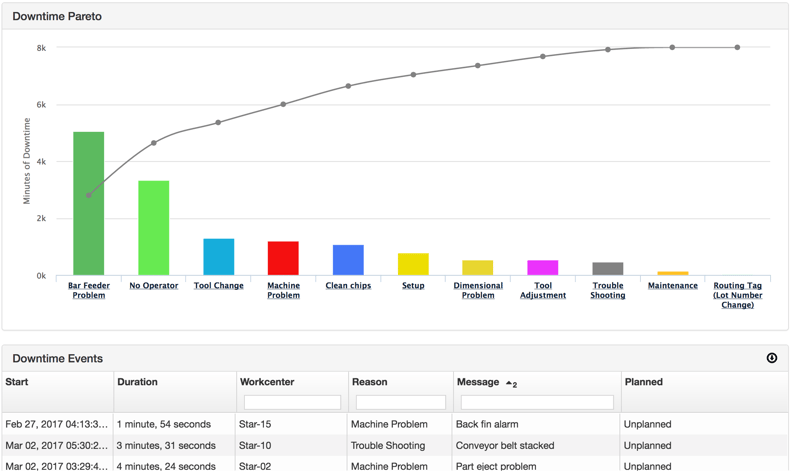 An Empowered and Informed Workforce
MachineMetrics' shop floor control system is designed with people in mind. It's focused on increasing your workers' performance and accountability while also delivering relevant and actionable insights to your senior management team.
Real-time dashboards displayed on monitors across the factory give you shop floor level control.
Give operators instant visibility into their performance against production goals for a helpful sense of accountability.
Eliminate spreadsheets and track individuals' KPIs in real-time.
Ensure operators and managers have immediate visibility into production status, whether it be tracked by part counts or OEE. Color-coding indicates if jobs are performing at or below expectations, allowing you to act quickly.
Add human context to machine data with operator interfaces placed at every machine, which provide detailed information on why machines have failed, or parts were scrapped.
Act swiftly to remediate schedule delays or out-of-commission machines. Immediately trigger notifications to the right person so they can fix the problem as fast as possible and resume normal operational efficiency.
Track setup time by incorporating it into the workflow when dispatching jobs.
Are you ready to take control of your shop floor and start managing your production facility with confidence? Read more about MachineMetrics shop floor software.
Learn how easy it is to self-install and drive actionable insights with our intuitive, flexible shop floor control platform, as well as how to deliver robust use cases to your team in a matter of minutes.