An Intro to Industrial Connectivity
What is happening today that is driving industrial connectivity? In the wake of Industry 4.0, the world demands faster productivity, higher quality, increased transparency, and unprecedented operational efficiency. With automation on the rise, factory floors are filled with more assets, equipment, and machines than ever before—and all of these must work in unison and to a high standard.

Without industrial connectivity, modern factory floors can quickly become chaotic with every related conversation being both negative and laced with performance-related panic:

'This machine is out of service'. 'That machine isn't being used to its capacity while its counterpart is overburdened.' 'The machine over there is using twice the energy that it's supposed to, but no one actually knows that.' 'The data is locked into silos.' 'Insight into operational performance barely exists at all, because no-one has the information they need to make effective decisions or to guide production efforts.'

With industrial connectivity though, everything changes. Machines start talking. Bottlenecks break down. The whole production floor just works. And it gets better every day.

In fact, the heart of IIoT is industrial connectivity, which enables organizations to get insight into their industrial equipment to better understand performance. However, operators and plant managers cannot simply flick a switch to visualize the performance of all their machines and their plant as whole. They must first engage in industrial networking to ensure that communication is possible between machines, the edge, and/or the cloud, depending on the nature of the IoT infrastructure.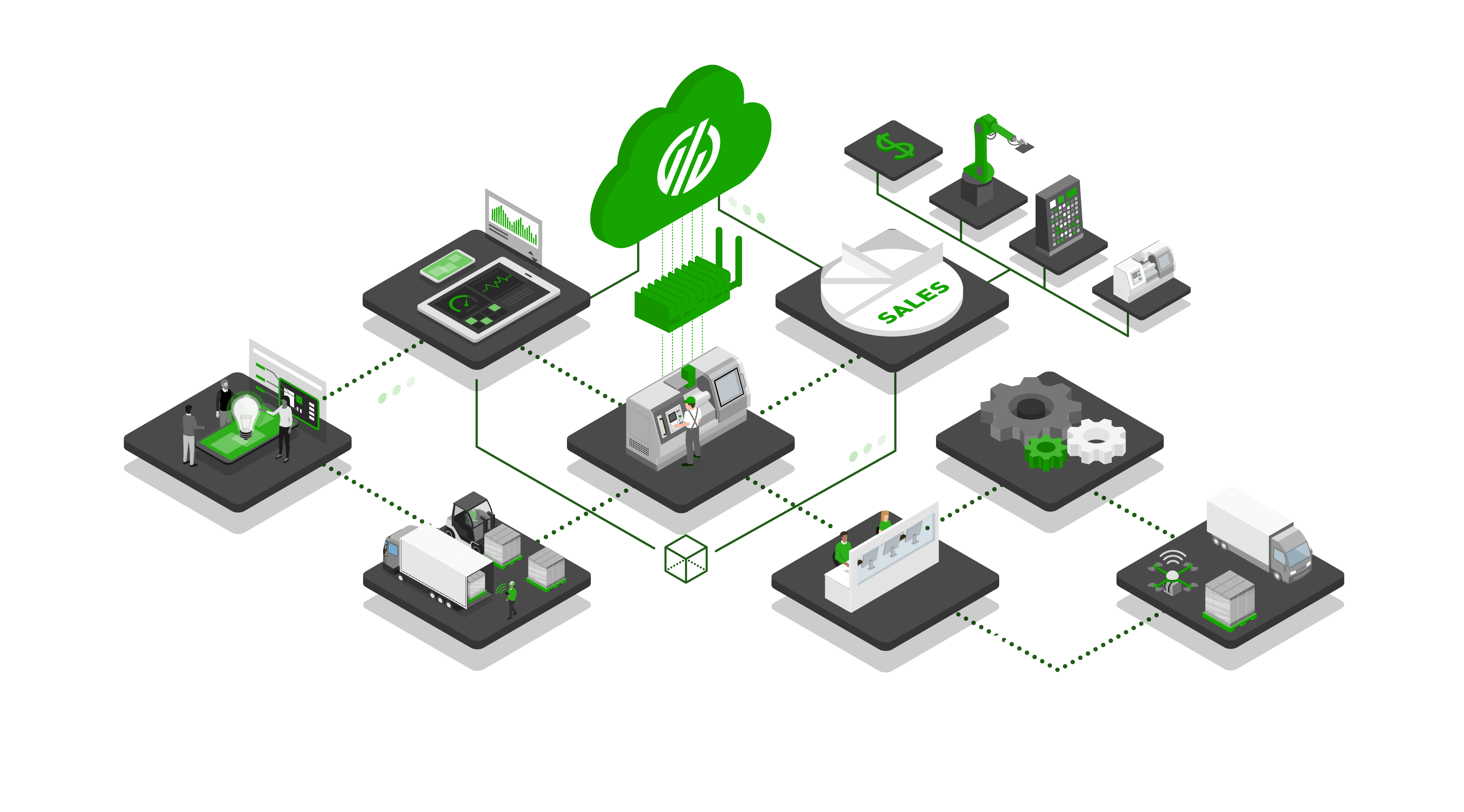 How Industrial Connectivity Operates
Industrial connectivity works by opening a channel for communication and data across the machines that your business relies on for production.
First, we start with a network connection to your machines using ethernet or kits that we at MachineMetrics can send to you. You can set this part up yourself or we're happy to do it for you on-site. Next up, the data coming from all of your new IoT devices connected to your machinery flows to an industrial gateway. This acts as a virtual security guard, keeping your data isolated from the public internet. The gateway then adds a protective layer of encryption to your data before sending it on to the MachineMetrics Cloud.
Once your data hits our Cloud where it's stored, it can then be integrated and analyzed. We turn all those bits, bytes, and statistics from your machines into actionable insights for your factory workers—all accessible and complete with real-time dashboards, reports, and notifications. This provides democratized data for shop floor operators, plant managers, and the corporate office.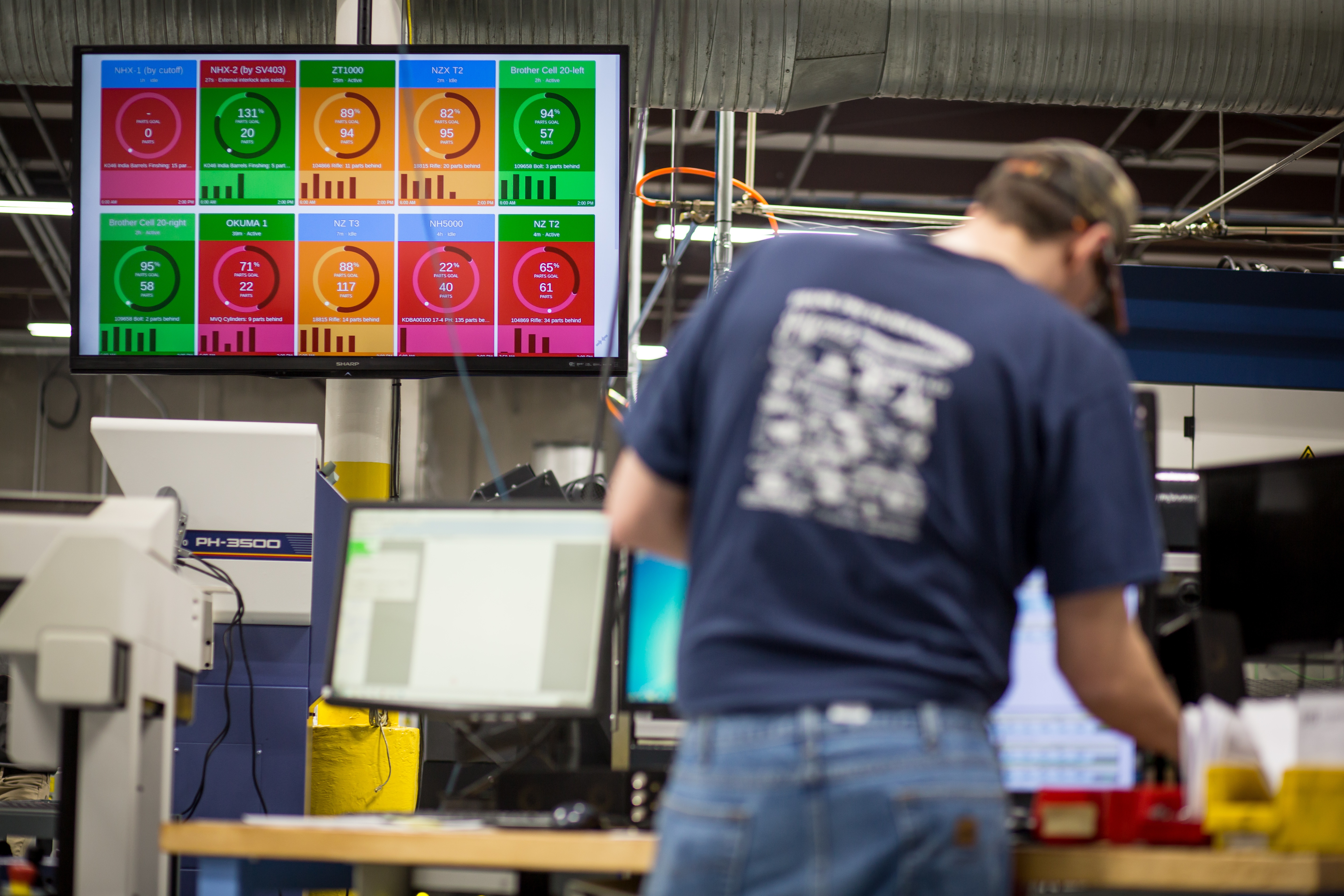 Real-time Performance dashboards can be displayed across the shop floor to keep operators informed on job performance and make quick decisions.
It's not just the machines that provide data though—tablets mounted to your machines let operators add human context for deeper, more effective insights. Once your data is flowing from your machines and can be used by workers, monitors on the shop floor and screens in the back office can display color-coded performance metrics in real-time. These show which machines are performing well and which are under-performing—in which case quick, corrective action can be taken.
With data in the 'here and now' as well as access to historical reporting (even on mobile while you're on the go) improving productivity has never been easier. Robust analytics guide what changes will have the greatest impact on production.
With a 10% or more increase in production plus new, data-driven insights and transparency, you can quote better, avoid downtime by predicting maintenance schedules, and provide more accurate predictions on job completion times. Everyone and everything on your shop floor has the capacity to work together seamlessly.
Benefits of Implementing Industrial Connectivity Solutions
With shop floor industrial connectivity in place, you open up a whole new world of efficiencies. Connected machines offer benefits such as deep performance monitoring that can be utilized for better planning and decision-making.
Industrial connectivity solutions enable you to aggregate data across all of the machines on your shop floor. A further benefit is the standardization of the machine communication layer for faster value extraction and straightforward security protections. As your business grows, MachineMetrics grows with you. Our IoT industrial connectivity architecture is fully scalable.
In summary, the benefits of industrial connectivity include:
The ability to monitor machine performance

Aggregate data across different machine types

Standardization of the machine communication layer

An IoT architecture built for scalability

Faster, more informed decision making based on data
Why the MachineMetrics Industrial IoT Platform?
Our industrial IoT solution offers ease of connectivity so you can start collecting data with little delay and begin seeing improvements immediately. With several methods of connectivity to select from and the choice of installing yourself or having our team do it for you, you have options that will work for your business. Our time-to-value is practically zero since it should begin paying for itself as soon as you hook it up. You can use any of our applications for performance and condition monitoring, predictive maintenance, and process optimization, as well as build your own custom solutions.
With MachineMetrics, you get actionable data with rapid time-to-value, an exceptionally easy deployment process, and vertical expertise to back you up along the way. We'll store your data securely and safely on our Cloud. We integrate into your other business intelligence solutions and workflows so you don't have to re-do everything from the ground up. Plus, you can access your reports anywhere—even on your mobile device.