The move to industry 4.0 will be defined by how effectively legacy systems and assets within shop floors are integrated into online or cloud platforms. This is because a large percentage of enterprises still rely on legacy systems and equipment to meet production needs. A study showed that 76% of decision-makers admit that legacy systems keep their data trapped, which greatly hinders automation and operational efficiency.
By bringing legacy machines online with IIoT, manufacturers can begin to develop a better understanding of shop floor performance with the new data they have available. Connected equipment and systems will allow for greater greater visibility, remote machine monitoring, and accurate performance reporting.
Although the benefits of Industry 4.0 are well-known, the only way to drive insight from machine and system data is to first be capable of accurately capturing the data. The roadblock of course is that legacy machines and systems can make this difficult to do.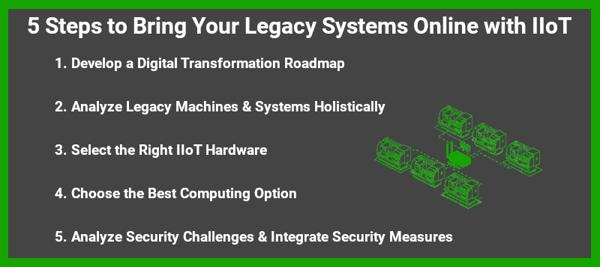 Here are five steps to bring your legacy systems online with IIoT:
1. Develop a Digital Transformation Roadmap
The first step to implementing an IIoT solution that brings legacy systems online is determining what is to be accomplished with the project. IIoT is a broad initiative in and of itself and an enterprise must understand the hardware, software, and computing options it delivers before designing an IIoT framework.
With this in mind, here are the questions to be asked when developing a digital transformation roadmap powered by IIoT:
What type of data do we intend to capture?
What will the captured data be used to accomplish?
Will the physical nature of the shop floor affect the choice of IIoT hardware?
What IIoT device options are available and fit my legacy system?
What computing options should be considered to manage the IIoT networks?
What returns should be expected from integrating IIoT within our facilities?
2. Analyze Legacy Machines and Systems Holistically
Brownfield manufacturing facilities generally consist of multiple legacy systems and operations across material handling and machine management. Thus, bringing multiple legacy systems online may prove to be capital intensive.
The legacy systems and equipment within your facility must be analyzed to note a few items including:
Whether legacy equipment can be updated to handle some form of computing on its own such as data capture.
Understanding the impact of taking individual legacy systems online.
These questions will help in determining the cost of assigning IIoT devices to specific equipment or systems as opposed to simply updating the system with LAN capabilities where possible. An understanding of the impact of taking each legacy system online can help manufacturers better manage scarce resources. For example, if taking your material handling system online with IIoT improves shop floor efficiency more than digitizing a CNC machine would, then integrating IIoT with the material handling process should be the priority.
3. Select the Right IIoT Hardware
The IIoT market is currently at an all-time high and it is expected to continue growing over the next five years. This means there are currently thousands of IIoT hardware vendors and solutions to complicate the process. When evaluating IIoT hardware, here are the questions you should ask in your assessment:
How will the heat, steam, grease, dust or water produced in my facility affect IIoT devices?
Do the systems and equipment in my shop floor need custom-designed hardware to ensure it fits into or on the machines complex structure?
Do shop floor technicians, order pickers, or assistants need to communicate with the IIoT devices?
Today, IIoT devices integrate diverse ingress protection codes (IPs) that protect them when used in manufacturing facilities. With knowledge of your shop floor environment and system structure, choosing IIoT hardware becomes easy. The answers to the above questions will also determine if a simple sensor or a smart device with a human-machine interface is the best option for bringing your legacy systems online.
4. Choose the Best Computing Option
The analysis from your digital transformation roadmap should form the basis of choosing the best option for delivering computing resources to the shop floor. Here computing resources refer to the ability of a system to process data. This could be simple tasks such as storing data or more complex ones such as data analysis. The options available for delivering computing to legacy systems include:
A hybrid computing environment
With cloud computing, you get a centralized computing solution that handles data analysis but could be plagued with processing latency challenges. Edge computing brings compute resources to the deployed IIoT device or legacy system using a decentralized model. On the other hand, hybrids integrate both cloud and edge computing to monitor and manage legacy systems that have been brought online through IIoT.
Useful read: Edge Computing vs. Cloud Computing in Manufacturing
5. Analyze Security Challenges and Integrate Security Measures
The integration of IIoT within manufacturing shop floors raises diverse cybersecurity questions and challenges. These challenges include data theft, ransomware and phishing attacks which can cripple legacy processes. Thus, leading to downtime or permanent data loss. The effects of downtime have been widely documented and they include monetary loss and in extreme cases business failure.
This means the final process of bringing legacy systems online is the development of security policies that protect shop floor assets and the business. When considering the cloud, Security Information and Event Management (SIEM) tools can help with threat intelligence while the decentralized nature of edge computing delivers some cybersecurity detection measures of its own. For a more in-depth read on the topic, you'll find our article on Industrial IoT security helpful.
Your Solution for Connecting Legacy Equipment to the IIoT
IIoT platforms such as MachineMetrics are hybrid computing environments that provide a viable ecosystem for monitoring and managing the IIoT devices deployed within legacy systems. The platform also offers extensive data security coverage which takes the huge responsibility of securing shop floor data from your shoulders and places them firmly on experienced engineers. You can learn more about the MachineMetrics IoT Platform by booking a demo with our team.