Getting your machines to do more is the name of the game. Even in high-tolerance industries, it's pivotal for equipment to deliver parts that meet production standards and output on a consistent basis.
Manufacturing operations use many metrics to measure performance, adjust target rates, and improve production including part counts, cycle times, cost per unit, downtime, etc.
The most effective way to monitor, manage, and improve equipment performance is by collecting production data directly from machines. Let's take a closer look at how you can optimize machine productivity across the shop floor.
What is Machine Productivity?
Machine productivity is a ratio of outputs versus inputs, measuring the rate at which outputs are ready for sale to customers and clients.
These outputs are the physical products, finished goods, or parts that a manufacturer produces. Machine productivity measures the machine's capability to take inputs such as raw material and labor and manufacture a finished part or good.
Productivity shouldn't be confused with efficiency, which is the creation of finished goods at the lowest cost possible with the optimized use of materials, time, and labor. And while efficiency is another key metric, it gives managers a different avenue for optimizing the resources that go into a product.
Machine Productivity Formula
Machine productivity is a straightforward calculation consisting of the total volume of parts produced divided by the number of machines used.
The measurement must include:
The number of machines.
The time under consideration (shift, daily, or weekly hours).
A reliable count of finished parts or goods.
Using these variables, one calculation for machine productivity could be:
Machine Productivity (MP) = Total Parts Created / Total Machines Hours
With a machine data collection solution like MachineMetrics, productivity can be tracked to individual spindles, machines, or as part of a group of machines.
A base machine productivity calculation may be used for error-prone manual tracking and legacy software systems where data must be reconciled. The base measurement is a straightforward calculation of outputs over inputs. Because data is manually tracked or nested in siloed systems requiring transfer and reconciliation, this method is hindered by time and potential data entry errors.
Using overall equipment effectiveness (OEE) is a better method for tracking machine productivity. Within an automated machine data platform, OEE tracks outputs and inputs more precisely than base calculations allow. Using OEE in machine productivity tracking means machine and spindle speeds, quality, tool wear, and many other variables are tracked in real-time.
By combining the results of performance (speed), quality (total good parts), and time (standard vs. actual operating time), managers see machine productivity at multiple levels - from spindle to machine to factory - to make better decisions and optimize improvement efforts.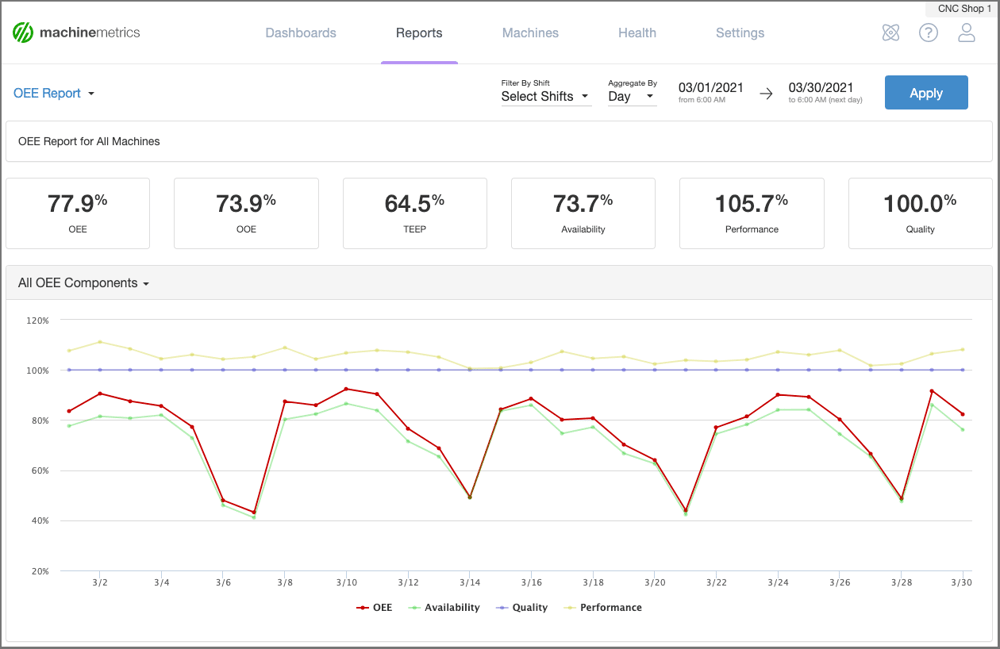 MachineMetrics pulls in and displays OEE data to better understand the performance of equipment.
Benefits of Measuring Machine Productivity
By measuring manufacturing productivity, a company can benchmark where its production is and better plan for future production needs.
Measuring machine productivity can:
Help identify staff or training gaps
Benchmark current production to standard rates
Help identify areas for maintenance improvement
Validate current processes or highlight those that need improvement
Another lens that manufacturers can look through to monitor efficiency is analyzing the performance of their machine operators.
The Importance of Automating Data Collection
It's possible to improve machine productivity when using siloed legacy systems or manual tracking. The challenge you will run into is that the data is delayed, inaccurate, and unactionable. You'll be forced to manually collect and cobble together reports that do not easily identify areas of improvement.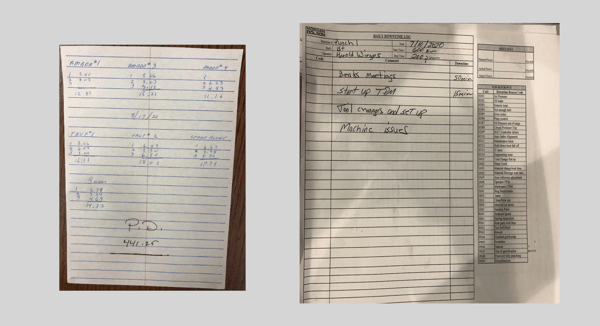 What if all the manual data collection and analysis could be automated?
But with a production monitoring platform like MachineMetrics, machine data can be leveraged to improve machine productivity across many areas on the shop floor. This removes the bottleneck of manual data collection, enabling people and systems to take action on the actionable insights provided.
The insights from an automated, OEE-based machine productivity measurement can reveal pathways for improvement in areas such as:
Operator Workstations

: Operators are the first line of defense and offense in improving machine productivity. MachineMetrics uses interactive and intuitive dashboards to show real-time performance in easily consumed formats so operators can make changes quickly when problems arise.

Front Line Management

: Performance, availability, and time metrics enable managers to quickly identify and act on bottlenecks before productivity suffers. The insights from the data can also pinpoint weaknesses so that processes can be adapted.

Facility Planning

: Automatic productivity tracking helps facility planners manage and reduce WIP or change the facility's spacing, layout, and configuration to improve product flow and productivity.
Optimizing Your Equipment Productivity
You paid a lot for your equipment. Let's make sure you are maximizing the ROI on your investment.
The first order of business should be getting the data from their equipment. This will surface where you should focus your efforts. Below we have a variety of ideas for optimizing the productivity of equipment, but our recommendation is to first learn how to collect your machines' data.
Improve Training

: Today's OEM manufacturing machines are complex pieces of equipment. Many have IoT capability or at least base automation. Giving operators accurate work instructions and utilizing standard operating procedures will mean more consistent machine operation.

Conduct Process Reviews

: A process map that reviews the entire product workflow helps establish a culture of process improvement. As technology is deployed across the factory, workflows can be adjusted to take advantage of new capabilities and uncover areas for improvement.

Develop Condition-Based or Predictive Maintenance Strategies

: Preventive maintenance was once a game changer to archaic reactive maintenance programs. But a deep and effective understanding of how products run on machines - and what the run cycles mean for required maintenance - is now possible. Instead of costly and time-consuming preventive maintenance, consider using machine conditions to drive maintenance activity.

Focus on Machine Utilization

: Many companies vastly overstate their equipment utilization. As a result, productivity improvements are challenging. An OEE-based machine utilization strategy will unlock capacity and increase outputs with little or no input change.

Improve Communication

: In many traditional data tracking systems, data is siloed and communication is lacking. Machine productivity can be optimized by improving the communication between people and equipment. Automated data tracking tied to alerts and notifications make communication seamless, purpose-driven, and accurate.
Unlocking Data and Automation
Optimizing a manual data tracking system is challenging. The data is often time-lagged and error-prone, resulting in faulty analysis and action.
The best way to optimize machine productivity is using a machine connectivity solution. With access to accurate production data directly from machine controls, machines can move to an OEE-based productivity measurement that detects bottlenecks, defects, and trends in real-time.
As utilization increases and quality improves, outputs increase significantly. This increase is directly related to unlocking "hidden capacity" that enables machines to produce more due to the improved management of resources and inputs.
MachineMetrics offers automated production monitoring through real-time data capture from devices and sensors. The platform provides real-time actionable insights that allow your company to optimize machine productivity and manage inputs precisely for more significant outputs.
Want to see it in action? Watch an on-demand demo, or set up some time with our team to learn how we can specifically help you increase the performance of your equipment.