In the age of Industry 4.0, where every business is seeking to gain a competitive edge, it's never been more critical for manufacturers to deliver high-quality products, on time. Production bottlenecks and delays, spiraling production and maintenance costs, and extended machine downtime simply can't be tolerated.
That's why today's forward-looking manufacturers are pioneering new ways to drive efficiencies by using the latest resource monitoring systems. Indeed, resource monitoring is quickly becoming a top use case for Industrial Internet of Things (IIoT) technology.
So, if you're looking for a smarter way to track your factory's usage of resources, read on.
What is Resource Monitoring?
All manufacturers use a variety of resources during everyday operations. Resource monitoring involves measuring, analyzing, and optimizing designated resources. MachineMetrics' Industrial IoT Platform features automated machine data collection and production analytics to deliver data-driven insights in a matter of minutes.
We achieve this in three key steps:
1. Connect, collect, and visualize data from any piece of equipment on the shop floor. MachineMetrics plug-and-play solution allows you to connect directly to the PLC of the machine or via digital and analog I/O for machines without a standard connectivity option.
2. Analyze data to discover insights that allow you to find and fix problems in real-time. Machine and production data is collected in visual dashboards, displaying critical information in an intuitive format.
3. Take action to optimize processes by delivering notifications to the right people at the right time.
Accurate and ongoing insight into the consumption of mission-critical materials puts you in a position to share findings and make informed business decisions that deliver continuous improvement.
What Are the Advantages of Resource Monitoring?
Among the many benefits you can look forward to by tracking your factory's usage of resources are:
Real-time visualization of resource usage
More accurate inventory planning
Better resource allocation and operator productivity
Precise production and utilization monitoring
Increased understanding of machines' lifecycle
New opportunities for cost savings and elimination of waste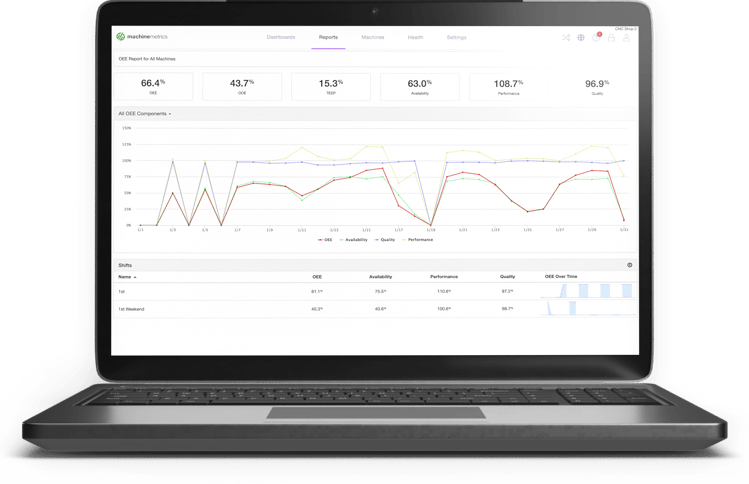 Resource Monitoring in Action: A Case Study
Aside from equipment utilization optimization and operator efficiency, there's a multitude of other use cases for resource monitoring that go right to your bottom line. Some examples:
Manufacturing organizations can better understand how effective resources are being used and work to ensure that materials, labor, and equipment generate a greater output. For example, tracking scrap rate and reducing it will lead to less material used per finished part.
If they're plagued by unforeseen downtime that obstructs their production pipeline, manufacturing organizations can use resource monitoring software to pinpoint and troubleshoot the causes of their machine failures. This will significantly improve asset utilization and eliminate scheduling headaches.
At MachineMetrics, we've assisted a host of manufacturing clients to thoughtfully apply resource monitoring in their operations to deliver new value.
Hear what one of our clients has to say:
"To be honest, it would be a huge step backward to move away from MachineMetrics. It saves time because the equipment monitoring is unified. Previously, I had to log into multiple computers and machines to get data. Now I can log into one and see the entire operation. It's user-friendly as well. Since adding MachineMetrics, part production is easier to monitor and more accurate. We save several hours a week by not having to do manual counts … Now our operators can focus on quality, not administration and data entry. This has become a huge advantage in getting good, real-time information, as well as greatly improving operator efficiency."
- Torben Christensen, President/CEO, Wiscon Products
Are you ready to harness the power of machine data? Curious about how MachineMetrics can help bring visibility to your operation's resource usage?