Trends indicate that the CNC market could be as large as $140.7 billion by 2029, up from $86.83 billion in 2022. This number represents a 61% expected increase in the next seven years. Driven by new economic demands and the move toward mass customization of goods, CNC has a big future ahead.
The explosion of the industrial internet of things (IIoT) technology is on an intersecting course with this growth. Like CNC machining, IIoT has a bright and busy future ahead. The IIoT market is predicted to reach $323.62 billion in 2022 and $1.11 trillion by 2028.
With such enormous market dynamics at play, the question of whether IIoT technology will be a driving factor in the growth of CNC machining is all but answered.
Below, we'll explore the role of IoT in CNC machining and how companies can take advantage of this technology to realize superior production results and perhaps even a path to "lights out" manufacturing.
The Role of IIoT in CNC Machining
IIoT's role in CNC machining is straightforward. CNC has already ushered in disruption by displacing old manual lathes, milling, drilling, and boring machines.
In past years, these machines required very tight, well-trained skill sets to perform these functions. CNC machines operate with computers to deliver more precision and accuracy to these functions without manual application of force. They're already highly automated and utilize computer programming to complete tasks.
The journey from manual machine operation carried cultural barriers such as fear of job displacement, concern over being "watched," and other misgivings. And while most companies will deal with some of these issues, the role of IIoT in CNC is one of integration rather than displacement. It's an opportunity for companies to optimize production in a once-impossible way. Rather than displace operators, it allows them to upskill as the company takes on more work.
There are several key areas where IIoT can take on a significant and decisive role in CNC machining.
Machine Utilization
IIoT's most prominent role in CNC is increasing machine utilization. With connected devices either added to existing equipment or embedded in new machines, manufacturers can accurately identify and act on downtime issues.
This precise understanding of downtime will help managers identify areas to improve training, develop setup and changeover strategies, and act on quality issues before products veer off-spec.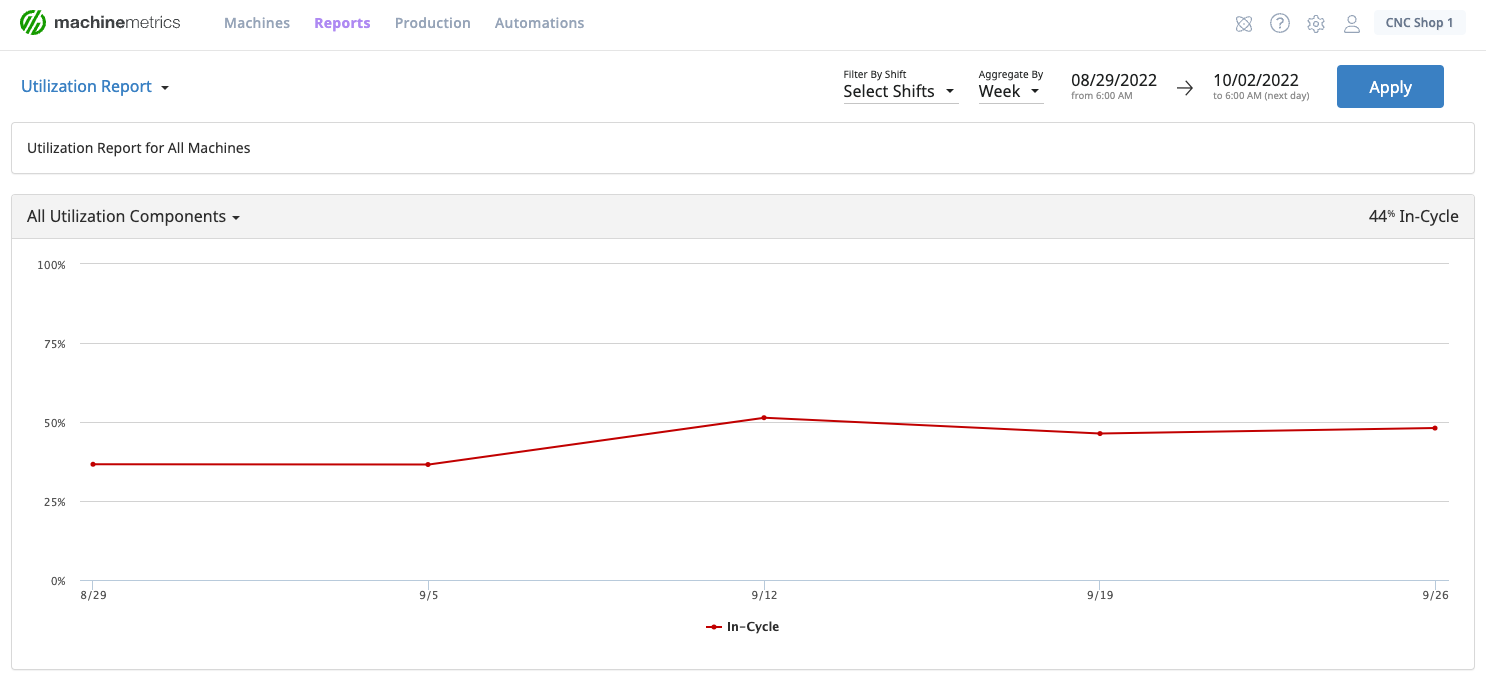 A machine utilization report from MachineMetrics.
Maintenance Strategies
With IIoT, CNC companies can move from preventive to predictive maintenance strategies. IIoT sensors and advanced edge computing enable maintenance teams to unlock machine performance and condition data to inform when maintenance activity should occur.
With real-time machine condition data, manufacturers can set up workflows and notifications in MachineMetrics to automatically alert the right person when a machine goes down. Further, you can set up thresholds (a given temperature, vibration, load, etc.) that, when met, create a work order in a CMMS, preventing downtime altogether.
Productivity and Efficiency
Because IIoT technology eliminates manual data collection across the shop floor, operators have the ability to focus on higher value tasks, like managing more machines. Further, since the production data is autonomously collected, managers can have confidence that the data is accurate.
MachineMetrics tracks overall equipment effectiveness (OEE) and considers variables that impact everything from operator performance to maintenance to continuous improvement initiatives. As equipment utilization goes up, efficiency and productivity track upwards with it.
What Does IIoT Look Like in CNC Machining?
The integration of IIoT technology with CNC machines begins with data collection. MachineMetrics connects directly to the machine control for deep machine connectivity.
Note: We also connect to legacy assets to ensure that all types of manufacturing equipment, not just CNC, are monitored.
The collected data flows to edge computing gateways where data can be pre-processed and standardized into a common model. The data is then sent to the cloud, where it's cleansed and structured to reveal actionable insights, propagate reports, and trigger workflows and notifications.
Operators can use machine-based HMIs to view and act on current needs at the machine level. This gives them immediate visibility into where they stand in terms of the current shift's production goals.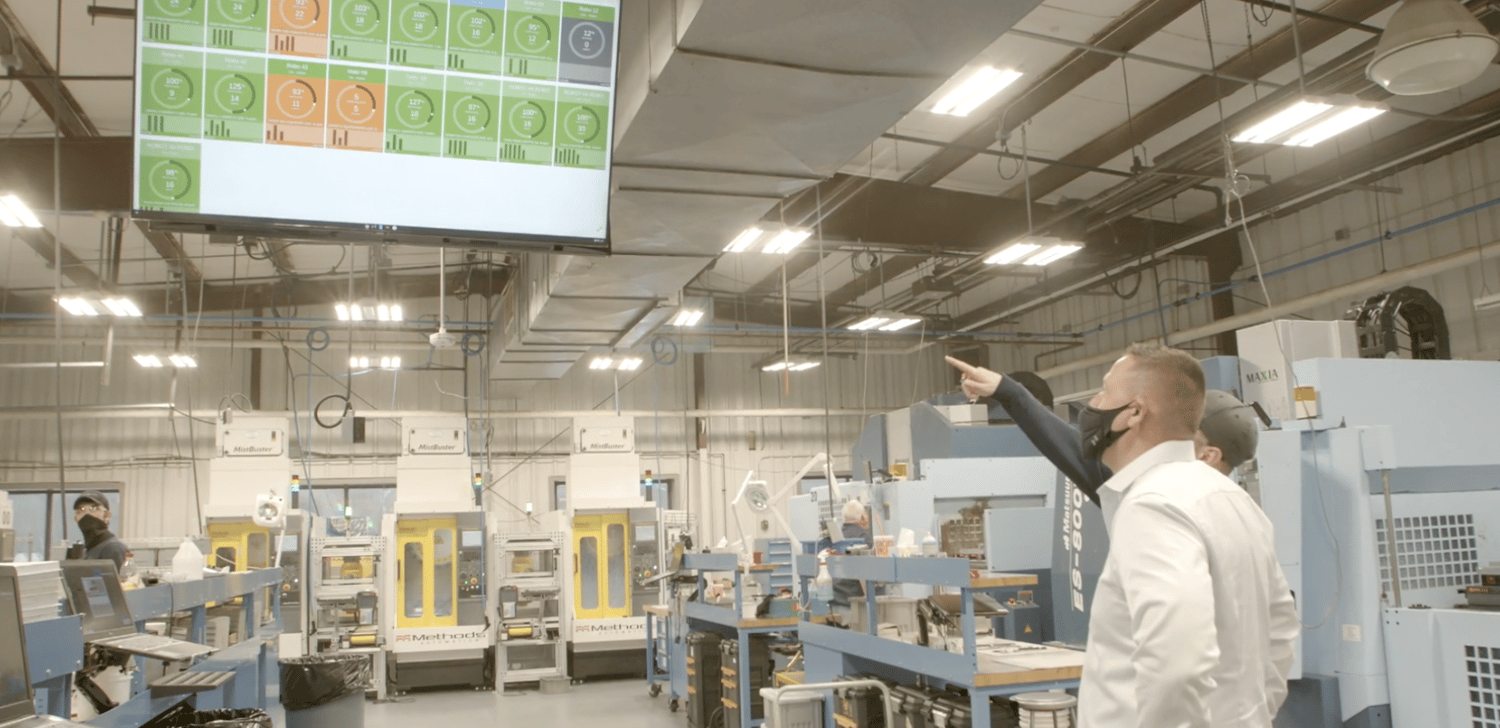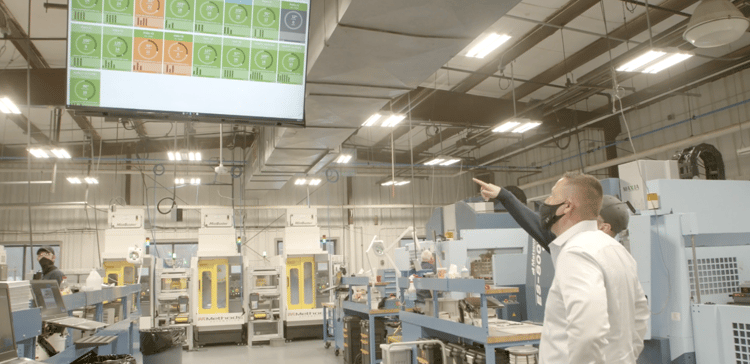 With CNC machines connected to MachineMetrics, data can be displayed in reports and dashboards for complete production visibility.
How Can Companies Take Advantage of IIoT Technology in CNC?
Digital transformation and IIoT technology are already altering the economic landscape within manufacturing. IIoT can bring many benefits to CNC machining, improving quality, agility, and efficiency.
Companies can leverage this technology by selecting a best-in-class machine connectivity platform like MachineMetrics. They can take advantage of the benefits it brings by:
Connecting all machine assets regardless of age or model
Radically altering their equipment utilization to unlock additional capacity
Developing an ongoing continuous improvement program that reflects results in real-time
Utilizing real-time workflows to drive automation based on accurate, real-time production data
Using MachineMetrics to Deploy IIoT
MachineMetrics is ideal for CNC machining companies looking to add IIoT to improve their operation. The platform is flexible, machine agnostic, and drives improved equipment utilization and process optimization across the shop floor.
Companies using MachineMetrics have achieved a 140% increase in machine utilization and OEE improvements of 40% or higher. MachineMetrics also offers superior customer service and attention. Most implementations begin with insights that reveal machine conditions and areas for improvement within mere minutes.
Book a demo with our team to learn more about how MachineMetrics can leverage your data to help you take full advantage of IIoT and stay ahead of the competition.