Is an MES or IIoT Platform (or Both) the Best Option for You?
The increasing use of industrial automation in process and discrete manufacturing facilities have put the manufacturing execution system (MES) market in a transitional period.
On one hand, the MES market is expected to grow in value to approximately $23 billion by 2024. On the other hand, emerging solutions such as IIoT platforms, cloud-based automation solutions, and SaaS platforms are challenging its hold on the manufacturing industry. According to Gartner's 2019 MES Magic Quadrant, IIoT platforms are expected to be at the forefront of the disruptive process where MES is concerned.
The Gartner report further stated that by 2024, "50% of MES solutions will include IIoT platforms…to provide near real-time transaction management control." This statement highlights the fact that both solutions are expected to work together to optimize industrial processes as we know it.
This post will discuss the relationship between both MES and IIoT platforms, how MES solutions will integrate IIoT platforms into its process, and more importantly, which option is best for your industrial automation, machine utilization, and interconnectivity requirements.

Introducing IIoT Platforms
IIoT has grown steadily in interest and adoption due to the benefits it brings to both conventional and newer shop floors.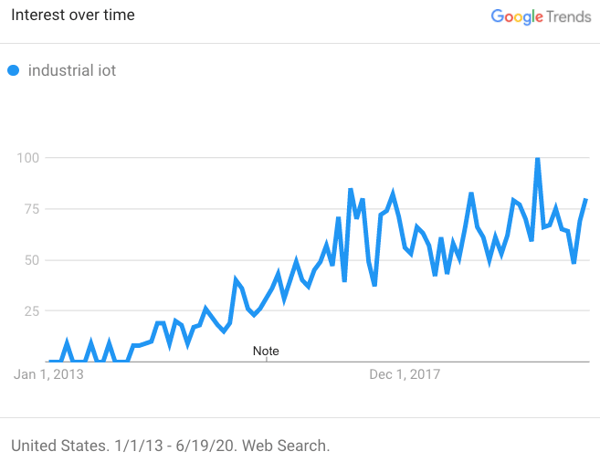 Growing interest in "Industrial IoT." (Source)
So, it takes no leap of faith to deduce that you have also heard about IIoT platforms for monitoring, connecting, and managing IIoT hardware and shop floor assets.
But an IIoT Platform is much more than that…
IIoT platforms refer to a class of solutions and not a singular tech item, platform, or solution. IIoT platforms are solutions that connect shop floor processes to the systems or assets within it. This means an IIoT platform is agile and provides the manufacturing industry with the foundation and tools needed to develop new applications and methodologies to enhance shop floor operations.
IIoT platforms do not run in a vacuum. They function with a system consisting of hardware components attached to machines or shop floor systems and software applications to connect system-back ends, and IoT hardware to shop floor processes.
With the support IIoT platforms provide these components, manufacturers can build custom applications that tie into specific processes while hardware manufacturers and OEMs can design innovative assets that take advantage of the tools it provides. With these tools, manufacturers can easily improve control processes, collect machine data, process data, optimize machine utilization, and gain visibility into complex operations.
In fact, most manufacturers who integrate IIoT within their shop floors create new case studies for its use as they apply it to eliminating the bottlenecks they face.
What is MES?
An MES is a software manufacturers use to track and document the process that turns raw materials into products. The software is also used to gain visibility into shop floor operations. MES software comes with modules or tools for monitoring and managing activities across the following industrial processes:
Product documentation

Product traceability

Resource management

Data collection

Human resources management
MES modules are generally proprietary in nature which means manufacturers are expected to work with only the modules provided by the vendor and upgrades could be expensive depending on the module being updated. As a result, while an MES platform can do a lot of things to simplify operations across the plant and organization, it may limit the development of new tools for specific tasks or processes. This is where IIoT platforms come into the picture.
Why MES needs IIoT Platforms
There are several reasons why MES will integrate IIoT platforms to extend their use cases.
The Complexity of MES
MES provides a more centralized solution to manufacturers. These solutions execute the above-stated functions well but struggle to work outside their core functionalities. IIoT platforms, on the other hand, are built as microservice-based infrastructures. This means they offer apps as a collection of services and are decentralized from the get-go.
The Proprietary Nature of MES
The second challenge manufacturer's face with using MES is the limitations in the number of apps available to them. Yes, most MES come with an app store where apps can be purchased. Once again, these apps are proprietary, are managed by the developers, and updating them can be a hassle both configuration and cost-wise.
Thus, the integration of IIoT platforms with MES is expected to bring decentralization to the MES ecosystem and give manufacturers control over the apps they develop and deploy. This agile approach to managing complex manufacturing processes is what industry 4.0 intends to achieve.
Data-Centric vs. Human-Centric
Any manufacturing production improvement initiative of the future should be asset data-centric versus process-centric. Development of an automated data collection and transformation infrastructure is the first and most important step on an Industry 4.0 journey. Core functions of MES, along with various other functions and technology offerings, layer on top of this infrastructure, if and when they are required.
In the past, this approach was challenging in discrete manufacturing plants due to the range of complex machines that were difficult to connect and extract data from. With data at the center of the value-creation process, opportunities for improvement are far greater than those through custom one-off MES projects. Those benefits include baselining and comparative analysis across machines, lines, operators, and plants, driving best practices and continuous improvement.
Choosing Between an MES or an IIoT Platform (or Both)
MES most certainly provides valuable services to the manufacturing industry as its reputation is built on replacing legacy monitoring and management processes and introducing digitization to the shop floor.
On the other hand, an IIoT platform brings decentralization and apps as a service to the manufacturing industry alongside the functionalities an MES offers. This means IIoT platforms can do the work of an MES while extending its use cases. Thus, for manufacturers looking to kick-start the process of turning a Brownfield facility to a Greenfield plant, an IIoT platform is the most modern option to choose.
In situations where service and subscription cost plays an important role in your choice, it is important to note that IIoT platforms mirror the extensibility and affordability of cloud computing. This makes the IIoT platform a much more affordable option compared to MES.
With this said, the Gartner Magic Quadrant predicts increased spending on MES solutions. This is due to the fact that these systems are still necessary to move toward Industry 4.0. It also highlights the fact that millions of manufacturers currently use an MES to optimize operations. For those who fall into this category, integrating an IIoT platform to maximize the returns from your MES investments is the logical decision.
The Future for Your Operation
It is important to remember that Industry 4.0 requires multi-enterprise collaboration and cross-enterprise collaborations to reach its heights. MES and IIoT platforms provide the services needed to define the future of industrial automation and while MES does an excellent job today, IIoT platforms will be the true enablers for execution to deliver the smart factories of tomorrow.