Companies have realized the benefits of information technology for many years. And with the arrival of the Industrial Internet of Things (II0T) technology, a new revolution of digitization of production is underway. But as both these technologies continue to mature, IT/OT convergence is becoming a reality and promises to deliver a more significant combined benefit for IIoT adoption than either could alone.
What is the Definition of Information Technology (IT)?
IT systems have been around for many decades. They consist of the collection of software, systems, networks, maintenance, and data storage in a combined system that processes and distributes data. Managers and decision-makers use this data at every level to make enterprise-level or factory-level decisions in industrial environments.
For software, this may include standalone MRP systems, ERP systems, specialized finance or quality platforms, and others. Initially, these software platforms were on-premises systems that needed regular updates and were costly for those who used them.
Information Technology also requires a network. Traditionally, this meant in-house servers, wiring in cable or fiber optics, and the maintenance skills to install and maintain the network hardware. Other valuable skillsets are required to connect the software and hardware of the system.
IT systems were often plagued with the inability of devices to communicate with other software programs, leaving data siloed and subject to the bias of input and a time lag from data acquisition to actionable distribution. Cloud-based platforms have replaced much of the need for in-house networks, but many legacy hardware systems may still not have interoperability.
What is the Definition of Operational Technology (OT)?
While original operational technology utilized MES, SCADA, and other platforms, like IT systems, these operational technology systems were not always networked. Advances in cloud-based computer platforms and advanced analytics allow OT systems to integrate and migrate to a centralized analytical, processing, and integrated platform in a shorter amount of time.
This improvement was made possible by advances in computer analysis, artificial intelligence (AI), machine learning (ML), device proliferation, and other associated technologies. As part of the Industrial Internet of Things (IIoT) movement, and more broadly as part of Industry 4.0 technologies, OT is a set of control systems that monitors events.
OT data enables companies to monitor processes and devices such as sensors, temperature gauges, vibrational output, and high-frequency data. Because it can accomplish this monitoring at or near real-time, enterprise-level and factory-level industrial adjustments can be made, resulting in more optimized processes.
OT's reliance upon real-time data also allows adjustments to be detected and performed by the machines faster than human operators. And advanced systems can receive either user-defined parameters or insights from AI and ML-enabled analytics engines to perform autonomous or semi-autonomous adjustments.
Is there a Distinction Between IT and OT?
The most straightforward distinction between IT and OT is that IT deals specifically with data-centric information. In contrast, OT focuses on machine connectivity and centralized analysis of acquired data to make better decisions in operations such as manufacturing processes.
IT may or may not consist of interoperable software platforms, meaning that quality software at a factory level may not be able to communicate with an MRP or with demand planning software, etc.
This siloed data means that communication between functional groups is not transparent or optimized. Decisions are made only within the context of the software used, which may be at odds or even contradictory to another department.
OT focuses on the machine and is dedicated to acquiring the correct data per device to execute and control shop floor processes. IT may have siloed software or gaps in network coverage and data input into the system; OT requires unsiloed data as an absolute.
Because machine connectivity allows massive data inputs, advanced analytics allow OT systems to optimize manufacturing systems and shop floor processes, quality processes, and higher-level business processes such as finance, Sales and Operations Planning (S&OP), and demand planning. The OT data ecosystem is machine-driven by data rather than simply a lag-oriented data processing system.
Why is OT Still Distinct from IT?
OT is still distinct from IT for several reasons.
Age of Technology
IT has been around for much longer than OT and consists of a collection of more mature technologies. OT began as an attempt to bring the power of software to the shop floor but has been aided in advancing agile, flexible cloud-based systems that combine multiple functionalities within a single real-time system using data acquired at the machine level.
Sunk Costs
OT is also distinct from IT because many companies have sunk considerable CAPEX dollars into an in-house, complex network of cables, fiber, servers, and maintenance skillsets. Heavily invested companies are hesitant to obsolete their systems despite the lower entry costs and reduced physical and maintenance burdens offered by OT systems today.
Adoption Rate for New Technologies
Manufacturing companies have diverse corporate cultures. And the adoption of new technologies may lag as a result. It is estimated that in 2020, only 25% of companies used distributed cloud-based systems across their enterprise. Another 29% used such systems on a small scale, with everyone else behind or somewhere in between. Most manufacturing operations spend considerable CAPEX each year in the form of expensive production equipment. Some will immediately adopt, many will take an incremental approach, and others look to a "wait and see" approach.
What is the Meaning of IT/OT Convergence?
Both IT and OT have had a tremendous impact on improved efficiency and process optimization at the factory level. Each can analyze operational data using the software. But IT/OT convergence means creating cyber-physical systems that link both to leverage the best parts of each and to deliver value that is greater than each piece could produce individually.
This convergence means that manufacturing systems' physical events and processes can be controlled with the framework and infrastructure already in place from legacy IT installations and software, advanced analytics, and other emerging technologies to digitize manufacturing.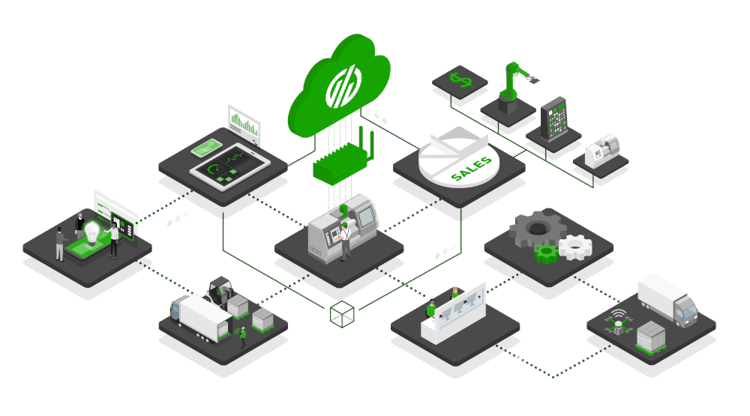 As machine data is fed in massive data flows to an analytics engine, machine control, simulation, process insights, and other information can ramp up process optimization and significantly impact efficiency, quality, inventory control, and other critical infrastructure within a company.
IT/OT convergence has also been accelerating over the past few years as companies realize that the value of the new technologies cannot be ignored. It is estimated that by 2022, as many as 40% of IT and OT vendors will join forces to deliver combined solutions that reduce the cost of deployment and integration by 20%.
What Role Does Industrial IoT Play in Bringing IT and OT Closer Together?
IT and OT systems developed on different tracks because they did different things. Where IT was based on data that could be used at the factory floor level and was often utilized, OT was designed to use the power of software to improve processes at the shop floor level.
The most significant role that the introduction of IIoT technology brings to IT/OT convergence is that IIoT acts as a bridge between the two. It does this by reducing time delays so that both IT and OT components have access to data as it is produced.
It also bridges equipment ROI because IIoT technology is highly flexible and can be deployed in analog legacy equipment through the installation of devices and with OEM equipment with connectivity embedded. It can also utilize cellular technology for hard-to-reach equipment or in operations using limited or eclectic space.
This bridge allows the company to realize higher ROI on equipment because a new analytics platform using IIoT does not require a new equipment purchase to bring all physical equipment under the same system umbrella.
Finally, its role as a bridge is in its programming and processing flexibility. This means that companies can purchase entire platforms where software interoperability is native or where it can be combined with APIs to unsiloed information and have all functional areas linked to the same analytics platform.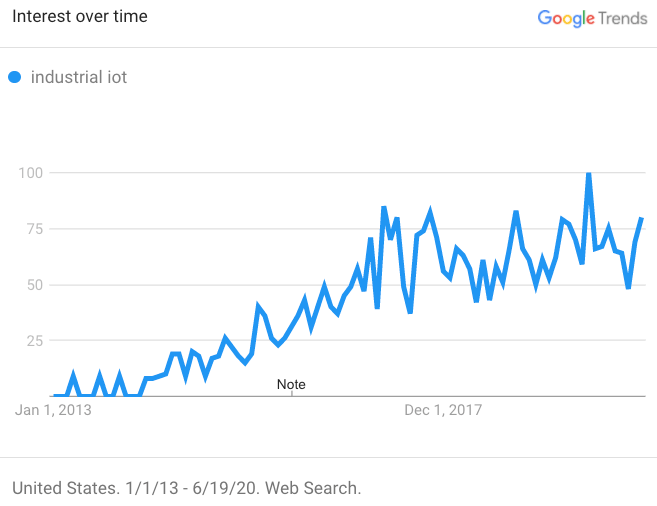 Industrial IoT solutions are being deployed at an increasing rate as manufacturers look to merge the physical and digital components of their shop floor.
What are the Advantages of an IT/OT Convergence Strategy?
Traditional IT and OT platforms were based on "data islands." For critical factory floor operations such as cycle time, these data islands can hide inefficiencies as job standards and cycle times must be manually measured and recorded, and any adjustments must come manually.
By leveraging real-time data and driving decision-making from the shop floor through the C-suites, greater value is driven throughout the operation, and companies can find a path to innovation. Real-time data acquisition focuses on the machine's actual performance instead of expected performance.
Advantages of IT/OT convergence include:
Real-time Production Visibility
Operator bias and assumption are replaced by actual machine conditions.
Increased Capacity
Decision-makers will uncover the actual state of their operation and develop data-based solutions. They can realize increased capacity from the same equipment, which reduces CAPEX outlay.
Actionable Insights
Because the data can immediately drive process improvements, it can help managers develop solutions such as improved automation, plant layout changes, training needs, and labor utilization.
Improved Design
Digital data brings real-time functionality to design and development. This functionality shortens expensive iterative projects and reduces time-to-market for new products and services. And it allows the use of CAD/CAM and project lifecycle management (PLM) software.
Improved Manufacturability
True IT/OT integration using IIoT technology unlocks the ability to utilize advanced 3D modeling and performance simulations. The creation of "digital twins" can help designers create products that can be optimized for production.
Lower Costs
Cost savings through a convergence of IT and OT range from the holistic level to the spindle level at the machine. IIoT sensors and real-time data collection and analysis mean that processes can be optimized at the factory level. But IIoT can allow for the development of predictive maintenance plans that base repairs and replacements on actual data. Heat management, machine tool wear, and other factors replaced at the optimum point are examples of these cost savings.
What are the Obstacles Organizations Face When It Comes To IT/OT Convergence?
While IT/OT convergence is accelerating, a few challenges impact an even faster move toward complete factory digitization. These challenges include:
Security
Because IT and OT convergence utilize IIoT technology, data security is a concern for many.
Scalability
Companies looking to merge IT and OT also have to consider how to scale. Because of the large volume of data, many devices and sensors may push through so much information that it creates a bandwidth bottleneck. Technology is advancing for edge computing, where latency and bandwidth issues are reduced by doing much of the processing so that only the most relevant and partially processed data is required for the cloud-based analytics platform.
Legacy Issues
Many devices are one-way in terms of communication. IT and OT systems will usually require two-way communication capability. The type of IT and OT system in place also matters because of communication protocols, as many OT devices have non-standard protocols.
Convergence of IT and OT is Now Possible Because of Technological Advancements
New technological advancements are coming online that can help mitigate many of the challenges faced in IT/OT convergence. These technologies offer advances such as:
No-code Applications
Many new devices and sensors allow the use of natural language programming. This programming means that coding expertise is not required to bring them online.
Digital Twins
By building digital replicas of objects, digital twins offer many advantages. They can be entire machines or machine systems. They can also be single parts or assemblies that can be simulated under stress to failure testing. Or they can be new product developments.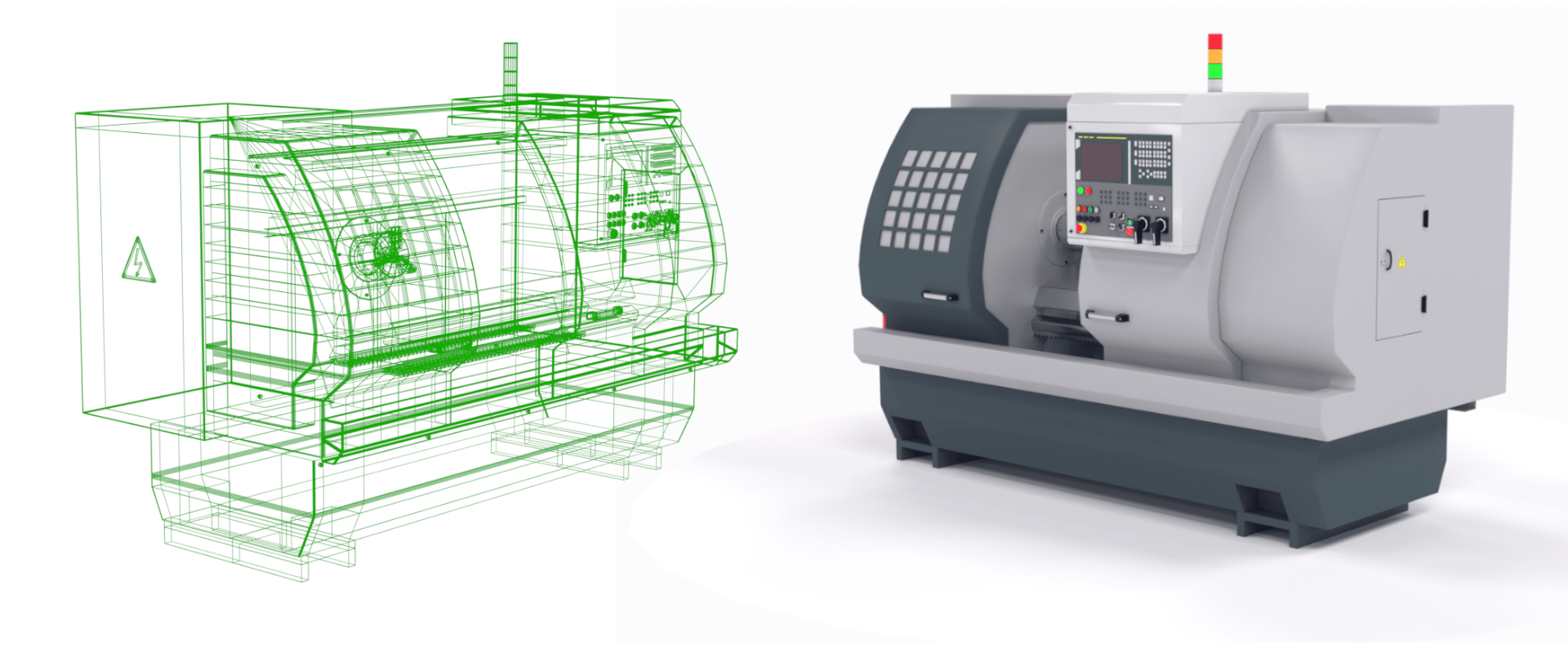 A digital twin of a CNC Machine.
Augmented Reality
Augmented reality can be used for inspection. However, it is also a way to improve training or allow a skilled technician in a remote location to assist repairs conducted by an unskilled operator.
Edge Computing
Vast data streams create bottlenecks to the cloud. Using edge computing, data is partially processed before entering the cloud. This processing means that the analytics platform can be better tasked for analytics, and it means that latency is reduced at the machine end.
IT/OT Convergence Using MachineMetrics
MachineMetrics understands the power of machine data and your need to merge your legacy IT/OT functionality under a best-in-class IoT platform purpose built for manufacturers. The MachineMetrics platform connects to any make and model of equipment, and installation is fast..
Production monitoring, conditions monitoring, and other robust solutions allow you to identify bottlenecks in production and act quickly. With real-time data analytics, you can optimize your processes with actionable insights as they happen, and leverage data in other systems such as quality, maintenance, and quoting.
Contact us today to find out how MachineMetrics can help you with your IT/OT integration and convergence projects to make them fully interoperable.